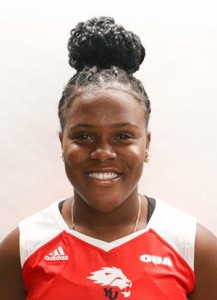 Bermuda's Chrysda Smith scored twice for York University Lions field hockey team as they defeated Western Mustangs by a score of 9-2.
The school's report said, "On Saturday the York University Lions field hockey team defeated the Western Mustangs at Varsity Field in Guelph, Ont., by a lopsided score of 9-2.
"Several York players earned their way on to the scoresheet in the first game against the Mustangs. Forward Marella Greco scored a hat-trick in the game followed by two goals from Lexi Hannah and Chrysda Smith.
"In their first game, the Lions led the Mustangs early with a quick unassisted goal from Hannah in the first 10 minutes of the game, creating a 1-0 lead to close the first quarter.
"The second quarter commenced, and the Lions were quick to score again. Hannah scored her second unassisted goal of the game in the first minutes of the second quarter and gave the Lions a 2-0 lead. Greco added another goal two minutes later, pushing the score to 3-0 head into the second half.
"In the third quarter of the second half, the Lions came out strong with two more goals. The first from midfielder Amira Brar in the first 2 minutes garnering the Lions a 4-0 lead. The second goal from fellow Lions forward Smith came four minutes later. The Mustangs finally got on the scoreboard with a goal from defender Damanpreet Toor making it a 5-1 game.
"The Lions were quick to come back, with a goal from midfielder Natalie Winter to close the third quarter 6-1.
"The fourth quarter kept the same intensity with back-to-back goals from Greco, in the first and fourth minutes. Three minutes later, Mustangs Kuljit Sahota scored for the Mustangs, making it 8-2. The Lions hastily answered with another goal from Smith, gaining her second goal of the game."

Read More About