In 1972 Diahann Carroll ended up being a no-show at the gala Bermuda birthday party she had helped to organise for then boyfriend David Frost, with Ms Carroll having been advised by her doctor not to make the trip as she was recuperating from minor surgery.
The Tony Award-winning stage, screen and TV star, who died on Friday at the age of 84, had spent the week leading up to British TV personality Mr. Frost's 33rd birthday with him on on the island arranging the festivities.
"Many of those 80 guests of NBC TV talk show host David Frost [thought he] planned a 'big surprise' in the form of either his announcement of an engagement to singer-actress Diahann Carroll or an actual wedding when he chartered a Boeing 747 to fly himself and them to Bermuda for lunch and back to New York the same day," reported Jet magazine at the time.
Superstar singer-actress Diahann Carroll, seen here in a 1980s publicity photo for the TV show Dynasty, died in Los Angeles on Friday at the age of 84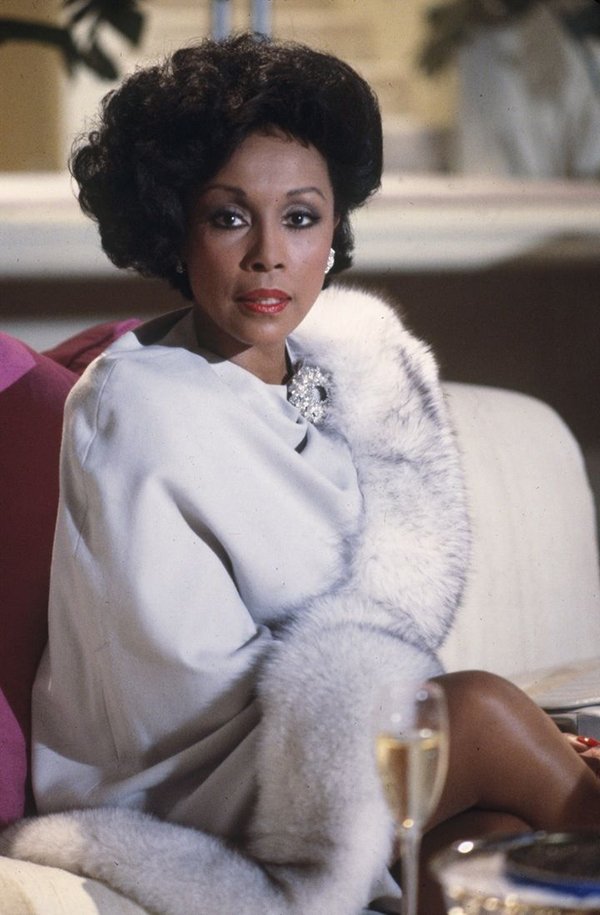 Unfortunately, the magazine continued, "their hopes were dashed. Miss Carroll, Frost's long-time companion, had been with the emcee the week before in Bermuda to plan the lunch for friends, but for this outing she was on the West Coast recuperating from minor surgery for cystitis and was advised by doctors not to make the trip."
Jet reported that Mr. Frost told his disappointed guests at the old Castle Harbour Harbour, site of the luncheon, that: "You're all such romantics!"
Among those attending the star-studded Bermuda affair were broadcaster Barbara Walters, Shaft leading man Richard Roundtree and then US Senator from New York Jacob Javits.
Although Diahann Carroll said Mr. Frost was "one of the best things that ever happened to me", the couple never did marry and their three-year relationship ended in 1973.
Once described as "possibly the most perfect woman" by the famously hard-to-please fashion critic Mr Blackwell, Miss Carroll first rose to prominence in such films as Carmen Jones [1954], and Porgy and Bess [1959]. She later received an Oscar nomination for her role in the 1974 comedy-drama Claudine .
In 1962, she won a Tony Award for best actress in the Broadway musical No Strings and starred in the NBC TV show Julia from 1968 until 1971. In the 1980s she appeared on the prime-time soap operas Dynasty and The Colbys.
Read More About