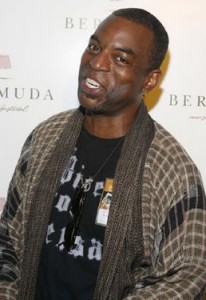 He boldly went where no "Star Trek" actor had gone before — Bermuda.
American actor/director/producer LeVar Burton — who shot to fame in the 1970s with his portrayal of enslaved African Kunta Kinte in the historic ABC mini-series "Roots" and then went on to become best known as Commander Geordi LaForge in the longrunning show "Star Trek: The Next Generation" [1987-1994] — came to the island in 2007 and 2008 to film two commercials for the Bermuda Department of Tourism.
When he was here for the first shoot, Mr. Burton attended the 2007 Bermuda Music Festival along with his wife, make-up artist Stephanie Cozart Burton [he is pictured at that event here].
The Tourism Department commercials he shot in Bermuda were aired on TV in such key US markets as Washington DC, Boston and New York as part of the "Feel The Love" promotional campaign.
In the ads Mr. Burton highlighted Burton highlighted Bermuda's manicured golf courses and beaches and stunning views as well as such attractions as thee unfinished church in St. George's.
A longtime advocate of literacy, Mr. Burton was also host and executive producer of "Reading Rainbow" which premiered in 1983 on PBS.
The series ran for 23 seasons, making it one of the longest running children's programs on the network. Furthermore, the series garnered several awards over its run, including a Peabody Award and 26 Emmy Awards, ten of which were in the "Outstanding Children's Series" category.
Mr. Burton himself won 12 Emmy awards as host and producer of the show.
After "Reading Rainbow" went off the air in 2006, Mr. Burton and his business partner, Mark Wolfe acquired the global rights to the brand and formed RRKIDZ, a new media company for children.
"Reading Rainbow" was reimagined as an all new app for the iPad in 2012 and was an immediate success, becoming the number one Educational App within 36 hours of its release.
Read More About
Category: All, Entertainment, History