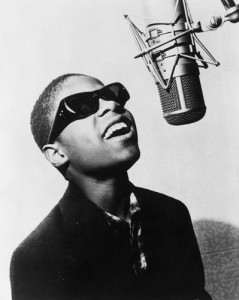 Working from the North Shore restaurant her father founded, Olive Anne Trott brought an array of talent to Bermuda that would have done a seasoned Las Vegas booking agent proud.
Mrs. Trott began promoting shows featuring major international acts a few years prior to launching the Miss Bermuda Pageant in 1965.
"She was the first person I knew to bring overseas promoters to Bermuda," former associate Wentworth Christopher told a newspaper after her death in 2011 at the age of 88. "She brought in people like Stevie Wonder [pictured], when he was 13 or 14 years old, James Brown, Dizzy Gillespie and Frankie Lymon.
"If I could remember all of it, I still couldn't do her justice."
Aside from promoting concerts, Mrs. Trott also persuaded Olympic gold medallist Cassius Clay to take part in a boxing exhibition staged at the National Tennis Stadium in 1965. Her doctor — former Premier Ewart Brown — has said of Mrs. Trott: "It was Olive who introduced me to Muhammad Ali [then Cassius Clay] outside my dad's bar in Flatts. My friendship with Ali has continued over the years."
Dr. Brown called her "a special lady with a magnetic personality and a contagious smile."
Scoring Stevie Wonder for a Bermuda engagement when his star was on the rise in 1964 was one of her earliest coups.
Olive Anne Trott greets "Little" Stevie Wonder as he arrives in Bermuda in March, 1964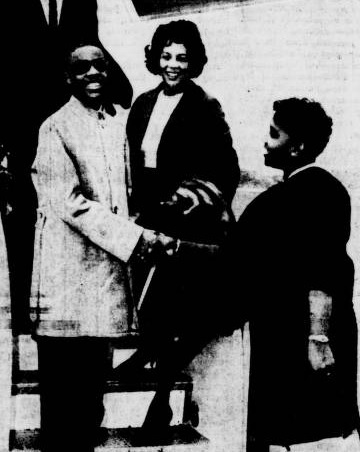 One of the most significant and enduring figures in popular music history, Stevie Wonder has been recording music for Motown Records since the age of 12.
Blind since infancy, he developed a fascination and love for instruments at an early age.
Introduced to Motown Records CEO Berry Gordy in 1962, the record label boss was so impressed with the young musician he immediately signed him under the name Little Stevie Wonder.
Stevie Wonder released "Fingertips in 1963, with the musician covering vocals, bongos, and the harmonica.
Featuring a young Marvin Gaye on drums, the song rose to number one on the US charts and put Stevie Wonder on the American music map.
"Little Stevie, the 13-year-old Wonder-boy of the recording and entertaining fields attracted two full houses at the Rosebank Theatre last Friday night," said a front page report in the "Bermuda Recorder" newspaper. "Stevie was very popular with thousands of local teen agers before he came here and now he has won the hearts of everyone who turned out to see the 'genius' as he is often called.
"His popular recording of 'Fingertips that catapulted him into the top-star bracket was by far his best received item along with another of his special sing-along tunes 'La La La La La' …"
"The show on the whole was a major success and fans came away highly delighted and semi-delirious from Stevie's highly captivating stage personality. They were either frozen out of sheer amazement or trapped into the hand-clapping, feet-stamping rhythm that accompanies most of the blind-singers numbers.
"Stevie mastered his various instruments and simply aston ished his audiences as he moved from the microphone with his mouth organ to the organ where lie then to his sparking set of drums where he put over a ballad 'Funny How Time Slips Away' …"
The newspaper report continued: "It was difficult to tell which of the two [hits — 'Fingertips' or 'La La La La La' -= brought the most screams and raves from his highly responsive audiences …"
Bermudian acts appearing on the bill with the rising young American star included the Aldanno Sextette, husband-and-wife team Gene and Pinky Steede, the Keynotes the Dancing High Hats, Elva Simmons and pop band the Appegios.
Stevie Wonder returned to Bermuda a number of times in the '60s and '70s to perform and in 1970 spent his honeymoon on the island after marrying  Motown singer/songwriter and frequent collaborator Syreeta Wright.
"Little " Stevie Wonder's "La La La La La"
Read More About
Category: All, Entertainment, History, Music