The Police commended 15-year-old CedarBridge Academy student Dakahri Bailey after he returned a wallet that he found outside of a grocery store.
A police spokesperson said, "On Saturday evening, 26th October 2019, Acting Sergeant Melvin Best [Community Policing Division] was performing extra duty at Lindo's Family Foods in Warwick when grocery packer Dakahri Bailey handed over a brown leather wallet which he found in the car park.
"Acting Sergeant Best contacted the rightful owner who came back to the grocery store a short time later to collect the wallet from the officer. Dakahri's mother was also informed of her son's good deed.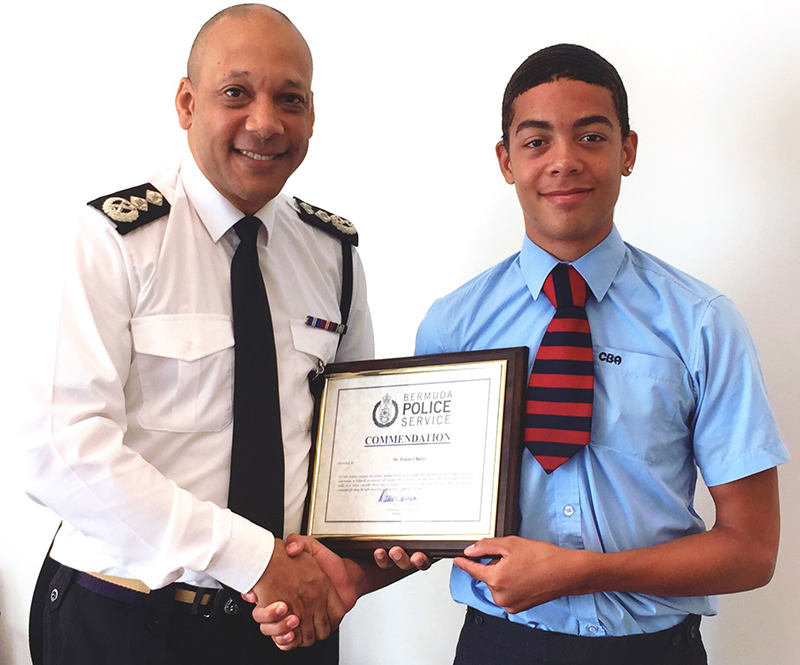 "The rightful owner thanked Dakahri for his honesty in finding and handing in the wallet with all its contents intact and gave the young man a token of appreciation.
"Dakahri was presented with a Bermuda Police Service [BPS] commendation for his actions by Acting Commissioner of Police Darrin Simons, in front of his mother and members of the BPS Senior Leadership Team.
Explaining the need to highlight positive incidents like this, Acting Sergeant Best said: "In times like these when we get so many negative complaints about the young men in our community, when they do good, their efforts should be praised and recognised."
Read More About