More than 20 Clarien Bank employees volunteered their time to doing light landscaping work at WindReach Bermuda, to help with necessary cleanup efforts following Hurricane Humberto.
The staff members devoted half a day on Friday, November 1 to carrying out various tasks including the pulling of weeds, clearing of small rocks and stones, digging up of cane grass, cutting back branches and prepping garden spaces [for the planting of fruits trees and to allow the Windreach animals to roam].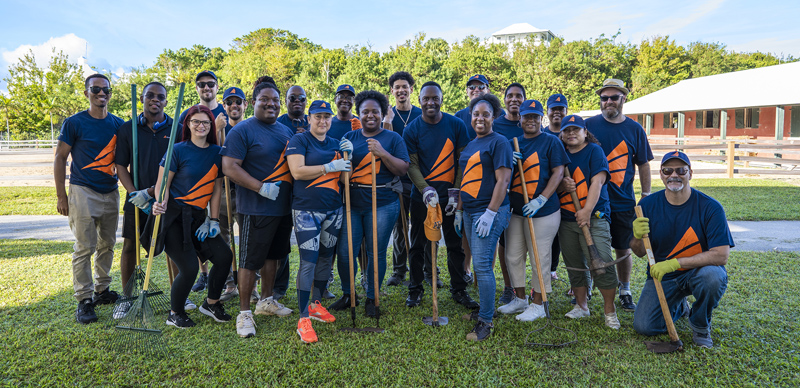 Michael DeCouto, Clarien's SVP, Chief Digital and Marketing Officer thanked the 22 employees who gave of their time to WindReach earlier this month. He said: "Clarien is extremely proud of our generous employees who volunteer on behalf of various worthy causes throughout the year. WindReach Bermuda is a charity especially close to our heart.
"As a financial supporter of theirs for the past nine years, Clarien donated $6,000 to them this past April, which went directly to WindReach's therapeutic programmes benefiting over 200 individuals on a weekly basis.
"We are grateful to be able to continue this long standing partnership with the organisation, by helping them to spruce up their property after it suffered vegetation damage from Hurricane Humberto in September. The property was in great shape after our team left and the volunteers had a good time giving back."
WindReach is a fully-accessible 4 acre facility located in Warwick, featuring a multi-purpose Activity Centre, Petting Zoo, Therapeutic Riding Centre, and a fully-accessible playground. The organisation is unique in that it offers a variety of therapeutic and educational experiences for people with varying physical and intellectual abilities. Its programme participants range in age from preschoolers up to seniors.
So far in 2019, Clarien has given over $200,000 to various not-for-profit organisations on the Island in an effort to aid and invest in areas such as youth development, education, health and human services.
Additionally, the bank offers a Clarien Cares Programme allowing staff to participate in one of three community outreach projects that the bank coordinates throughout the year. Clarien also encourages employee involvement in charitable events, allowing staff who volunteer outside of normal business hours in support of one of the partner charities to get paid vacation time in return.
The Clarien Foundation, a charitable trust that oversees and executes all charitable endeavours and donations made by Clarien Bank, also matches donations by employees who give up to $500 per year to local charities.
For more information about The Clarien Foundation, visit www.clarienbank.com.
Read More About