Award-winning physician Dr. Kyjuan Brown, is aiming to inspire Bermudians of all ages to reach for their dreams – no matter how high they may seem – after accomplishing another professional milestone by launching his new line of hair growth products, available locally and internationally.
"The Dr. Brown's Laboratory product line includes a hair growth serum containing the FDA approved medication, Minoxidil, which is scientifically proven to increase blood supply to the scalp thus improving hair growth. The product line also includes as a shampoo additive shown to reduce hair shedding and increase growth," a spokesperson explained.
"Sold locally at Northshore Medical and Aesthetics Centre, as well as local barber shop/salon Luxury Cuts Bermuda, The Salon Store [Reid Street], People's Pharmacy and Phoenix Center, the items are affordably priced at $35 and $40."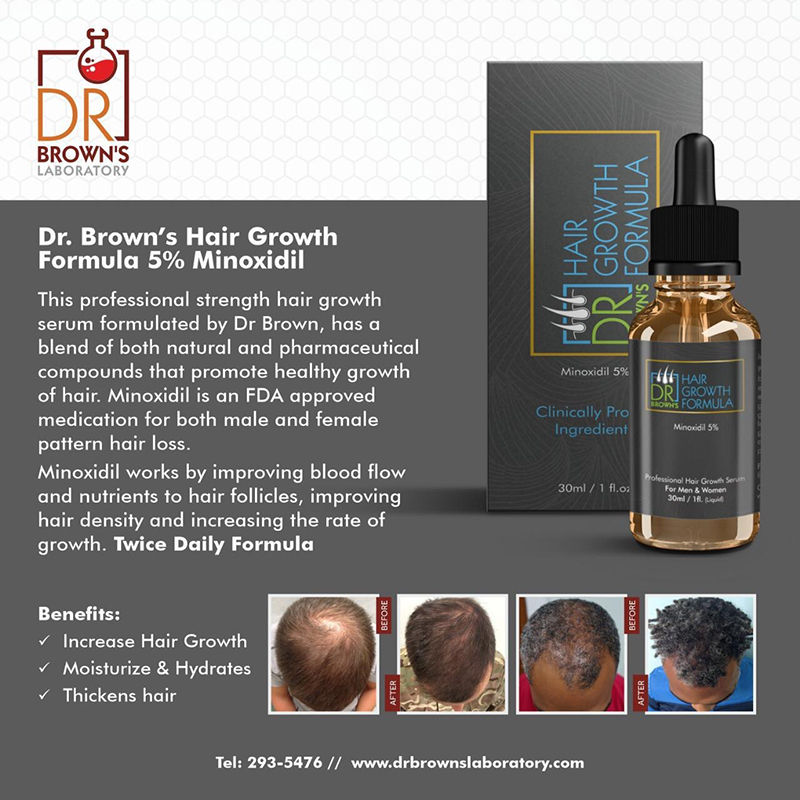 "This past weekend, following a popular post online by an independent internationally acclaimed hair guru vouching for how Dr. Brown's Hair Growth Serum worked for her, the serum sold out at all locations on the island. A spokesperson for the brand said they were overwhelmed by the positive response and have worked to ensure all shelves are restocked to keep up with the demand.
"While the hair growth products are the main focus of Dr. Brown's Laboratory product line, the collection also includes prescription strength hair growth formulas, as well as skin care products, including a 20% Vitamin C Serum and 2.5% Retinol Serum both with Hyaluronic Acid and Vitamins E, proven to decrease wrinkles and improve the texture and tone of the skin for a vibrant and youthful result. These products can only be obtained by prescription."
Dr. Brown, the Medical Director of Northshore Medical and Aesthetics Centre [NMAC], said, "I'm incredibly proud of this product line and want people to know that it is possible for a young Bermudian male to produce something of international reputation.
"Sometimes as Bermudians, because we are on this small island that most people have only heard about because of the Bermuda Triangle, we think what we do here is insignificant or not worthy of global recognition."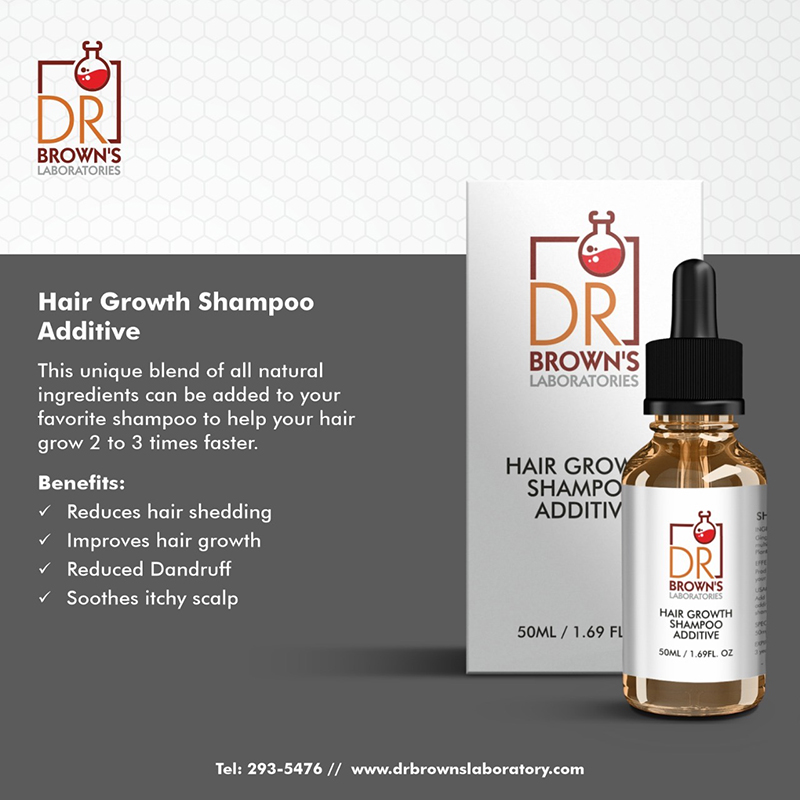 "Growing up in the 'back of town' and attending CedarBridge Academy like I did, there is a tendency to think we are not going to become anything and anyone significant, so to finally see my own line of hair growth products line the shelves at stores in Bermuda and the Caribbean has been a really proud moment for me."
The spokesperson said, "Dr. Brown said he started to research, plan and test his hair growth products, shortly after winning the acclaimed Professor Hywel Williams Research Prize at the annual Caribbean Dermatology Association [CDA] Conference in 2015.
"Selected for having the most outstanding research paper with the greatest relevance to the science of Dermatology, his presentation discussed his findings on how medical hair restoration using a combination treatment approach could help Afro-Caribbean patients regrow their hair within three to six months.
"He beat out competition from doctors from around the United States, Canada, United Kingdom, Jamaica, Trinidad & Tobago, Cayman Islands, Barbados and St. Lucia just to make a few.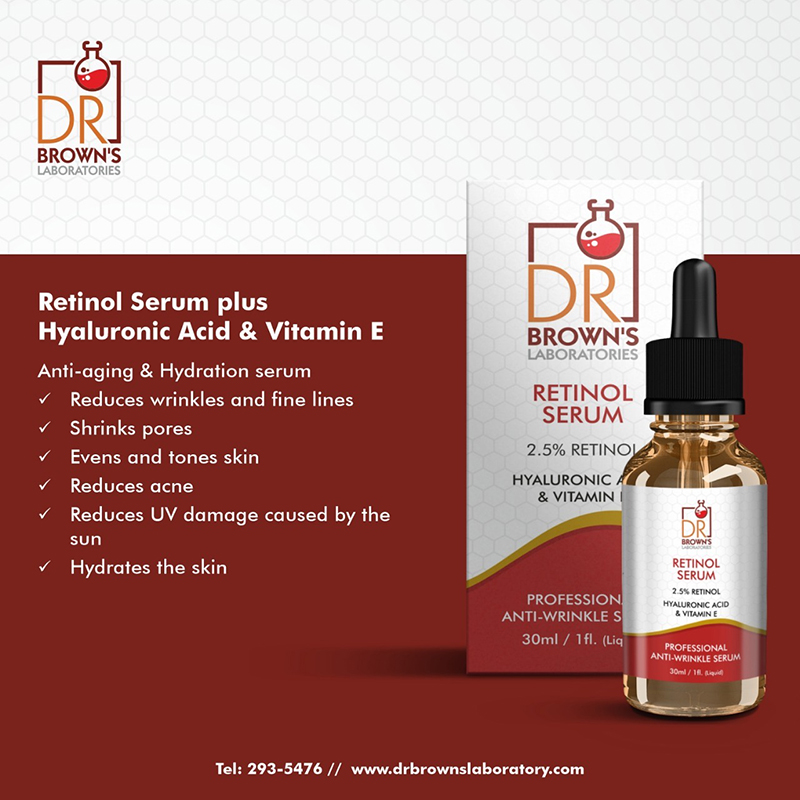 Dr. Brown said, "That was my first overseas conference and I was presenting against people from some very big name medical institutions from all around the world, so when I won the award for the most outstanding original research paper with the greatest relevance to the science of Dermatology, I was surprised.
"It was a huge honour and boosted my confidence. From there I said 'if I can produce work worthy of international recognition, what else can I do?'"
The spokesperson said, "Over the last five years, Dr. Brown has used his hair products exclusively on the clients that come through NMAC's doors with excellent results. Three years ago, he decided to create a retail version of the products that could benefit Afro-Caribbean patients, as well as people of all races and hair types that suffer from hair loss and baldness."
Dr. Brown said, "Our hair clinic has seen over 500 registered patients and over that time we've seen excellent results that other countries treating this demographic just aren't getting.
"When I first started specialising in medical hair restoration, I did a course with Dr. Alan J. Bauman at the Bauman Medical Group. Dr Bauman has been voted America's Top Hair Restoration Surgeon many times over and I was able to attend his course which led to me being certified by him, after mastering his techniques."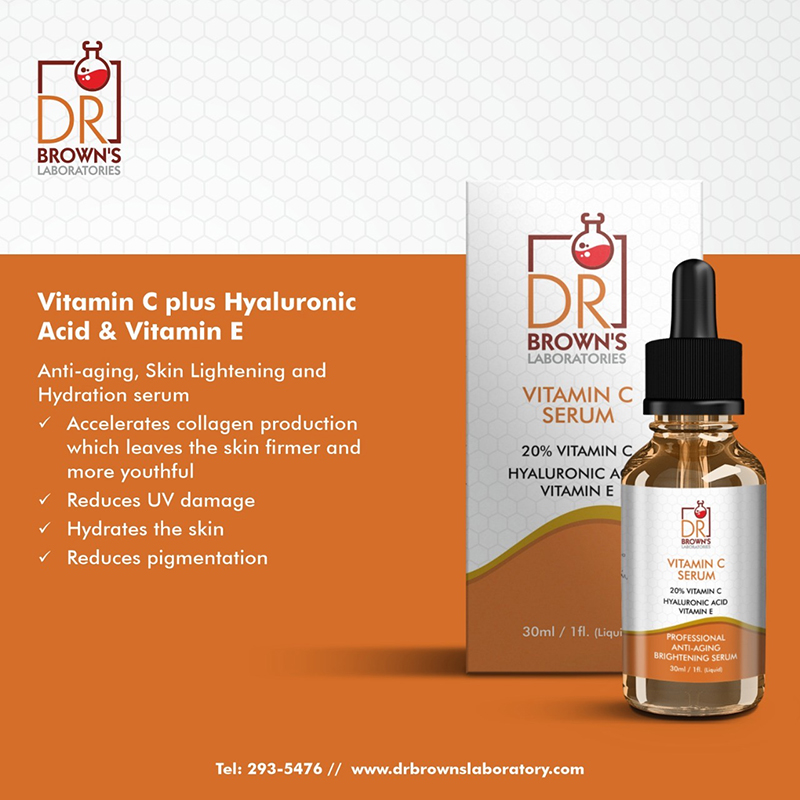 "It gave me a solid foundation to work from, but it was apparent that in Bermuda, the people coming to me were of Afro-Caribbean decent and so the treatments and assessment protocols had to be modified to suit my demographic. I had to formulate products to best meet my client's needs and that's how my product line came about in 2016.
"There's nothing worse than having to walk around with no hair on top of your head or with a toupee/wig that doesn't stay on and gets blown in the wind. I've seen so many people regrow their natural hair, regain their confidence and get their sexy back after using my products. It's very rewarding to play a part in those clients' transformation."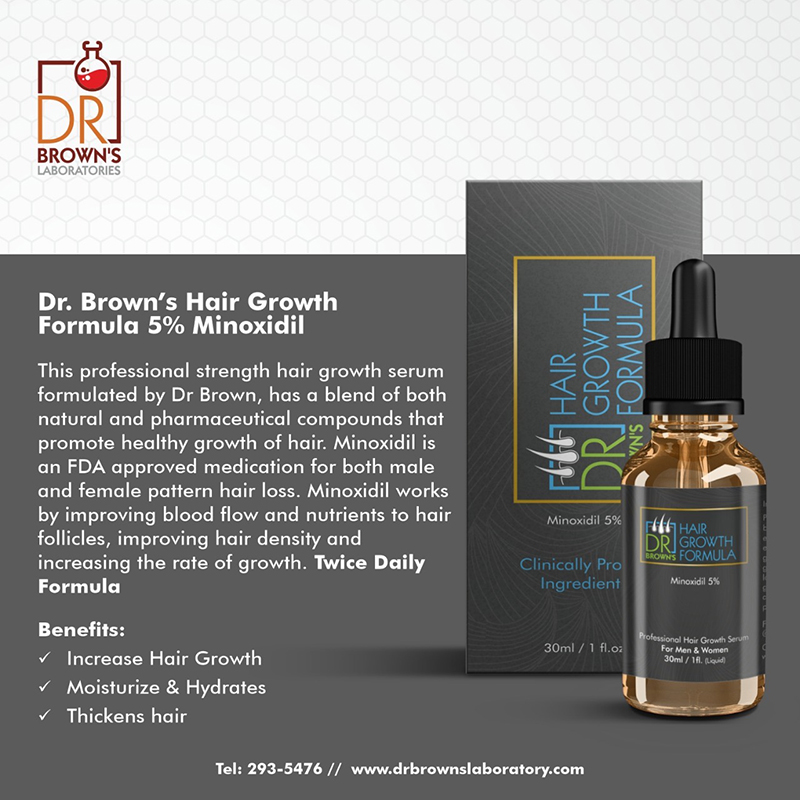 Receiving his medical doctorate degree from St. George's University School of Medicine, a renowned private medical school in the West Indies, Dr. Brown decided to further train in the study of hair, skin and nails by gaining a degree in dermatology from the prestigious Welch Institute of Dermatology at the University of Cardiff, Wales, UK.
Over the years, he has written numerous articles and appeared on television showcasing his expertise in the area of general medicine, medical hair restoration and skin care.
For more information on the product line, visit drbrownslaboratory.com, call 293-5476 or email info@drbrownslaboratory.com.

Read More About