Epic Entertainment is getting set to present the Masters of Digital Illusions on Saturday, November 16 from 1.00pm to 8.00pm at Fairmont Southampton.
A spokesperson said, "Epic Entertainment is thrilled to present the Masters of Digital Illusions who will captivate Bermuda with a thrilling and jaw-dropping evening of events. Bermuda's own Mr. Magic will host the show and keep the audience in awe with some amazing, interactive new tricks that you do not want to miss.
"Masters of Digital Illusions will feature the following award-winning illusionists:
"Tony Chapek is named the original digital entertainer who blends illusion, technology, and humour to mesmerize your mind with state-of-the-art video technology.
"It's been said that, put Tony in front of people and he will amaze them, enlighten them and inspire them to greater height of potential and production all through the power of innovation."
Mr. Chapek said, "I'm ready to give Bermuda something they've never seen or experienced before."
The spokesperson said, "The Les French Twins, Tony and Jordan. As seen on America's Got Talent, and all the way from France, is the duo that has taken illusions to the next level. The French Twins are famously known for distorting your senses and challenging your perceptions. They are two wizards who practice their talents worldwide.
"Their magic is characterized by their great interactivity and the use of new technologies."
The Les French Twins said, "We can't wait to arrive; this will be our first time on the island. Bermuda you're not going to be able to trust what you have seen with your own eyes. We will be stopping by a few schools to award some special students with a chance to attend. See you on November 16th."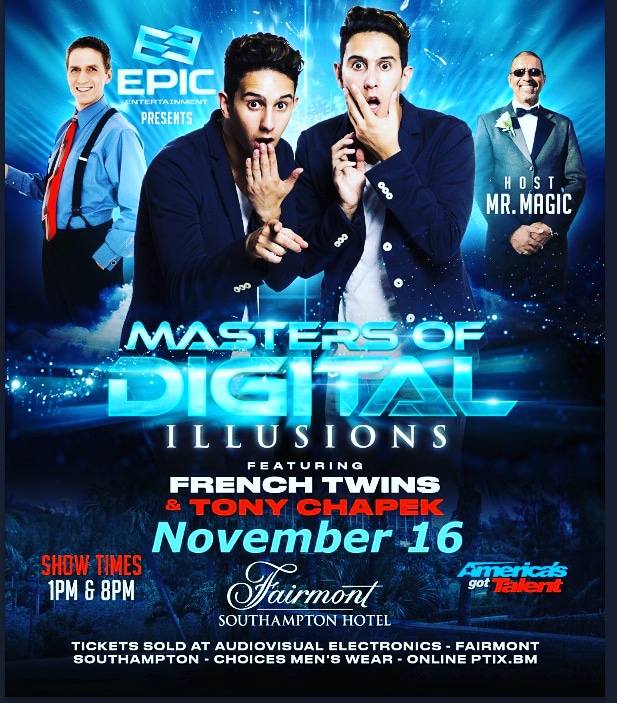 Read More About
Category: All, Entertainment