The third Bermuda Plein Air Festival was held from October 26 until November 2, with sixty local and international artists taking part.
A spokesperson said, "The Festival began on Saturday October 26 and was filled with one week of intense painting at a new location every day, night painting, workshops and demonstrations. The locations included historical St. Georges, serene Ely's Harbour, urban Hamilton and our beautiful beaches.
"Fifty-five artists attended, with the Festival attracting 23 overseas artists along with their spouses, and friends."
Winner of Best Oil – Eli Cedrone; Michael Harding [ Michael Harding Paints] Eli Cedrone, Karen Harding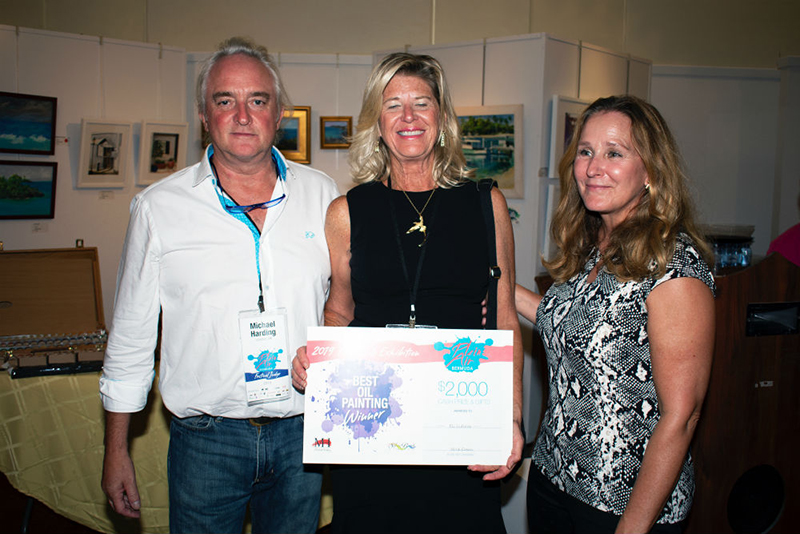 "The most stressful day for some was held at Cambridge Beaches on Friday, November 1, with the Quick Art Competition held from 9.30am to 1.00pm.
"The artists not only had to have their paintings finished in this time, but paintings had to be framed and ready to hang on the wall in three and a half hours."
Winner of Best Acrylic – Stephen Conway; Rachel and Stephen Lynton [Armadillo Art and Craft] with Stephen Conway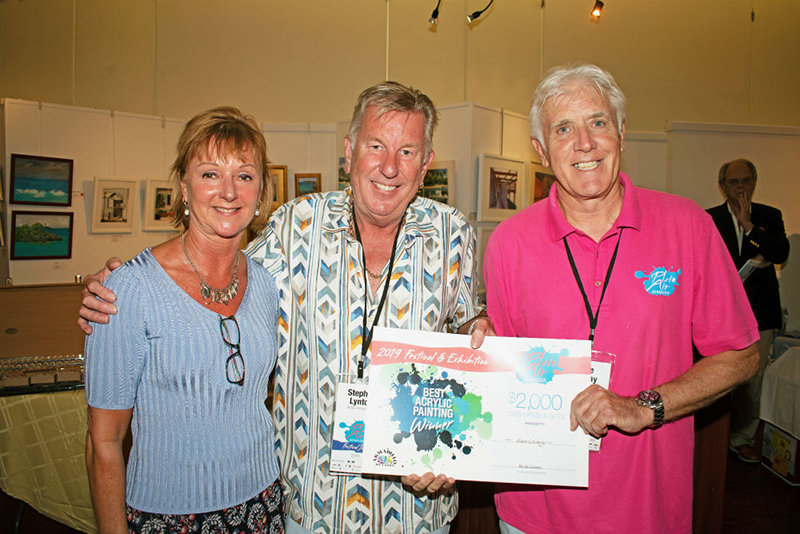 "Over 200 paintings were collected from the participating Artists at City Hall, in the morning, of November 2, 2019, hung and judged, and the Festival Exhibition opened from 4:00pm – 7:30pm with all works being for sale.
"The Bermuda Plein Air Festival would like to extend their deep gratitude to The Bermuda Tourism Authority as lead supporter of this event and enabling us to keep Bermuda Art in the tourism limelight."
Winner of Quick Art Competition – Jill Amos Raine; Rachel and Stephen Lynton [Armadillo Art and Craft] with Jill Amos Raine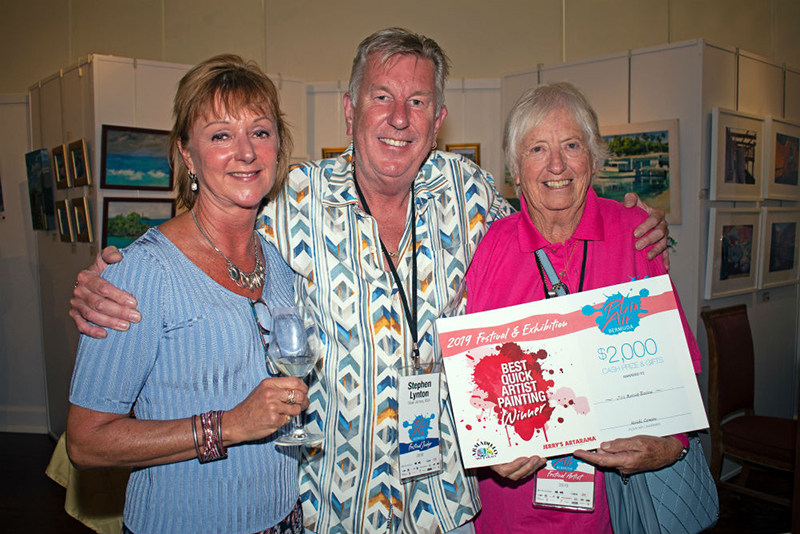 "The festival ran with so many other donors and supporters that enabled the festival this year's festival to be a huge success. Artists and art lovers came together and donated their time and energy."
Winner of Best in Show and Watercolour – Poppy Balser; Michael Harding [Michael Harding Paints] Poppy Balser, Karen Harding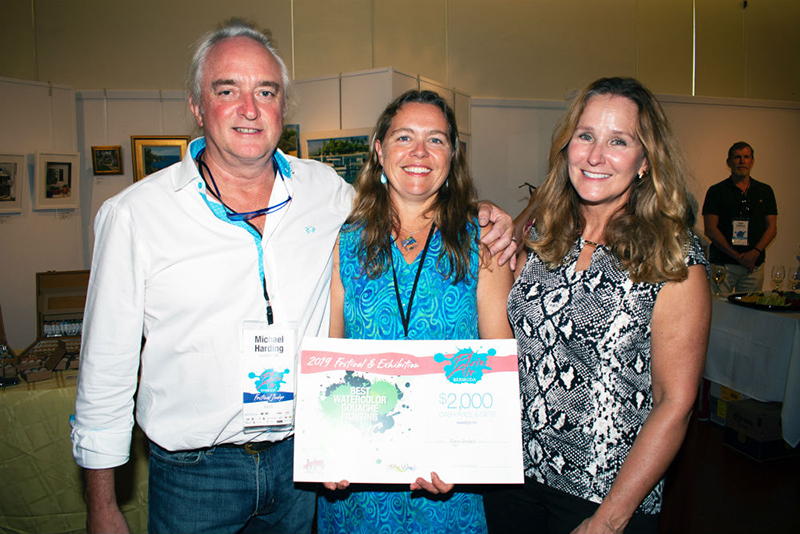 "The Bermuda Plein Air Group meets every Sunday morning at a different location [September - June]; for more information, contact bermudaartscentre@gmail.com."
Winner of Best Pastel – Vivienne Gardner; Bernadette Ward [Colorfill / Pan Pastel] with Vivienne Gardner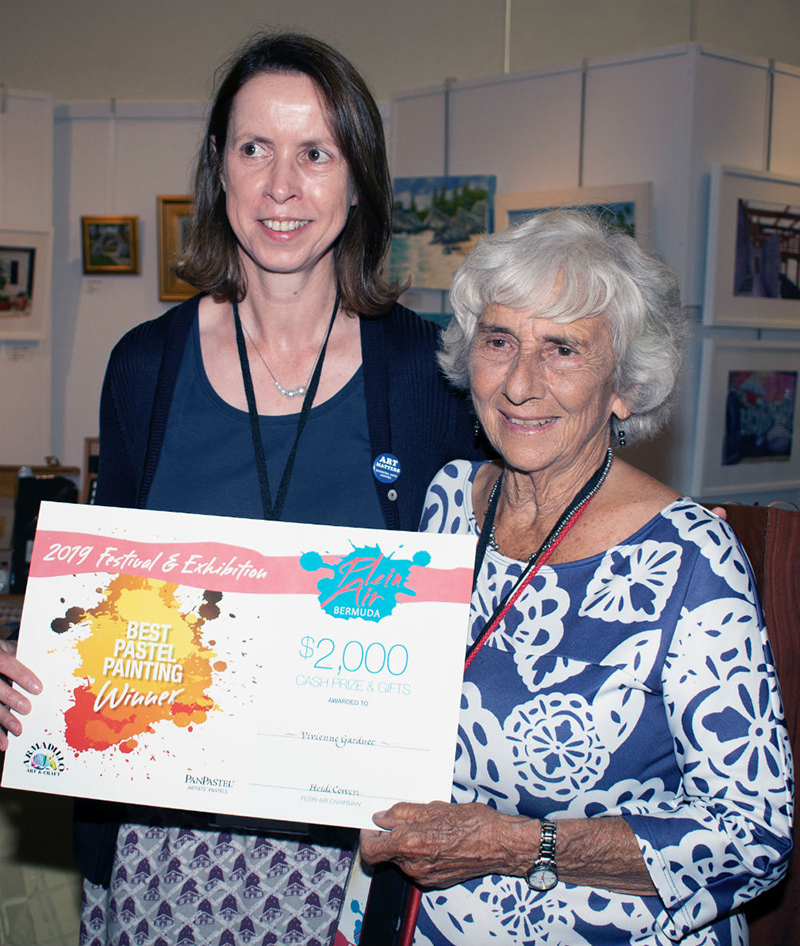 For more information on the Bermuda Plein Air Festival, visit the website.
"The next Plein Air Festival is already in the makings and will be held in 2021."

Read More About
Category: All, Entertainment, News