The exhibition for the Plein Air Festival — which features 65 local and international artists — will be held on Saturday, November 18 from 4.00pm to 7.30pm at the Bermuda Society of Arts Gallery in City Hall.
Plein Air Festival Coordinator Rhona Emmerson said, "This event will feature an island wide "paint out" schedule, with a one-day Festival on Saturday, Nov 18th. This will showcase Bermuda's beauty under the brush of acclaimed professionals and be an opportunity for the public to purchase hundreds of paintings that have been painted all week long.
"There are prizes to be won, and is a media opportunity; it could be the start to a new Masterworks collection! Our event website has the full profile of the upcoming event, but here is a little background.
"We know plein air painting is a fast growing leisure activity for all ages and perfect as a new cultural enrichment event to showcase Bermuda at its best. We can offer spectacular island-wide locations in which to paint – Bermuda is a painter's dream for colour.
"We also have a rich history of world famous artists who made Bermuda their winter playground, and the support of an active and vibrant local art community today.
"Bermuda is an easy gateway destination. And November weather can be spectacular! The special value we would add to our visiting artists is that, being local, we can obtain access to beautiful old Bermuda home grounds, and almost-secret magical locations where an unaccompanied visitor might never otherwise have the opportunity to paint.
"We expect our initial audience to be from the US, and Canada with perhaps a smattering of Europeans. We are encouraging the participants to stay the full seven days – and have provided a range of accommodation options at very favorable rates.
"The visiting professional Plein Air artists also have their own following of painters who belong to clubs and community art groups from various US East Coast targeted areas, and they will be joined by many local residents and the Bermuda Plein Air members.
"Our full sponsorship brochure is online.
"Under the umbrella of the Bermuda Arts Centre at Dockyard, registered Bermuda charity #0244, the Bermuda Plein Air Painters is a group that was formed eight years ago by artists Jonah Jones and Chris Marson. The success of this group together with that of similar plein air groups worldwide usually culminating in an annual festival led to investigate the attractiveness of Bermuda as a painter's festival venue.
"It is envisaged that our festival will be a biennial event, with the next event dovetailing with the AC-17, together with all its international media exposure.
"Plein air painting is about leaving the four walls of the studio behind and experiencing painting and drawing in the landscape. The practice goes back for centuries but was truly made into an art form by the French Impressionists.
"Their desire to paint light and its changing, ephemeral qualities, coupled with the creation of transportable paint tubes and the Box easel—the precursor to the plein air easels of today— allowed artists the freedom to paint "en plein air," the French expression for "in the open air."
"Today, Plein Air painting is a flourishing trend in our art world. Artists come together for "paint out" excursions and workshops and are devoted to the practice all year and coast-to-coast. We aim to put Bermuda on the world's art map."
The full Plein Air Festival programme is available online.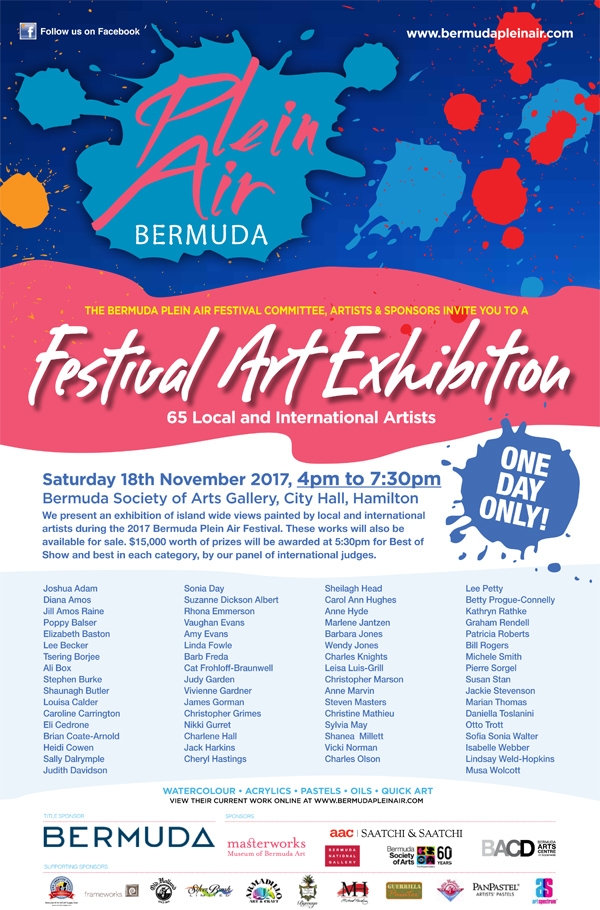 Read More About
Category: All, Entertainment