Government Ministers and the BTA joined restaurateurs this morning [Nov 20] to announce a joint hospitality training programme which will see participants "undertake a structured skills-development course, followed by paid on-the-job training opportunity."
A BTA spokesperson said, "A new public-private training and development initiative aims to attract Bermudian job seekers to restaurant careers.
"The project, funded by independent restaurant operators, the Department of Workforce Development, Bermuda College, and the Tomasz Tabor Memorial Fund, with administrative and promotional support by the Bermuda Tourism Authority [BTA], is an immersive three-part training programme set to kick off in January 2020.
"Bermudians interested in employment in the food and beverage industry are invited to complete an online registration allowing them to attend a special information session about the programme to be held December 9."
"We're excited about this collaborative effort to attract Bermudians to this vital sector of service industry," said Tourism Minister Zane DeSilva. "This innovative initiative will help empower Bermudian job-seekers to successfully prepare for and land jobs in a dynamic, sustainable field."
The spokesperson said, "Under the scheme, participants will undertake a structured skills-development course, followed by paid on-the-job training opportunity."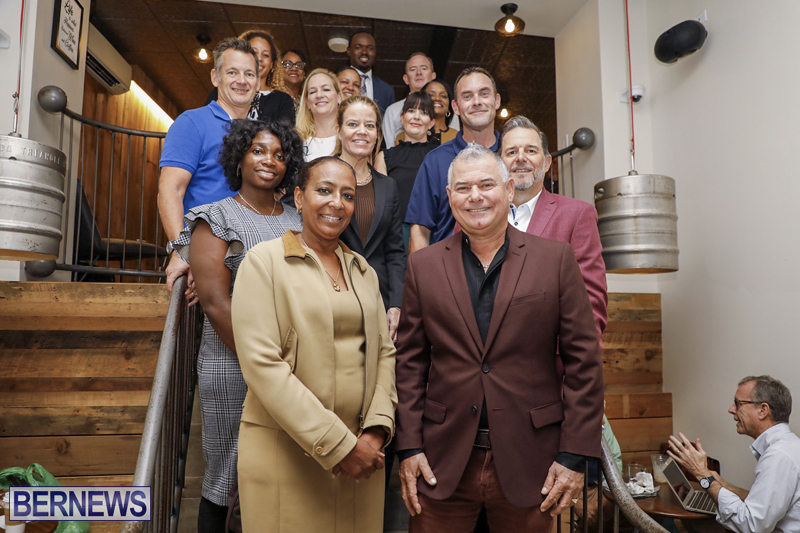 "Twelve participants will be selected for the pilot programme launching in January, followed by another full cohort four weeks later. Four participating restaurant groups include:
"Harbourside Holdings [Flanagan's Irish Pub, Divots, The Loft, Snug Café, Outback Sports Bar]
"Island Restaurant Group [Barracuda Grill, Brew, Hog Penny Pub, Pickled Onion, Frog & Onion]
"Take Five [Devil's Isle, Village Pantry, Buzz Cafes]
"Yellowfin [Astwood Arms, Bistro J, Café TEN, Pearl, Port of Call, Yours Truly]
"The initiative grew from a programme launched earlier this year by Take Five in partnership with the Department of Workforce Development, offering Bermudians interested in entering the hospitality industry the chance to gain hands-on experience, along with international and entry-level certification."
"We felt this provided a successful model to build on, and we're pleased to work in collaboration with restaurant partners to ensure its growth and sustainability," said Holger Eiselt, Managing Director, Take Five.
"We appreciate all who have provided the necessary support, including the Bermuda government, the BTA, and the Tomasz Tabor Memorial Fund."
The spokesperson said, "Tabor was a well-known chef for Elbow Beach and Island Restaurant Group who was killed in a motorcycle accident in 2014. A memorial golf tournament launched in his name raised more than $100,000 for junior chef courses, hospitality scholarships for Bermudian students, and the Bermuda College waiter/server programme. Its funds will now support the new initiative."
"We believe this project has the potential to educate, train and place many Bermudians in the hospitality sector and set them up for success," said Karl Massam, General Manager, Yellowfin.
"It will not only benefit our restaurants and hotels, but also our tourism product overall, and, by extension, our whole community. I know Tomasz would be very proud."
The spokesperson said, "Following American Hotel & Lodging Educational Institute [AHLEI] certification at Bermuda College and industry-specific skills training for certification as baristas, food handlers, and wine servers, among other industry designations, programme participants will take part in an eight-week paid internship, with a fortnight spent working at each participating restaurant group."
"The programme provides all-important on-the-job training, allowing participants to 'learn while they earn'," said Minister Lovitta Foggo. "We're inviting Bermudians going through career transitions, those without current employment, and high-school students who may be looking at future career options, to consider this opportunity."
"We're excited to partner with Workforce Development, the Bermuda College, and all our industry partners to create this innovative programme," said Chris Garland, General Manager, Harbourside Holdings. "We believe it will give Bermudians the tools and training they need to be successful in the hospitality industry."
The spokesperson said, "The project is part of an overall plan being developed in collaboration with the Bermuda government and industry stakeholders to attract job seekers into the tourism industry generally. Individuals who register with the Department of Workforce Development will be alerted about job openings, specific training, and learning and development opportunities if they need to refresh or learn new skills.
"A recent PwC Bermuda study indicated the island's need for hospitality workers will increase as several new hotels open by 2021. These include the St. Regis Bermuda Resort in St. George's, and Azura Bermuda and Bermudiana Beach Resort, in Warwick. The Bermuda Hospitality Needs Assessment Study found most hospitality jobs needed would be in the areas of housekeeping and food and beverage."
"As an industry, we decided to capitalise on this outlook and pro-actively help ensure Bermudians could take advantage of the gap between demand and supply—particularly in the food & beverage arena," said Philip Barnett, Director & President of Island Restaurant Group, and a BTA Director.
"Bermuda's restaurants need Bermudian workers, so we're proud to be part of a project to build front-line capacity in the short- and long-term."
"We're delighted to partner with the government, Bermuda College and industry stakeholders to share cost, engage the local community, and make this integrated approach possible," noted BTA Chief Operating Officer Karla Lacey.
To complete the employment registration, go online and for more information, contact the Department of Workforce Development at 441-297-7714 or 441-297-7716.
Read More About