There is ample talent in Bermuda – locals simply need to be given adequate opportunity to show their skills and abilities. That's the word from Cathy Lord, a retired veteran professional with more than three decades' experience in the [re]insurance industry.
Ms Lord spoke yesterday [Thursday, March 23] at a special live LinkedIn event hosted by Lorene Phillips, CEO of Clarendon Wallace. The mini masterclass looked at the importance of professional mentorship in enhancing diversity, equity and inclusion in the workplace and offered listeners tips and advice on how to build a lasting mentor-mentee relationship.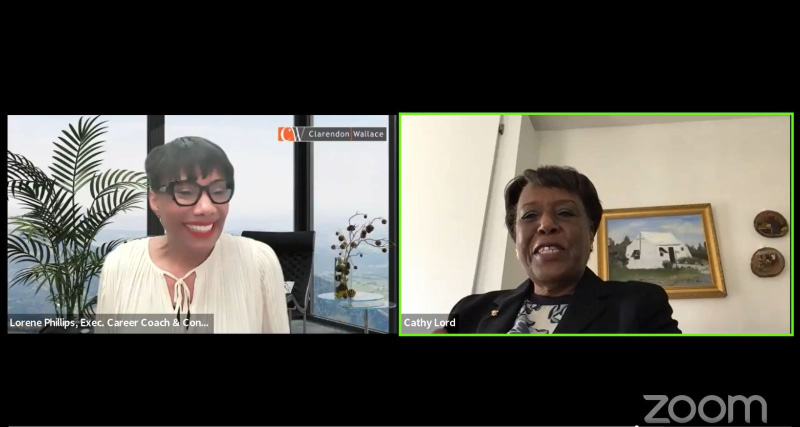 In addition to being the first Black Bermudian to work as an insurance broker in the late 1970s, Ms Lord also served as a director of BF&M for 12 years. She currently serves as Chairman of Packwood Rest Home and sits on the executive committee of The Lady Cubitt Compassionate Association [LCCA], a programme assisting patients in financial need who require being sent away for treatment.
Ms Lord said: "A comment was made in a recent insurance industry meeting that there isn't much local talent and I found that to be very frustrating because it's just a way of excluding Bermudians from trying to excel in the industry. We have loads of professionals who are well-educated and talented, but many are not given fair opportunity to show their abilities."
Benefits of Mentorship
A spokesperson said, "According to both Ms Lord and Mrs Phillips, also a former reinsurance executive in Bermuda and the UK, finding the right mentor can play a huge part in an individual's success and also contribute to one's sense of belonging and inclusivity with organisations. It also provides professionals with a sounding board when it's time to make big decisions in their career and may even give them the courage to take more professional risks."
Mrs Phillips, a speaker, author and executive coach, said: "One of the benefits of having a great mentor is when they open their network to you graciously. When I came back to Bermuda to work in 1991, there was a recession. I had just finished my insurance qualification and had done everything right, but I was disillusioned and disappointed by the lack of opportunities available. I reached out to Cathy and she made a few phone calls. After that, I was able to secure several interviews and the rest is history."
Long-standing Support
Ms Lord has supported Mrs Phillips as a mentor now for more than 30 years. She said it takes first establishing a good rapport with the person you are mentoring. "Mentorship is about helping individuals navigate through the corporate world because it's not always the easiest process," Ms Lord explained. "Back in the day it was even more difficult because there weren't many people of color in those corporate spaces. I was the only black person in my role when I first started in insurance."
"Unfortunately, people are still finding it a challenge today, especially when it comes to navigating office politics. Still, it's always good to have someone you can network with so that you can create a good support system in your career – whether that be with a young person or one of your contemporaries."
Mentee Becomes Mentor
The spokesperson said, "Ms Lord's biggest tip for looking for a quality mentor is to find someone willing to give of themselves. She said good mentors have to be willing to support and guide others."
"The first time I started to mentor someone, it wasn't something I was conscious about doing, but my mentee, Catherine Duffy, was in the process of finishing high school and I was impressed with the responsibilities she had taken on to support her family and how she was still very driven. When you see young people with drive, you want to encourage it."
Mrs Phillips encouraged young people to be proactive when it comes to reaching out to a potential mentor. "Find the connection where you can be your most vulnerable and authentic self," she said. "When I decided to first ask Ms Lord to become my mentor, I actually wrote her a letter while I was still in university. If you've seen someone in the professional setting or someone whom you follow online, ask them for support as that can be the difference between a career that has plateaued or declined and one that thrives."
The spokesperson said, "Mrs Phillips admits it's now in her DNA to look for opportunities to mentor others and give back – as she has benefitted so greatly from mentorship over the years. In addition to executive coaching, Mrs Phillips is also the founder of The Huddle, which hosts free information sessions and panel discussions for young professionals looking to enhance their professional development."
Cultivating Confidence
The spokesperson said, "The last suggestion Ms Lord offered to individuals looking to climb the corporate ladder is to develop confidence to take on new challenges in the workplace."
"Individuals need to be bold enough to say I'm going to sit at that table," Ms Lord said. "Especially for those from underrepresented groups, it's important to remind yourself: 'I'm just as good and have the ability to contribute, should I be given the chance. You have to push through any fears or insecurities and say: 'Why not me? Why shouldn't I have the opportunity to sit here and participate?'."
The spokesperson said, "The full conversation with Ms Lord can be found online at Lorene Phillips' LinkedIn page. For more information on Mrs Phillips' professional coaching and other services, visit www.clarendonwallace.com."
Read More About