Bermuda Sandcastle Competition organiser Hannah Emmerson is featuring some of her personal sandcastle builds in a 2020 calendar, which is currently available to purchase at several stores on the island.
Ms. Emmerson said, "The idea for a calendar started a few years ago when I took over the Bermuda Sandcastle Competition from its founder Nicky Gurret. Because I organize, I don't get to enter the competition any more, but instead I look forward to semi-weekly sandcastle builds on several beaches across the island to keep the Facebook and Instagram pages updated.
"I try to do each week's build with a theme or current event in mind. I build for bunnies for Easter and puppies for Valentines, flowers for Mother's Day, and last year I started a whole series of elf on the shelf builds that were very popular.
"I pick different beaches based on backdrops or location and sometimes the sand. Most of the south shore beaches have finer grained sand which is the best to build with. Really big builds can take anywhere from 6-8 hours depending how complicated I get, but most average 3-5 hours. But it's always a fun challenge to come up with something new to build each week."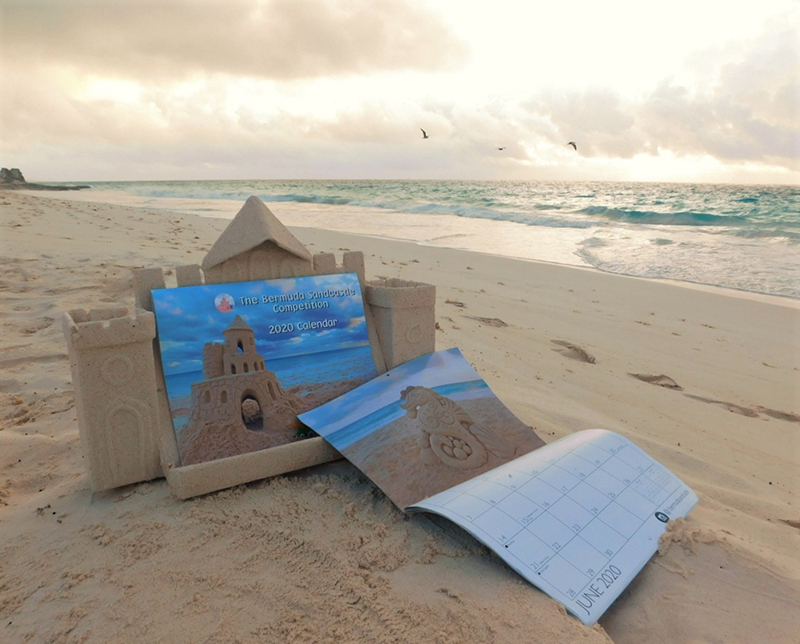 "I'm glad when more people are able to see the sculptures either on the day or the next day as they can last up to two days in the right conditions. Sharing them is part of the joy of sandcastles and why I love teaching workshops and inspiring others with what's possible; it's not as hard as most people think.
"People ask how I feel knowing they wont last very long: I admit that this hobby has forced me to be a much better photographer and that as long as I get a good shot when it's done, I'm happy to walk away and let nature take it back.
"It has also forced me to look at the backgrounds and vary the locations of the sandcastles. Some days I get lucky with kite surfers, dramatic storm clouds or rainbows behind my sculptures. Every day is a clean slate to build a new bigger and better sandcastle full of surprises.
"Because I have done so many over the past few years, I ended up putting my top builds into a Bermuda Sandcastle calendar for 2020. I would love to know what your favorite sculpture is and I'm always looking for suggestions on what to build next.
"I'm hoping that with the calendar and my posts that it will encourage people to see the beach and sand in a whole new creative way. The potential to build amazing things, share our island's natural beauty and touch other people's lives is only a bucket of sand away.
"They also make wonderful Christmas presents to those on island who want to enjoy the beach without the sand and to those living away, and friends and family members who need a little warmth and inspiration during the colder months and incentive to come visit Bermuda.
"They are on sale now at The Bermuda Bookstore, The Bookmart at Brown & Co, People's Pharmacy, and the Stationary Store in Hamilton for $12. Larger orders can be made through the Bermuda Sandcastle Facebook page and delivered."

Read More About
Category: All, Entertainment, News