Bermuda Environmental Sustainability Taskforce [BEST] has issued a fundraising appeal during this Christmas period.
The Christmas appeal says, "During this Season of Giving, please consider supporting the work of Bermuda Environmental Sustainability Taskforce [BEST].
"A donation to BEST is a donation to the community, a vital step towards protecting and enhancing Bermuda's precious open spaces and natural beauty for our children, grandchildren and all future generations.
"Over the past year, BEST has worked diligently to implement projects that in a very meaningful way impact the long-term sustainability of Bermuda.
"In addition to supporting our ongoing work, BEST responds to environmental threats and is active in influencing government policies. Your kind donation will help us to continue work on our current projects, which include:
Input for Bermuda's energy future and ongoing efforts to support the increase of renewable energy in Bermuda.
The reduction of pesticide use in Bermuda.
Protection of Bermuda's invaluable marine environment
Eco Lunch & Learn lecture series in collaboration with the Bermuda College
Input and recommendations for a ban on single-use plastics, as promised by the Government.
Assistance to all members of the community regarding Planning policies, questions and concerns
"With your financial support, we can continue to realise the BEST mission for our island home:
"To preserve and enhance the quality of life in Bermuda for present and future generations by engaging with the community to advocate for sustainable management and development of the physical, social and economic environments."
"To donate online click here or mail: Suite 1518, 48 Par-la-Ville Road, Hamilton HM 11 [Donations by cheque made payable to BEST].
"A gift to BEST is the gift that gives back for generations to come!"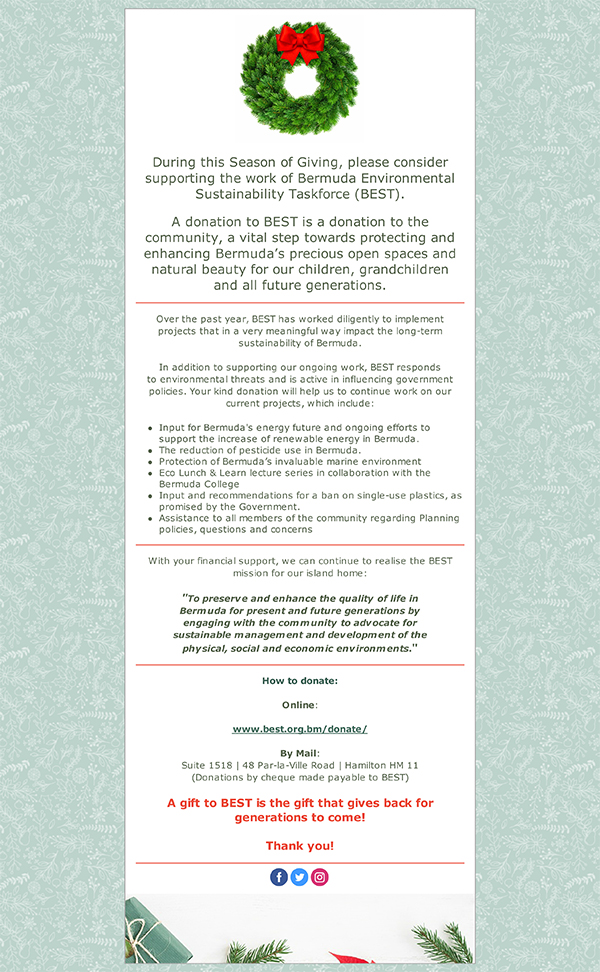 Read More About
Category: All, Environment