The Bermuda Environmental Sustainability Taskforce [BEST] said they are "very grateful to those residents who responded so quickly to their appeal for financial support," as the "investments made will allow BEST to continue critical services while they work on a sustainable financial pathway."
BEST President Stuart Hayward said he had been uplifted by the community reaction since BEST revealed its cash shortage at the end of January.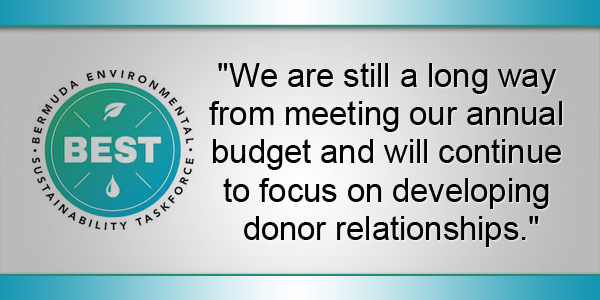 "Especially heartening was the support of new donors to BEST like Colin James of Atlantic Securities Limited, who came to our office in person, early morning on the day of our appeal," BEST said. "With an encouraging smile and a cheque in hand to donate to BEST he said, 'I just couldn't imagine Bermuda without BEST."
"Buoyed by this start to our appeal we were delighted to receive a call shortly thereafter from another supporter, Vallis & Hayward, to offer assistance to BEST with office accommodations.
"We were delighted to take them up on their offer and have since moved our offices into Suite 403, on the 4th Floor of the International Centre on Bermudiana Road in Hamilton."
Gail Miller, BEST Chair explained further, "We are still a long way from meeting our annual budget and will continue to focus on developing donor relationships. On that front, Kim Smith will take on the additional duty of managing this for us as we simultaneously cultivate a group of board members and volunteers to assist us with fund development and fund raising.'
Mr Hayward, who suffers from Parkinson's Disease, remains committed to BEST and the Board and staff have been working on how to both support him and to continue BEST's service commitment to the Bermuda community.
"Kim Smith will continue to be responsible for the Planning Programme and Citizen Advocacy project coordination. Kim's role is especially important as BEST responds to the 2017 Bermuda Plan Review as part of their Development Applications Review Programme," BEST said.
"BEST is currently focused on strategies for succession planning. The organisation remains committed to collaboration and are participating in the Centre on Philanthropy's Collaboration Initiative that began in January 2017 and estimated to take four to six months.
"BEST is also advancing internally from a Founder-directed to a Board-directed organisation to strengthen their structure and boost their longevity.
"Susan Armstrong has stepped up to Chair the BEST Management Committee. Susan will be putting together a team that will assist BEST with "Building Capacity". It hopes to do this through expanding its Membership Programme and by expanding its human [including volunteers] and material [including financial] resources.
"BEST is committed to honouring Stuart's legacy as an advisor, mentor, and wise counsel to any new team that will be created. As we move through this process of transition, BEST is fortunate to have the support, commitment and dedicated service of Stuart, David Wingate, long-term BEST Director and Bermuda's most notable environmentalist, as well as a strong Board of Directors and Management Team.
"If you are interested in supporting the efforts of BEST, we welcome your assistance. Please contact Kim Smith on 292 – 3732 or by e-mail: office@best.org.bm. For more information or to make a donation online, please visit our website www.best.org.bm."
Read More About
Category: All, Environment, News