The Hamilton Rotary Interact Club at CedarBridge Academy [CBA] has become the first public school club on the island to be certified, with their first community service venture to take place on January 4th.
A spokesperson said, "The Hamilton Rotary Interact Club at CedarBridge Academy have made their mark as the first public school on the island to be certified and chartered as a Rotary Interact Club. The club members range in age from 13 to 18 and conduct meetings weekly during their lunch hours.
"The advisers of the club are teachers Mr. Terrance Metcalfe, Mrs. Patricia Nesbitt and Mrs. Normalynn Showers. In January, they will work with their principal to plan activities to enhance their school and organize community and international service projects.
Principal Caesar, Advisers Terrance Metcalfe, Patricia Pogson Nesbitt, Normalynn Showers and Rotary Liaison Cathy Bassett. Photo was taken by Rotary supporter, Nikita Euler, teacher at CedarBridge Academy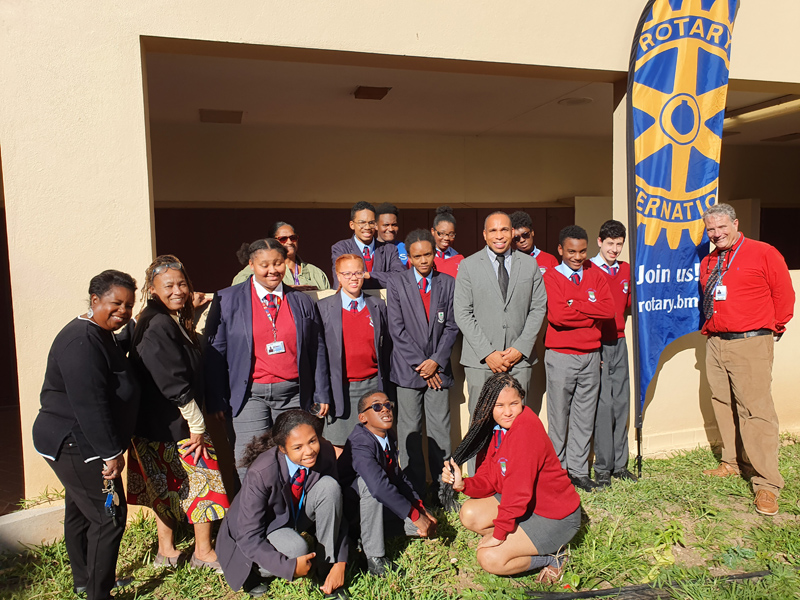 "They are sponsored by the Hamilton Rotary Club and will be mentored by Rotarian Director Mansfield Brock, Past President, and Youth Director Cathy Bassett. Their principal, Mr. Caesar, will oversee their programme.
"Their first community service venture on January 4th is to sell tags for the Hamilton Rotary's Youth Development Tag Day. Both CedarBridge Interacters and theatrical students along with the Hamilton Rotary Community Interact Club which meets at the Department of Youth and Sport are being sponsored by Hamilton Rotary Club to hone leadership skills in the new year.
"CedarBridge Academy theatrical company NOIRE, which is run by CBA teacher Patricia Pogson Nesbitt, will benefit from overseas training at a theatrical Institute and Hamilton Rotary Interact Club members – whose advisers are Denoris Armstrong, Glenda Edwards and Rotarian Cathy Bassett – will be sponsored to attend the National High School Model United Nations Summit Convention at the United Nations in New York City.
"Both groups will be sponsored by Hamilton Rotary Club and fundraising efforts. There are two other Rotary Interact Clubs which are doing amazing service projects at Mount St. Agnes and Somersfield Academy. Both are sponsored by the Pembroke Rotary Club. In the new year, all Rotary Interact Clubs will meet periodically to plan both community service and social fun activities to foster fellowship.
"The first Rotary Interact Club was started 45 years ago by past presidents Rotarian Kirk Kitson and the late Jay Bluck. Rotary Interact students then included Mr. Wendell Brown of Brown & Co. and Mr. Bruce Barritt of Barritt's Mineral Water Company. Other members included Patrice Dill, former head nurse at MAWI and Lessilene Williams, hotelier.
"The motto of Rotary is 'Service Above Self' and Rotary Youth have proven that service enhances good character, strong interpersonal relations and stellar leadership skills."
Read More About