The Hamilton Rotary Club recently presented a cheque for $6,000 to CedarBridge Academy as part of its Education Partnership initiative.
A spokesperson said, "The cheque was received by Mrs. Nikita Euler, Literacy Coordinator who brought four CedarBridge students to the Royal Hamilton Amateur Dinghy Club yesterday. These students, along with scores of other student participants, will benefit from the Achieve 3000 Literacy Program.
"Achieve 3000 is designed to enhance the growth of Literacy Skills of students on all Reading levels. The Program is computer assisted and accompanied by tests offered after each module. Lesson Plans are provided for teachers along with webinars to boost overall knowledge about intervention using all modalities of instruction to meet various learning styles.
"A parent component completes the model which has already seen success in student learning."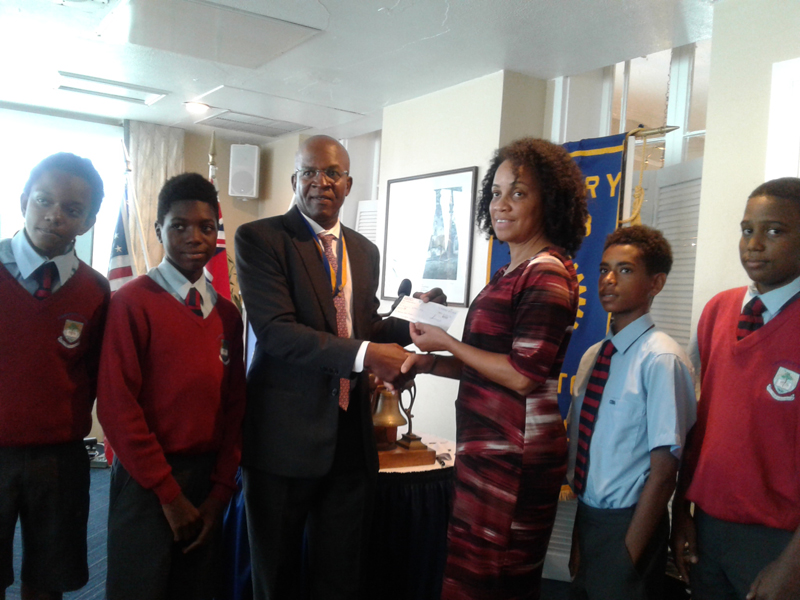 "The Hamilton Rotary Club is committed to make a difference in the lives of children. To this end they will increase their Educational Scholarships and loans to make sure those students who are college or university bound with financial challenges will have the opportunity to envision their educational and career goals.
"The HRC Rotarians will launch a Youth Development Holiday Raffle on October 16th to raise funds to reach their target. Chairperson of The Scholarship and Loan Committee is Rotarian, Dr. George Cook, former President of Bermuda College. The Draw for this Raffle will take place on Tuesday. December 18th and will be televised on their weekly Rotary broadcast.
"This year's Hamilton Rotary Club President is Dr. Raphael Loutoby, nephrologist at King Edward Memorial Hospital."
Read More About
Category: All