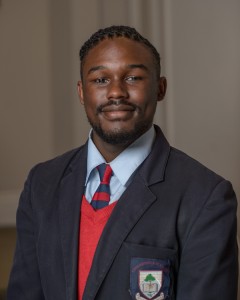 In the fourth in a series of profiles of the young men competing in this year's Alpha Beautillion, we spotlight Myles Smith from CedarBridge Academy.
18 year-old Myles Smith is the millennium baby, secretly [no longer a secret after this] known as the "rain man" according to his mom and dad, born January 6th 2001.
From young, Myles would look at something, study it for a second or two and would or could mimic it. He is the youngest son of Trounsell Leroy Smith and Carla Juanita Smith, and is the brother of Marcus Smith.
Myles has played many sports such as: football [goalie and defender], golf, basketball, baseball and tennis which he had grown to enjoy for several years. He has received several medals and certificates.
Running road races and track are also some of his favorites that allowed him to run in the junior races during the May 24th Heritage Holiday. Another favorite sport is jump rope, and during his jump rope activities he was awarded gold and silver medals while competing in Florida at The World Jump Rope Competition as a novice.
The following year he travelled to Paris, France and was awarded 3 golds, 2 silver and a bronze medal. Myles achieved medals in double unders and speed. He can jump 75 -80 jumps in 30 seconds.
Myles's love for God keeps him very active in his church, St. Paul A.M.E. where he is presently the Y.P.D. president and was 3rd vice on a conference level for 2 years. He has been the groom in their Tom Thumb Wedding, a kingdom kid dancer and a junior choir singer. He is also the head junior usher leader and has been a worship leader several 3rd Sundays. One of Myles proudest moments at church was being chosen to perform at his pastor Rev. N. Tweed's banquet.
Myles loves music. His love for dance allowed him to perform in several dance recitals with United Dance Productions; he now proudly dances with the In Motion School of Dance. He has performed in several of their recitals and landed the roles as Town Crier and Prince Eric. He has also had the pleasure of performing in their 20th Anniversary Showcase, Best Sellers Showcase, during the Christmas parade, Harbor Nights and the Agriculture Exhibition. Although he loves hip-hop he can do ballet, jazz, modern and tap, and Myles also plays the piano and trumpet.
Myles grew more in love with the stage after landing a role as King Triton in The Little Mermaid with CedarBridge Academy. From there he had secured a part in the play "What Happen to Sydney" held at The Fairmont Southampton. His latest role was The Lion in The Wiz a drama production performed by CedarBridge Academy. Myles is now a proud member of The Noire Theatre Company and with the help of the Noire Youth Theatre Company he performed, directed, choreographed and produced his first ever show entitled D.I.F.A. which took place on February 22, 2019 in Ruth Seaton James Auditorium. D.I.F.A. stands for Diversity In Fine Arts.
On 9 February 2019, Myles was the crowned "Mr. CedarBridge" and Myles was also a nominee in The Outstanding Teen Awards 2019 in the Performing Art Category. Upon graduating, Myles will be travelling with Up With People July 2019 for 6 months and if he enjoys the half term, he will apply to finish off the year 2020. Myles Smith is a dancer, producer, choreographer, door keeper, worship leader, gold, silver and bronze medalist, honor student, outstanding teen, MC, Soloist and a man of God.

The Alpha Beautillion show is the culmination of a 6 month program. The end of this program consists of a ceremony where top high school male students demonstrate their oratorical ability, talent and community service activities as they compete for scholarships. A bursary prize of $5,000 is awarded to the top male while smaller monetary awards are given to all other participants.
The 18th annual Alpha Beautillion will be held on Sunday June 2nd at the Ruth Seaton James Auditorium, with regular tickets costing $25, patron tickets costing $50, and VIP costing $75 [includes canapes and refreshments].
Tickets are available at bdatix.bm. For all our coverage of the Alpha Beautillion click here.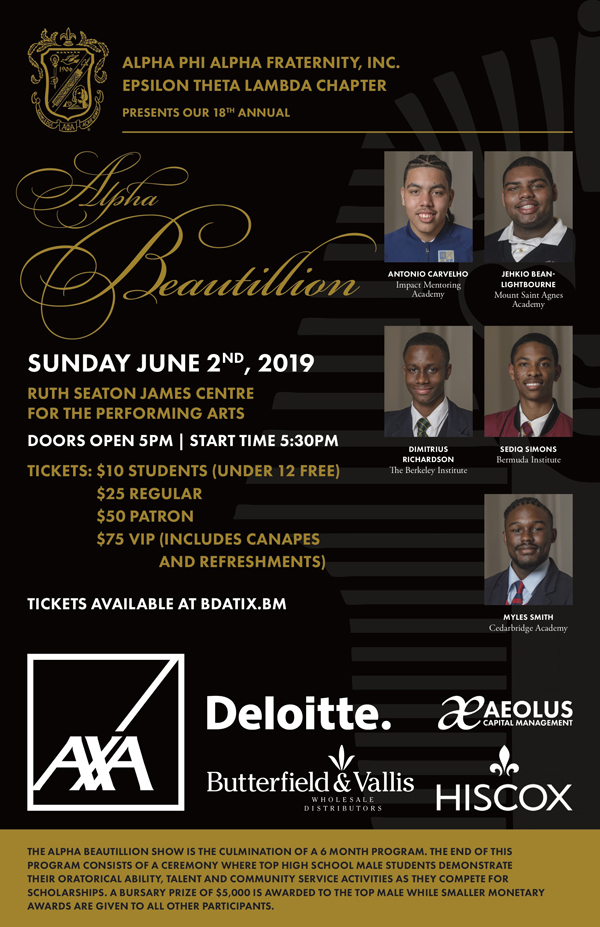 Read More About