A planning application has been submitted for a proposed 68-unit apartment building on Church Street in Hamilton, with the application stating that it would be an 8 storey building, consisting of six above grade and two below grade floors.
The address provided is 33 Church Street, which appears to be the area by the Cathedral opposite the Post Office, and the planning application official notice stated, "Proposed Apartment House Development [8 Storey with 68 Units] with Retail & Property Offices [At Grade] Including Underground Parking Garage, Communal Space [Gym & Common Rooms], Roof Deck, Boundary Walls [6ft Max. Height] and Demolition of Existing Building."
Image extracted from one of the documents submitted to the Department of Planning:

The design intent letter on the planning website states, "The attached submission package details a proposed multi storey residential building for a brownfield site within the city of Hamilton. The structure has 6 above grade storeys, and 2 below grade floors. The building is a reinforced concrete shell with interior unit partitions of concrete block.
"The requested program for this building features a central circulation spine with residential units along its length. Each unit has large windows and a private balcony.
"The east and west facades step in and out to permit light to penetrate the site along the boundaries. The upper floors set back from the boundaries reducing the mass and exceeding the goals of the City of Hamilton Development Plan.
Image extracted from one of the documents submitted to the Department of Planning:
"Planting is proposed to soften and scale the pedestrian environment and transition from the residential uses into the city. Wood/ aluminum screens are provided to increase privacy at the roadside units as well and introduce the opportunity to include an artistic element in the cityscape.
"Limited parking is provided within the building for traditional cars but 11 full spaces are proposed. 25 bike parking spaces are also included for within the building. The applicants envision a shared car concept using smaller electric vehicles and 10 spaces are currently proposed for those vehicles.
Image extracted from one of the documents submitted to the Department of Planning: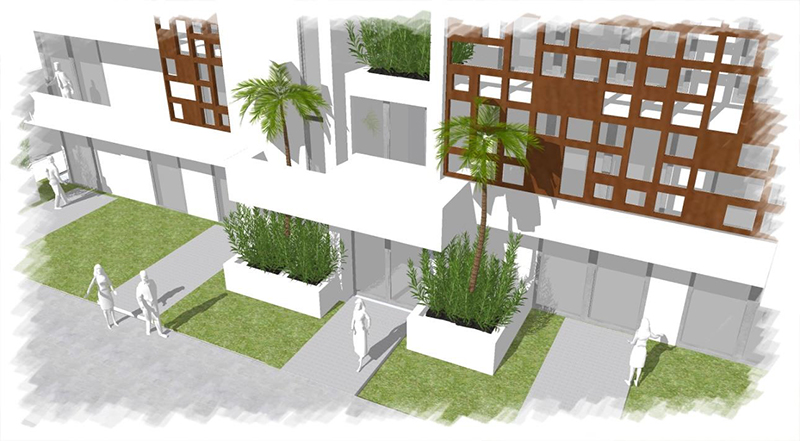 "A gym, community room and storage facilities are proposed within the lower basement floor. These spaces open out to the existing lower grade where planting is proposed to permit outdoor entertainment.
"In addition to this, 4850 square feet of roof deck patio is proposed as communal outdoor amenity space above grade.
"The proposed design acknowledges and respects the proximity of the Cathedral and is measured to anticipate the development of the existing single storey lot to the east. The building is programed to be efficient to build and to create a mix of attractive residential units within the city."
You can view the planning application and related documents here on the official planning website, and an 18-page document from the planning website below.
A look at the proposed development follows below [PDF here]:

Read More About