Girls in Tech [GIT] — an organization focused on the empowerment, entrepreneurship, engagement, and education of women in technology — launched its Bermuda chapter earlier this month at Connectech under the direction of Coral Wells.
GIT is a global non-profit that seeks to eradicate gender disparities in high-tech industries and startups by engaging, educating and empowering women who are passionate about technology. From technical courses and leadership bootcamps to hackathons and startup competitions, its mission is to support women entirely with the access and community they need to succeed in tech.
GIT can be found in over 30 countries with Bermuda now being added to such a dynamic and internationally recognized organization. The event kicked off with a networking session hosting a wide array of IT professionals. The guest speaker, Leslie Rans is the newly appointed CEO of Digicel Bermuda. She shared her experiences of breaking through glass ceilings and the challenges she still encounters in what is viewed as a male dominated industry.
 Janika Fields, Kateryna Gorbunova, Jalesa Vincent, MP Tinee Furbert, Minister Lovitta Foggo, Coral Wells, Leslie Rans, Minister Kim Wilson, Premier David Burt, Lori Symonds, Justine Dzofonoo-Burch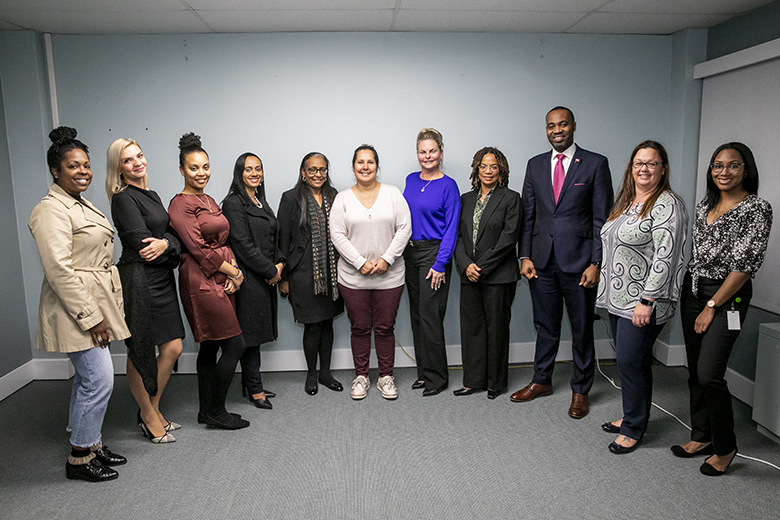 Ms Rans said, "A special thank you and congratulations to Coral Wells and Girls in Tech for having me at such an amazing inaugural event. I truly believe that the youth are our future and I hold a particular passion for ensuring young women know the power they possess.
"While the tech industry may be dominated by males we are seeing a continued shift in the presence of women. Digicel believes in diversity in every form. I will both personally and professionally always make it a point to play my part to uplift, educate and employee women."
The launch hosted over 50 attendees, and the Girls In Tech Bermuda Chapter has events planned for 2020 to support their mission and provide education to the Bermuda community.
Some of the events the group plans this year include:
Screening of Chasing Grace Episodes – This is a documentary series about women in tech. The Project seeks to build a more inclusive and transparent culture in tech and to recruit and retain women to help build the future.
Hacking for Humanity – An event that will be hosted during the summer which will encourage students in tertiary education and professionals to collaborate, network, mentor and gain insight through problem solving as they build solutions for global challenges.
GIT Bootcamps – Will provide training and education to help aspiring IT professionals gain more insight into technology and/or assist IT Professionals build upon their existing skills to ensure they have the knowledge and tools to succeed in a gender dominated career.
"These and future events held underneath the auspices of GIT will expose Bermudian professionals in a variety of careers including, software engineering, marketing, human resources, investments, students, data scientists, startups etc., to gain support internationally and create a community with global mentors," a spokesperson said.
Coral Wells commented; "Leslie was a fantastic speaker to launch Girls in Tech Bermuda. She is extremely humble and down to earth about her technology expertise and experiences, and we are very grateful she shared. As we kick off 2020, I am excited about the amazing opportunities Girls in Tech Bermuda will provide to our local tech community, having a network of like-minded individuals is a tremendous benefit.
"We believe international exposure to women in technology is imperative to leadership and career growth. Therefore, providing international networking and learning opportunities to our members is a priority to Girls in Tech Bermuda. I have put together an amazing team of inspiring women to help lead and grow this organization and we look forward to welcoming both men and women interested in our events, meetups and discussions."
To learn more about Girls in Tech and become a member of this organization visit here.

Read More About
Category: All, Business, News, technology