13 Bermudians who took part in the 8-week global FinTech Education Programme received their completion certificates at a reception on August 11th.
A spokesperson said, "The programme was a collaboration between the Economic Development Department and NEXT, the Island's first digital asset industry association. NEXT comprises 15 global entities that have established themselves in Bermuda to benefit from the ground-breaking regime regulating digital assets.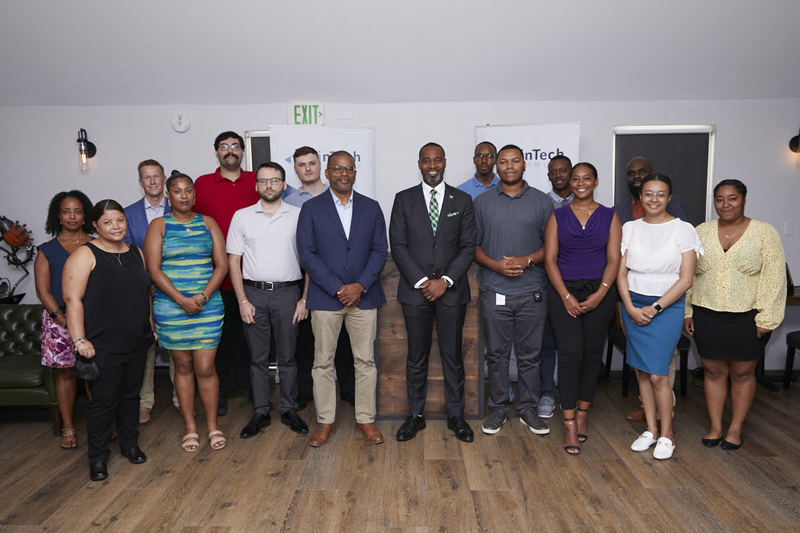 "The Bermudian group, who was part of a larger global cohort, completed what can only be called a rigorous programme which required them to attend live lectures and real-time instruction in addition to developing their projects. The curriculum was developed and delivered by ViableEDU.
"In addition to the above, the Bermuda-based participants had the opportunity to network with C-Suite members of local FinTech companies, with whom they met and discussed the various relevant business models as well as the local market and the opportunities now available in the field of Fintech."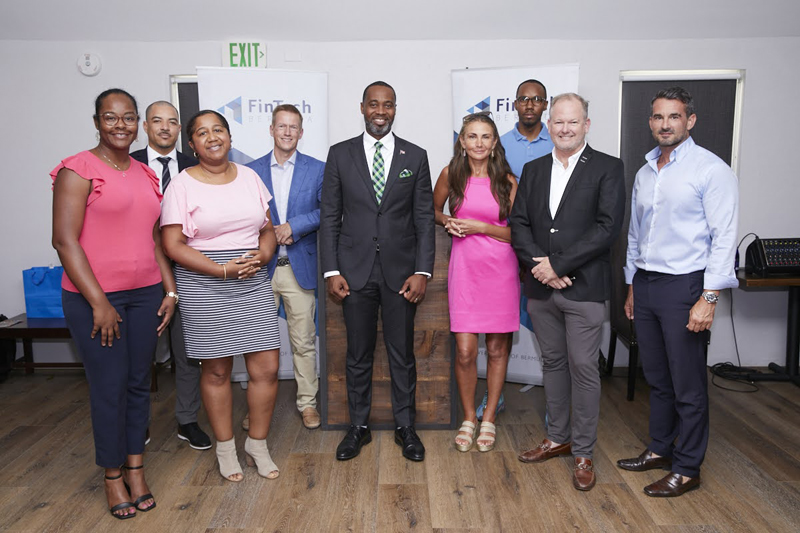 Premier David Burt addressed the graduates and said: "Fintech in Bermuda is growing and we are increasingly being recognized as a leading jurisdiction in the digital assets industry. As this sector continues to grow it is vital that Bermudians are provided with job opportunities as well as education, and training that will help to prepare them for future opportunities.
He added: "I thank the Ministry of Economy and Labour, the Economic Development Department, ViableEDU, and NEXT for collaborating on this important initiative which has provided these 13 young Bermudians with hands-on training, skill-building and access to industry experts."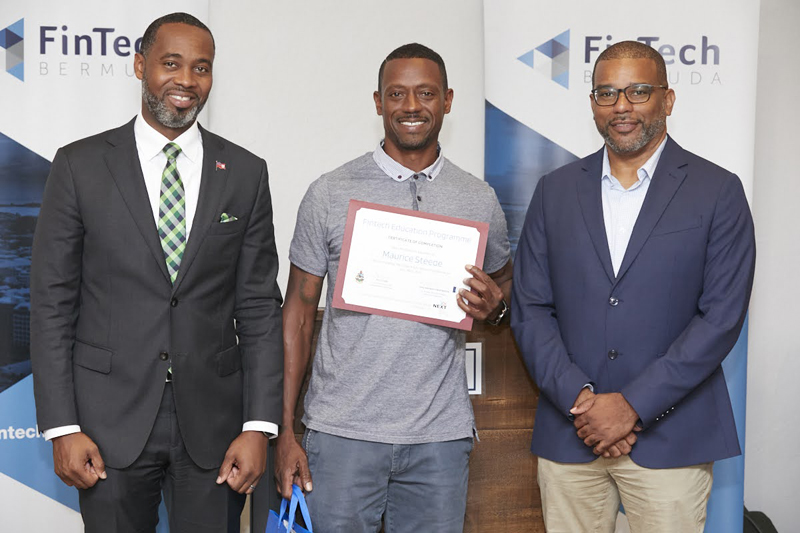 Stafford Lowe, a member of the NEXT Founding Committee says: "Talent Development is one of our four cornerstones and we couldn't be happier with our first collaboration this summer with the Economic Development Department and ViableEDU. As an industry, we look forward to building our Bermuda operations with Bermudians who are excited by FinTech."
A spokesperson said, "The NEXT companies who sponsored the programme are Apex, Bittrex Global, BlockFi, BlockWrk, Ensuro Re, Jewel Bank, Nayms, Relm, Stablehouse, XBTO and 24 Exchange.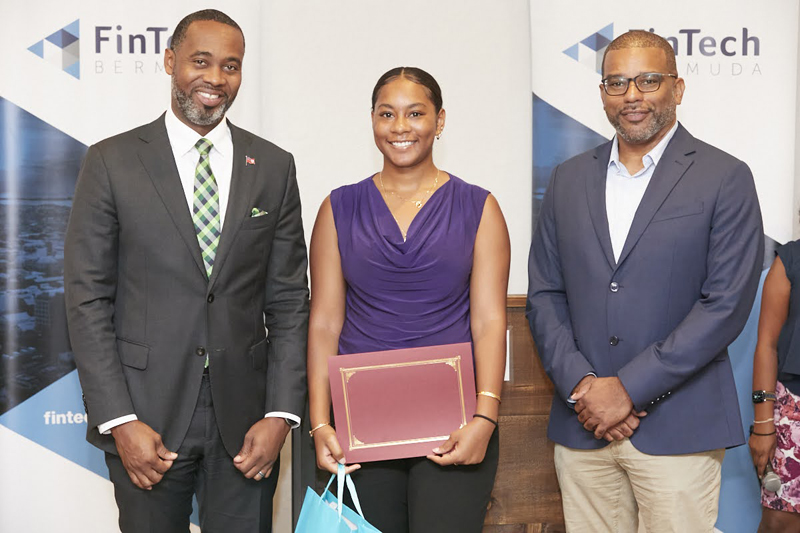 "ViableEDU, which provided and delivered the curriculum for the training programme, was co-founded by Joel Brown-Christenson in 2020 to create free virtual learning opportunities for people across the world interested in finance and fintech. He now serves as Co-Founder and Lead Program Director in the organisation."
Mr. Brown–Christenson said: "ViableEdu was thrilled to be a part of this amazing initiative in Bermuda. We're proud to be a partner of Bermuda NEXT and the Economic Development Department and are excited to help educate and train the future of fintech in Bermuda."
For more information about the programme, email Maryem Biadillah, Senior Analyst at the EDD: mbiadillah@gov.bm.
Premier David Burt's remarks:
Good Evening, Minister of Education, Director Jones of the Economic Development Department and the EDD team, Mr Stafford Lowe of NEXT and representatives of Bermuda's local Fintech companies, and of course, good evening to the 13 graduates of the first Fintech Education Programme.

It is great to be here with you tonight to celebrate your completion of this exciting and innovative programme. The Government of Bermuda believes that the future of finance is digital, and that is why in 2017, we took decisive action to establish a fintech and digital assets industry in Bermuda, which has led to our island being recognised as a world-leading jurisdiction in the digital assets space.

As this sector continues to grow, with more high-quality companies coming to our shores and more job opportunities becoming available, it is vital that Bermudians are given the support, training and education they need in order to take advantage of these opportunities.

The Fintech Education programme is a tangible sign of the Government and the industry supporting the professional development of young Bermudians.

We have already seen significant job creation in Fintech, and more jobs are on the way. Companies are eager to hire Bermudian talent, and the Government will continue to ensure that through programmes such as this one, we continue to link Bermudian talent with Bermuda-based Fintech employers.

To the graduates here tonight, I want to congratulate each one of you on this achievement and for all of your hard work over these last eight weeks. I am confident that as you go forward in your careers, you will feel the benefits from the in-class theoretical instruction, the opportunities you have had to speak directly with and ask questions of the C-Suite representatives of leaders in the field, and subject-matter experts, and from the project management experience, you have gained.

You have come out of these intense eight weeks a more knowledgeable and well-equipped group of fintech enthusiasts and future professionals. Well done for all you have achieved, and I ask everyone to join me in giving these 13 graduates a round of applause.

I would also like to thank everyone else who has provided support. Importantly, ViableEDU for providing and delivering the curriculum and the NEXT companies who sponsored the programme: Apex, Bittrex Global, BlockFi, BlockWrk, Ensuro Re, Jewel, Nayms, Relm, Stablehouse, XBTO and 24 Exchange. Their generous support ensured that this training came at no cost to the learners and is a fine example of Government and industry stakeholders working together for the benefit of Bermuda and the professional development of Bermudians.

Last but certainly not least, I would like to thank the Ministry of Economy and Labour, Director Raymond Jones and the entire Economic Development Department team, as well as the Office of Fintech, for so ably driving this project which will no doubt help with the continued growth of our Fintech and digital asset industry, by supporting Bermudians who are helping to build it.

Thank you.

Read More About
Category: All, Business, News, technology