All four partners at Carey Olsen Bermuda have been ranked in the 2020 edition of Chambers Global, a leading reference and ranking guide for law firms and lawyers based purely on client feedback.
"As a firm, Carey Olsen Bermuda is newly ranked in both the corporate and finance, and insurance categories, adding to its pre-existing recognition in dispute resolution," the company said.
"The insurance practice, which enters the rankings in Band 2, is commended for its 'focus on technical accuracy' and how it 'consistently delivers comprehensive and thoughtful advice'. The firm's dispute resolution practice is described as 'a go-to legal team that gives accurate, practical and easy-to follow advice', while the corporate team 'knows its stuff and applies it in a practical, solution-oriented manner'.
Carey Olsen Bermuda partners Michael Hanson, Keith Robinson, Mary Ward and Gavin Woods.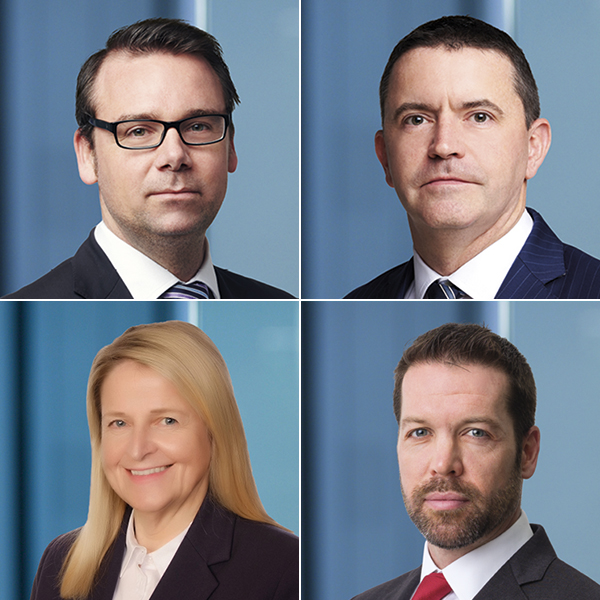 "Partner Keith Robinson has moved up to Band 1 for dispute resolution and hailed as 'the best litigator in Bermuda 'with sources describing him as 'excellent… thoughtful and collaborative' and as someone who has 'got the full package'. Managing partner Michael Hanson is also ranked for his dispute resolution expertise and regarded 'as the gold standard for employment law matters'.
"Corporate partners Mary Ward and Gavin Woods both feature in the insurance rankings, with Mary praised as 'a heavy hitter with legal accuracy and exceptional practical guidance', while Gavin is considered 'exceptionally smart, with an unbelievable breadth of knowledge'."
Carey Olsen Bermuda managing partner Michael Hanson said: "These rankings are a terrific endorsement of the calibre and strength of our offering in Bermuda and of the emphasis and focus we place on the delivery of exceptional client service. We thank our clients for providing their feedback and our staff for their commitment and hard work."

Read More About