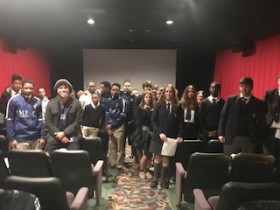 In celebration of Dr. Martin Luther King Day, the Bermuda Climate Action Network [Bermuda CAN], Imagine Bermuda, and Speciality Cinema hosted a free screening of the movie Just Mercy for secondary students from different schools in Bermuda.
A spokesperson said, "As a follow-up to the Youth Session on Transformational Leadership held on MLK Day, the Bermuda Climate Action Network [Bermuda CAN] and Imagine Bermuda, collaborated with Speciality Cinema in hosting a free screening of the movie 'Just Mercy' for secondary students.
"This film, rated A+ by CinemaScore, captures some of the heroic campaign – the Equal Justice Initiative – led by Bryan Stevenson, who Desmond Tutu calls, 'America's Nelson Mandela'. This selfless lawyer exemplifies courageous leadership, promoting the transformation of the injustices of America's legal system.
"A total of more than 60 students from Berkeley and CedarBridge enjoyed a screening on Wednesday, while more than 30 Impact Academy and Saltus students benefited from the extraordinary hospitality of Speciality Cinema on Thursday – 6/2/20. The latter group was joined by 15 or so community leaders, including Michael Charles – BUT, Bishop Nicolas Dill, Nick Hutchings – BEST, Ann Hyde – KBB, Branwyn Smith-King – BOA, Imam Saleem Talbot – Islamic Community, Kim Thompson – MIRRORS and Lynne Winfield – CURB.
"The superb film captures the true-life-story, exemplifying the theme used in the MLK Day-session; 'everyone can make a difference'. The script, cast and Director, pulled the audience into this campaign of great courage, in challenging an entrenched, all-powerful status quo on the issues of race and class.
"Rising star Michael B. Jordan depicted the transformation of a country boy, having achieved Ivy League success, in search of purpose. Bryan Stevenson opts for the road less traveled as he evolves into a quietly brash barrister of steely resolve. This hero's side-kick, Eva Ansley – who reminds us to judge on content of character – was played by Oscar winner Brie Larson, capturing the wit and spice which eased tensions through dramatic twists and turns.
"Renowned Oscar winner Jamie Foxx channeled Johnny D, the hard-working father of three. This central character became the fall guy in the hometown of the author of 'To Kill a Mockingbird' – true life being stranger than fiction. Johnny D becomes the transformative leader on Alabama's death row.
"The movie is a tapestry of transformation. A warden who humiliates the novice Stevenson with a strip search ends up slipping Johnny D treasured family pictures during his time in the hole. A Vietnam vet, suffering PTSD, experiences great anxiety, but with Johnny D's counselling, approaches his execution with a quiet calm.
"The main witness – a caricature of white trash – whose manufactured testimony leveraged Johnny D's conviction, undergoes a transformation through the patient engagement by Stevenson. It became evident that he too is a victim of official corruption who eventually finds his voice and admits perjury.
"This shift and the prosecutor's come to Jesus moment led to a victory for justice, releasing Johnny D. The fellow inmates' celebration moved most audience members to tears.
"The heroism witnessed in the movie was solidified during the reality postscript. The Equal Justice Initiative has facilitated the release of some 140 former death row inmates. One – a mentee of Johnny D – was released after 30 years of unjust incarceration – actual video of him being embraced by his family concludes 'Just Mercy'.
"Most of Thursday's audience reported some tears. The teachers were provided with a post-film worksheet from Janet Ferguson – the former Director of Life-Long Learning at the Bermuda College who met Stevenson at a February 2019 conference. The worksheets are for the longer-term.
"On Thursday there was a 15 minute debrief for students. This included reflective questions on overall impressions. One student reported finding something personal about the film.
"When asked about the relationships evident amongst the death row inmates, one student reported his view that there was a sense of love amongst them. His insight was supported by an overwhelming show of hands.
"That answer confirmed a meaningful outcome for the exercise, achieved with Speciality's outstanding role in collaboration with all others involved."

Read More About
Category: All, Entertainment, Films/Movies, News