In advance of today's launch of Bermuda's first ever Coast Guard Unit, the Minister of National Security Wayne Caines, welcomed Air Vice Marshal Gavin Parker to the Ministry headquarters yesterday [Feb. 5] to discuss a number of matters under the national security umbrella.
Air Vice Marshal Parker is the Defence Attaché and Head of British Defence Staff in the United States, and is currently on island through February 7th.
MinisterCaines, Air Vice Marshal Gavin Parker, DRRM Team, Police Superintendent James Howard.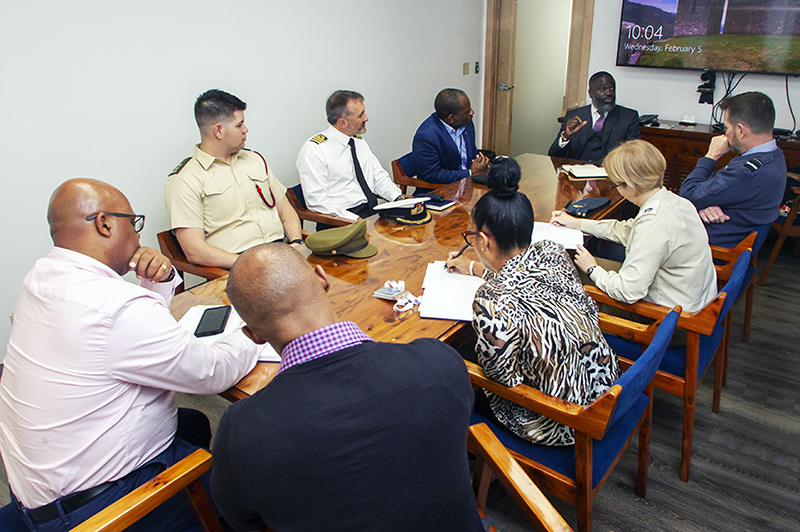 The Defence Attaché's visit coincides with the visit of the Royal Navy Ship HMS Medway.
The HMS Medway will be replacing RFA Mounts Bay in patrolling the Caribbean Sea and conducting humanitarian aid and disaster relief, maritime counter-narcotic operations and maritime anti-trafficking operations within the Overseas Territories.
Later this afternoon, Governor John Rankin and Minister Caines will oversee the launch of Bermuda's first Coast Guard Unit. There will also be a ribbon cutting formally opening Watford House, the building from which the new Coast Guard Unit will operate.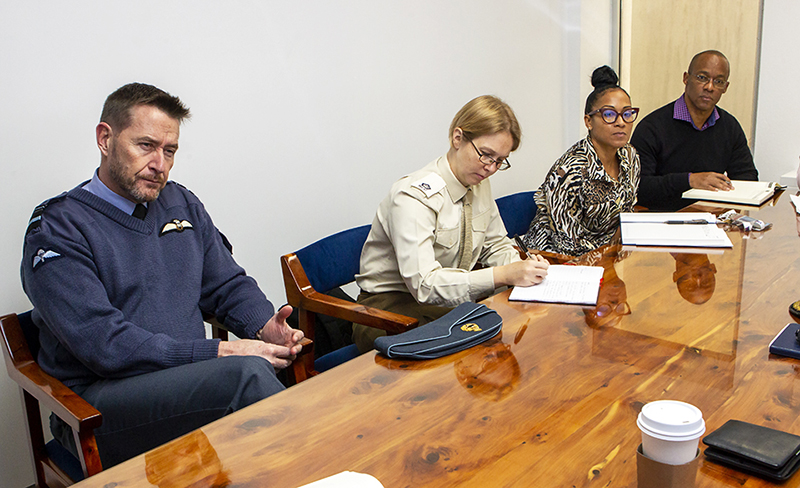 During yesterday's visit Minister Caines and Air Vice Marshal Parker discussed the Coast Guard Unit and its further development.
Minister Caines said today, "The Royal Bermuda Regiment plays a vital role in the life, safety and unity of the country, and all of Bermuda should be proud of our soldiers and the service they provide the people of this Country.
"Later today we will launch our first ever Bermuda Coast Guard Unit. During my meeting with the Defence Attaché we had a productive discussion about expanding and developing the Bermuda Coast Guard Unit.
"We also touched on the logistics necessary to have our Coast Guard accredited to standard. Air Vice Marshal Parker will attend today's launch of the Coast Guard Unit and we look forward to welcoming him to our celebrations."
Members of the Ministry's Disaster Risk Reduction and Mitigation [DRRM] Team were also in attendance at yesterday's meeting.

Read More About