Bermuda's newest soldiers marked the end of Recruit Camp with a Passing Out Parade in front of their proud families and VIPs.
A total of 31 soldiers, plus five Officer Cadets from the new Cayman Islands Regiment, ended their two week stint at Warwick Camp with an awards ceremony.
Proud Private Stefan Demello, 30, took the prize for best recruit and Lance Corporal Raguel Dill lifted the prize for top section commander.
Top recruit Private Stefan Demello [left] with best section commander winner Lance Corporal Raguel Dill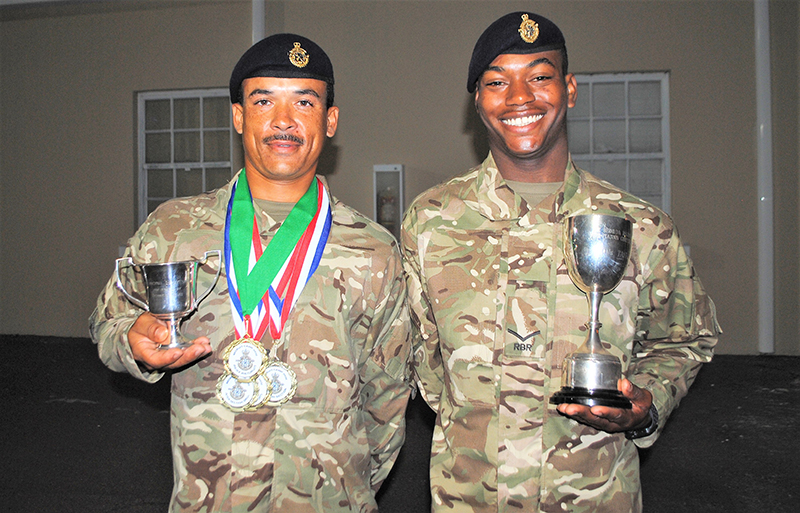 Lance Corporal Rory Dublin picked up the prize for best section, which included Officer Cadet Theodore Kelly from Cayman, despite a flare-up from an earlier ligament injury to his leg on Thursday.
Pte Demello, a qualified machine operator from Warwick, said: "I didn't expect to win. I came in saying I wanted to win it for my mom and daddy, who passed away a few years ago.
"I was blown away – my heart stopped."
Pte Demello added a stint in the Army Cadets and as a drummer for a majorette squad had given him an edge.
He said: "That stuck with me – it's good discipline."
RBR Commanding Officer designate Major Ben Beasley, Governor John Rankin and Minister of National Security Wayne Caines at the RBR Recruit Camp Passing Out Parade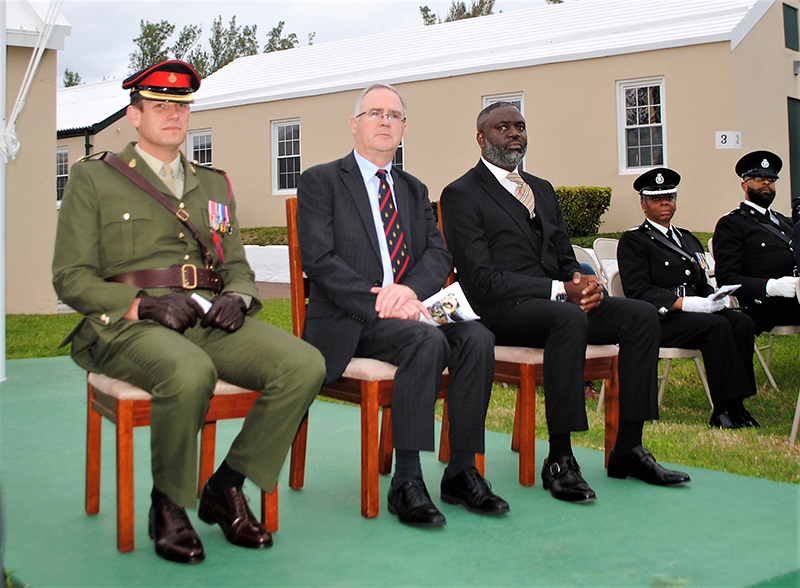 Pte Demello added: "I joined because it's a career. I want to join the Regimental Police and the Coast Guard eventually."
He said he had enjoyed the Recruit Camp experience and looked forward to further training.
Pte Demello added: "I loved all of it. It was a huge challenge."
L/Cpl Dill, 22, from Warwick, said: "I'm ecstatic. I didn't expect it at first, but I just wanted the best from Recruit Camp. I did the best I could and the rewards came after that.
"It was my first time as an instructor at Recruit Camp, so I'm more than happy. I think it was my ability to get around, not only in my own section but other sections, to lend a helping hand."
The newest RBR soldiers line up for their Passing Out Parade at Warwick Camp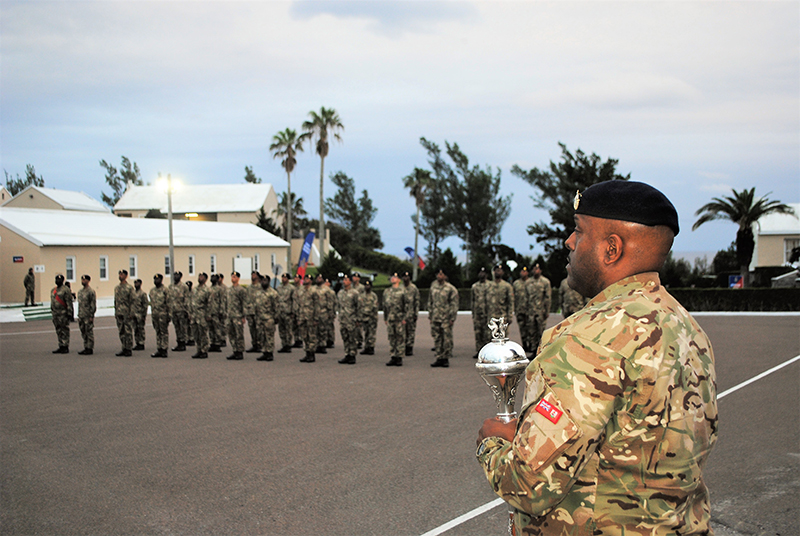 L/Cpl Dublin, 24, a mechanic from Hamilton Parish, also took the section football prize and his replacement section commander Corporal Melissa Brangman marched his section to the drill prize.
He said: "I talked to my troops. I told them I worked for them. If they needed anything from me, I told them I'd do it. I expected to win the football, but not anything else."
Governor John Rankin said earlier: "To the recruits, I say you will have worked very hard during your training. You have been pushed by your instructors and you have had to push yourselves to meet new challenges."
New recruits at the RBR Passing Out Parade to mark the end of two weeks of training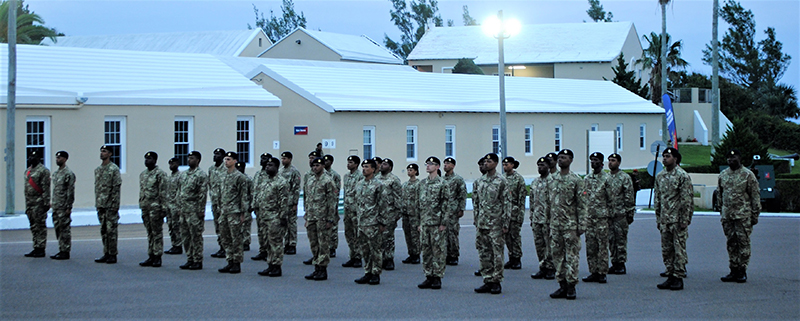 Mr Rankin added support from the training team, fellow soldiers and families had helped the new soldiers get through the camp.
He said that the RBR played a "vital role" in assisting the island to recover from natural disasters like hurricanes and as back-up to the police service and other emergency services, on land and on sea with the new Coast Guard unit.
Mr Rankin told the troops: "You are joining a Regiment of which we can all be proud."
He said: "The Regiment's skills in this area are important, not just for Bermuda but also for helping our fellow Overseas Territories in times of need."
Lance Corporal Rory Dublin with some of the awards he and his section won at the RBR's Recruit Camp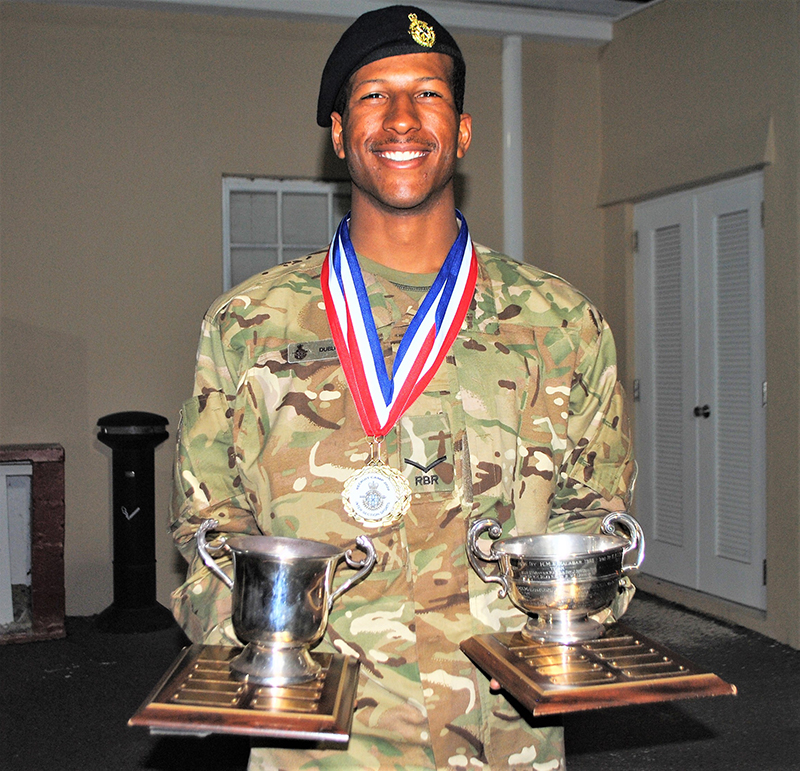 Mr Rankin added: "I also believe that by volunteering for the Regiment you have made an important investment in your own personal development."
Wayne Caines, the Minister of National Security and a former RBR officer, told the troops it was "a beautiful dawn to your military career".
He said: "The call went out for men and women to serve in the Royal Bermuda Regiment and you answered."
Mr Caines added that the soldiers embodied "our dreams, something to be proud of".
He said: "You represent the best of who we are, the pride of who we are."
Governor John Rankin inspects the troops at the RBR Passing Out Parade to mark the end of Recruit Camp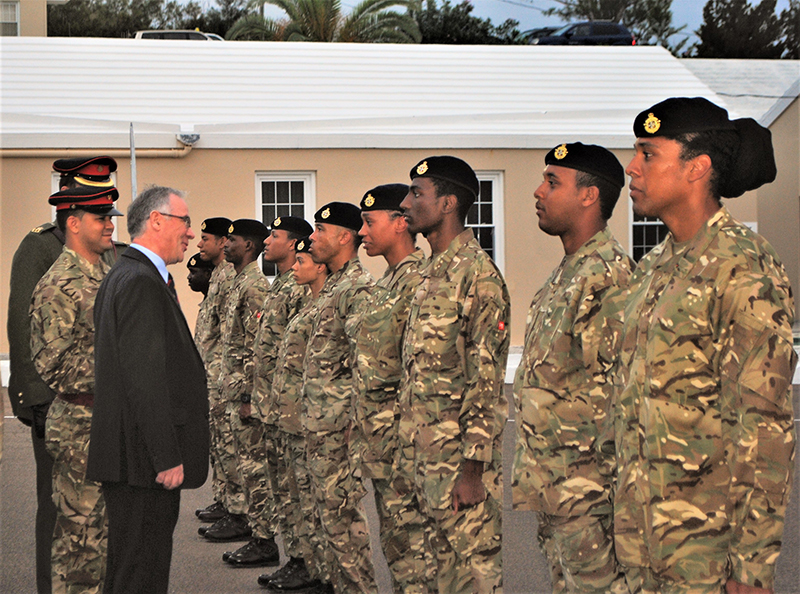 Mr Caines added the Regiment's cap badge represented "honour, integrity and courage".
He told the parade: "You are joining the best of the best. You have much to be proud of and much to live up to. We appreciate your commitment and dedication to our island home."
RBR Commanding Officer designate Major Ben Beasley said: "The 31 new recruits have laid an important foundation in their transition to military life, although this is only the start of a career that could see them as part of the Coast Guard, responding to oil spills or supporting any of the other uniformed organisations.
"Choosing military service over other activities is a noble and honourable thing to do for your country, as well as opening the door to new skills, new opportunities and personal development. I hope their peers and colleagues are encouraged to do the same."

Read More About