The Ministry of Public Works is holding a public sale of surplus equipment and invites tender bids for a number of items including a Kia Picanto, Mitsubishi Lancers, Suzuki APV Van, Peugeot Partner Van and much more
A spokesperson said, "The Lots can be viewed at Government Quarry, 18 Quarry Road, on Wednesday, 11 March, 2020 and Thursday, 12 March, 2020 between the hours of 9:00 a.m. to 11:00 a.m. only. Contact Edith Dias at 501-3033 for further information. All items are sold without warranty in 'as-is' condition.
"All bids must be submitted on an official Tender Form which may be obtained from the aforementioned individual. Completed Tender Forms must be deposited no later than 3:00 p.m. Friday March 13, 2020, in the Tender Box located at the office of the Ministry of Public Works, General Post Office Building 3rd Floor, 56 Church Street, Hamilton. Late tenders will not be considered.
"The Ministry reserves the right not to accept the highest or any tender."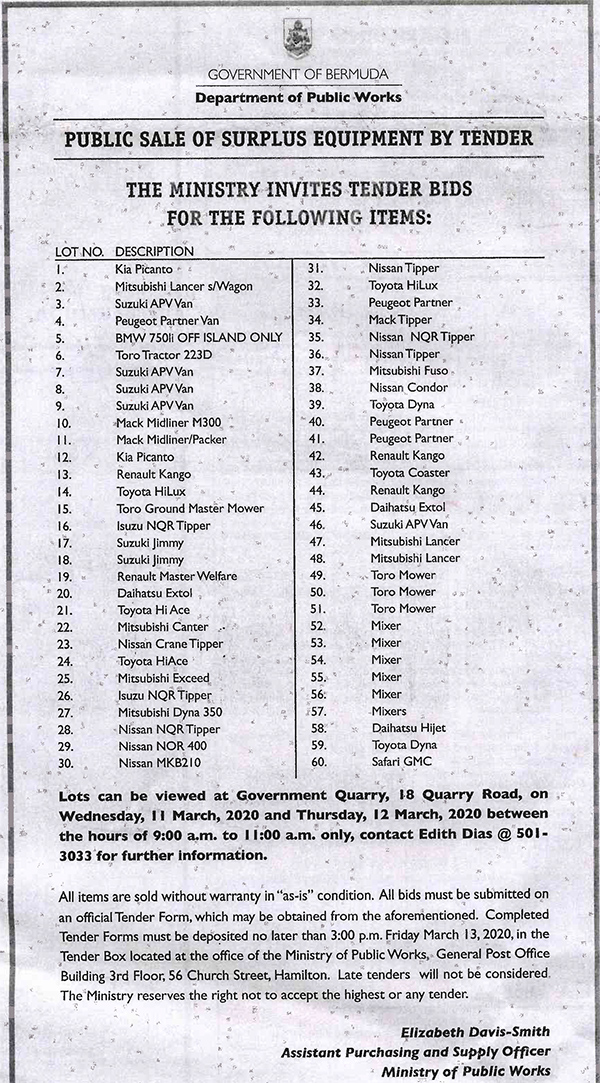 Read More About