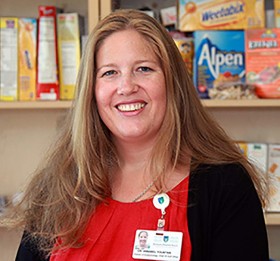 [Column written by Dr. Annabel Fountain]
There is a group of conditions that when grouped together are called metabolic syndrome. These are type 2 diabetes, hypertension, obesity and heart disease. Obesity causes chronic stress and inflammation leading to the complications of heart disease, diabetes and high blood pressure.
Even cancer and dementia have been linked to chronic inflammation. The inflammation is what affects your immune system and makes it dysfunction.
The exaggerated immune response is what is associated with the acute respiratory distress syndrome [ARDS]. People who have this complication require ventilation due to respiratory failure and frequently die.
All the conditions associated with metabolic syndrome are linked to poor diet. The increased mortality from Covid-19 if you have these conditions is 10 times more than people who are healthy. The reports that significantly higher numbers of people of African and Hispanic heritage are dying from Covid-19 may in part be explained by the increased prevalence of these diseases in these groups. I'm worried about our Bermuda population.
Dr Aseem Malhotra, UK cardiologist and supporter of the sugar tax in Great Britain, has been working for years to influence legislation to improve population health. His article in European Scientist last week is called "Covid 19 and the elephant in the room".
He is calling for Public Health England to not just to encourage people to stop smoking [research from China concluded that smokers were 14 times more likely to get severe disease from Covid-19] but to "quit ultra-processed food."
What does this mean? Ultra-processed foods are packaged foods which are high in unhealthy fats, preservatives, sugar and starch. More than half the calories in the standard American diet are from ultra-processed foods and only 1/8 adults in the United States are metabolically healthy. Junk food is everywhere. Advertisers market foods as healthy when they're not!
It's easier and quicker to eat take out and fast food than to cook from scratch but the toll on your health in the long-term is devastating.
The good news is, if you change your diet you can make a difference to your health and disease within a few weeks. Blood pressure and blood sugar levels can improve within 21 days of changing your diet by cutting out sugars and highly processed foods and simple carbohydrates.
You can reduce your need for medications and start losing weight. This means that changing your diet now can help you to be healthier if you come into contact with Covid-19.
If you have questions about Covid-19, call the Bermuda Government Covid-19 helpline at 444 2498, available 9:00am to 9:00pm daily. If you are encountering a medical emergency, call 911.
- Dr Annabel Fountain is a Bermudian physician who is board certified in Endocrinology, Diabetes and Internal Medicine. She is the Owner/Medical Director of Fountain Medical Group. Dr Fountain offers the following Endocrinology services, Diabetes Prevention, Education and Management, Thyroid Disease – Hypothyroidism, Hyperthyroidism, Nodules and Cancer, Obesity and Weight management, Disorders of Calcium and Bone including Osteoporosis, Hypertension and Cholesterol disorders, Adrenal and Pituitary Disease, Infertility and Menopause, Other glandular disorders. Dr Fountain is available for telemedicine appointments during the Covid-19 isolation recommendations. Please call your primary care physician for a referral or 232-2027 to make an appointment.

20 Most Recent Opinion Columns

Opinion columns reflect the views of the writer, and not those of Bernews Ltd. To submit an Opinion Column/Letter to the Editor, please email info@bernews.com. Bernews welcomes submissions, and while there are no length restrictions, all columns must be signed by the writer's real name.
-

As the island and world deals with the Covid-19 pandemic, we are doing our best to provide timely and accurate information, and you can find more information on the links below.
Read More About
Category: All