Due to the ongoing Covid-19 pandemic, the Bermuda Charge 2020 International Road Race has been postponed until 2021.
Bermuda Charge: 2020 International Road Race Postponed
A spokesperson said, "The unpredictable status of international travel and public gatherings, combined with the disruption Covid-19 has caused for many of our teams and partners, has ultimately brought about a decision to postpone the international superbike road race until 2021. The meet was originally scheduled for Labour Day weekend 2020.
The 2019 Bermuda Charge Charity Ride. Photo courtesy of RYZE Photography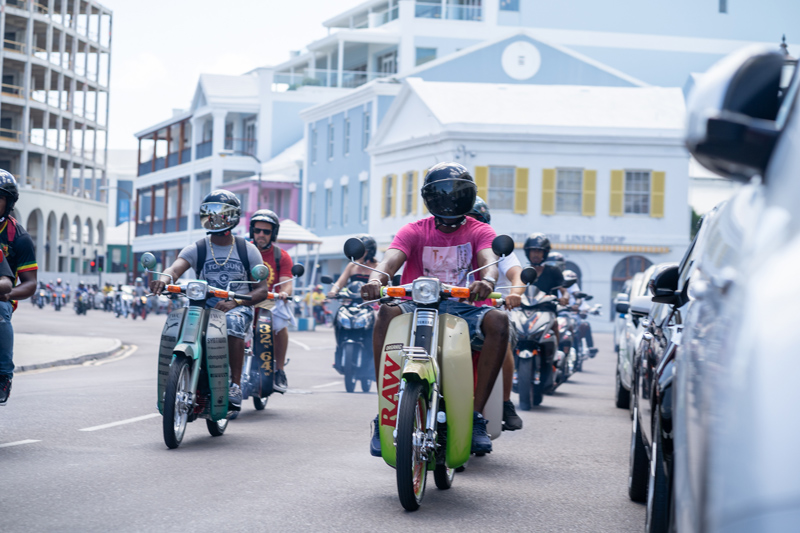 BMRA Season for National Class/SuperSport
"The Bermuda Motorcycle Racing Association [BMRA] will still operate races in the categories for the National Class [250cc 4 stroke/125cc 2 stroke] and the SuperSport [600cc 4 stroke/250cc 2 stroke] throughout the season at the RUBiS Southside Raceway, and are currently awaiting confirmation of a season start date. Qualifying windows for national teams targeting the 2021 road race will be reset once dates have been confirmed.
2020 Auto Show & Charity Ride
"Despite the setback for the race, it's worth noting that we may continue with our annual Auto Show & Charity Ride in September this year, pending Government guidelines for local events – it would be great to look forward to a burst of colour and energy on the other side of this bleak pandemic, and the beautiful restoration projects going on during lockdown deserve to be seen!
"Some enhancements we're discussing for the show include: moving the ride time to sunset for a dramatic change in vibe; following it with a curated bonfire experience on the beach; adding a lobster grill [first week of the season]; enhancing entertainment to consider live performers, fire dancers and stunt shows.
"We hope to celebrate with the motoring community this Summer and will keep you updated accordingly – in the meantime, we genuinely wish you all a healthy conclusion to the current situation."

As the island and world deals with the Covid-19 pandemic, we are doing our best to provide timely and accurate information, and you can find more information on the links below.
Read More About