The Governor has officially declared a 'State of Emergency' for Bermuda due to Covid-19, with the official proclamation saying it is an "unprecedented and severe threat."
The Official Proclamation, which was dated April 1st, said, "Covid-19 is an unprecedented and severe threat to public health in Bermuda, therefore in accordance with section 14[3] of the Constitution, I the Governor, acting after consultation with the Premier, declare that a state of emergency exists in Bermuda."
While the proclamation was officially declared by the Governor, which is policy as we are a Territory, it was done at the request of Premier David Burt, who previously said, "Following yesterday's meeting of Cabinet and with their full support, I met this morning with His Excellency the Governor and requested that he exercise his authority under section 14[3] of the Constitution to declare a state of emergency for Bermuda based on what is now necessary to intensify the fight against this virus."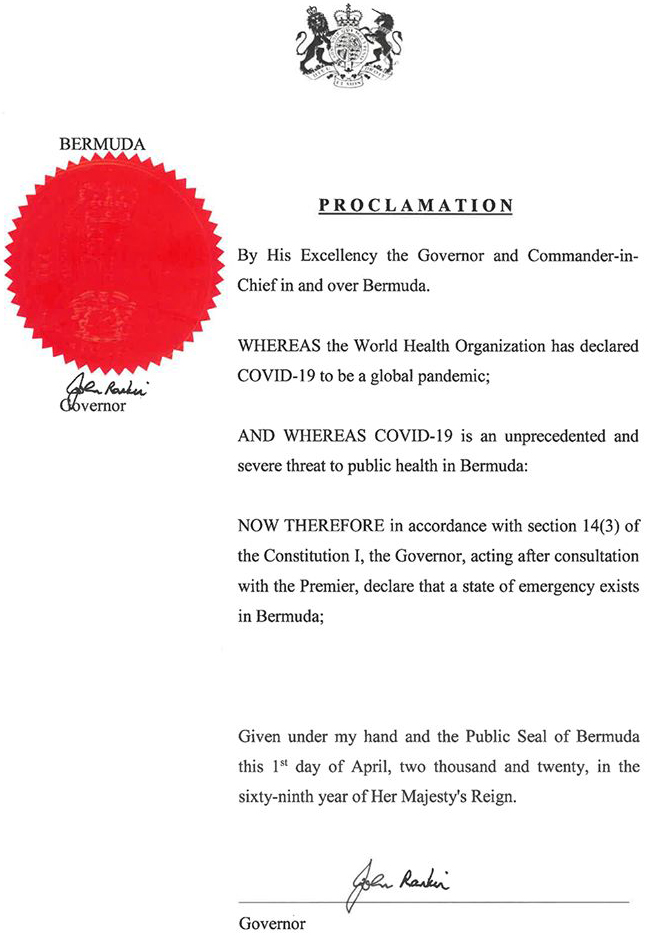 The section of the Constitution cited — section 14[3] — reads as follows:
"Provisions For Time Of War Or Emergency

[1] "This section applies to any period when—

[a] "Her Majesty is at war; or

[b] "there is in force a proclamation [in this section referred to as a "proclamation of emergency"] made under subsection [3] of this section.

[2] "Nothing contained in or done under the authority of any law shall be held to be inconsistent with or in contravention of section 5, any provision of section 6 other than subsections [4] and [6] thereof, or any provision of sections 7 to 12 [inclusive] of this Constitution to the extent that the law in question makes in relation to any period to which this section applies provision, or authorises the doing during any such period of anything, which is reasonably justifiable in the circumstances of any situation arising or existing during that period for the purpose of dealing with that situation.

[3] "The Governor may, by proclamation published in the Gazette, declare that a state of emergency exists for the purposes of this section.

[4] "Where any proclamation of emergency has been made, copies thereof shall as soon as is practicable be laid before both Houses, and if for any cause those Houses are not due to meet within five days of the making of that proclamation the Governor shall, by proclamation published in the Gazette, summon them to meet within that period and they shall accordingly meet and sit upon the day appointed by the proclamation and shall continue to sit and act as if they had stood adjourned or prorogued to that day:

"Provided that if the proclamation of emergency is made during the period between a dissolution of the Legislature and the next ensuing general election—

[a] "the Houses to be summoned as aforesaid shall be the Houses referred to in section 50 of this Constitution unless the Governor is satisfied that it will be practicable to hold that election within seven days of the making of the proclamation of emergency; and

[b] "if the Governor is so satisfied, he shall [instead of summoning the Houses so referred to to meet within five days of the making of the proclamation] summon the Houses of the new Legislature to meet as soon as practicable after the holding of that election."

As the island and world deals with the Covid-19 pandemic, we are doing our best to provide timely and accurate information, and you can find more information on the links below.
Officials are urging everyone to please follow all guidance like washing your hands, adhering to self quarantine if relevant, and practicing social distancing, and they have asked that if it is not urgent, a necessity or work, to please stay home to prevent the spread of the coronavirus.
Read More About