Appleby has announced the promotion of Andrew Kuzma, Jamie Rego, Sam Riihiluoma and Caljonah Smith to Senior Associate.
"The promotions represent all practice groups: Corporate, Dispute Resolution and Private Client & Trusts. Jamie, Sam and Caljonah are Bermudian," the law firm said.
Andrew Kuzma is a member of the Corporate team. He practices in the areas of capital markets, mergers and acquisitions, public offerings, private placements and corporate finance. He provides legal advice to industry leaders in a wide array of sectors such as telecommunications, energy, asset management, pharmaceuticals, shipping, banking and finance, insurance and private equity funds."
"I'm very grateful for the recognition and also for the fantastic team I work with at Appleby. It's a great environment to work in – very supportive and encouraging of professional development at every level," commented Mr Kuzma.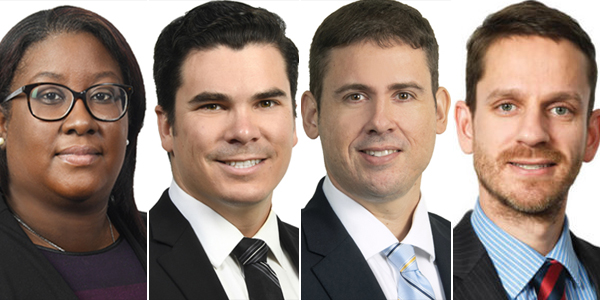 Jamie Rego, who is also a member of the Corporate team, specialises in a broad range of corporate finance and banking and asset finance-related matters, including advising both local and international clients in respect of corporate restructuring, aviation finance and leasing [including the registration of aircraft on the Bermuda Aircraft Register], vessel finance/registration and general corporate finance.
His practice extends to general corporate law and he has advised clients on various corporate transactions, including but not limited to, capital raising, securitisation, cross-border mergers and acquisitions, the migration of companies from and into Bermuda and corporate governance.
"I would like to sincerely thank the partners of Appleby for all of their support throughout my career progression and look forward to continuing my journey with one of Bermuda's best law firms," said Mr Rego.
Sam Riihiluoma is a member of the growing Dispute Resolution team. He has developed an expertise and achieved notable successes in a number of areas of civil and commercial litigation. He regularly advises and represents liquidators in winding up proceedings of Bermuda companies for liquidation as well as restructuring purposes.
"I am honoured to be promoted to Senior Associate and very pleased to be working at Appleby, where I have been exposed to excellent commercial litigation work," commented Mr Riihiluoma.
Caljonah Smith is a member of the Private Client & Trusts team. Her practice includes advising on all areas of non-contentious trust matters ranging from advising individuals, corporate trustees and private trust companies on their core duties and responsibilities as trustees, in addition to the drafting, review and restructuring of trust structures [including purpose trusts and unit trusts].
She also advises on all non-contentious estate matters, including making applications for probate and reseal applications to the Supreme Court of Bermuda, and the drafting and review of estate planning documents such as trusts, wills, enduring powers of attorney and health care directives for local and international clients.
"I am grateful for the promotion to Senior Associate at Appleby and look forward to adding more value to the firm in my new position. I will continue to work with my colleagues to meet the needs of our existing and new clients, both locally and internationally," said Ms Smith.
Appleby Bermuda Managing Partner, Tim Faries, said: "The promotion of these talented individuals is a testament to the continued depth and experience of our team.
"Each appointment is well deserved and reflects their hard work and dedication to excelling in their respective practice areas. I would like to congratulate this group of accomplished lawyers who have demonstrated their commitment to providing and maintaining a first-class level of service to our clients.

Read More About