The Bermuda Business Development Agency [BDA] & RIMS are getting set to host a webinar series next month.
A spokesperson said, "The Bermuda Business Development Agency [BDA] and RIMS, the risk management society, will host a weekly series of five educational webinars.
"Starting June 3 at 1.00pm EDT, the series will provide risk professionals from around the world with strategies for effective risk management, trends in the specialist global insurance market, as well as solutions and opportunities offered only by Bermuda.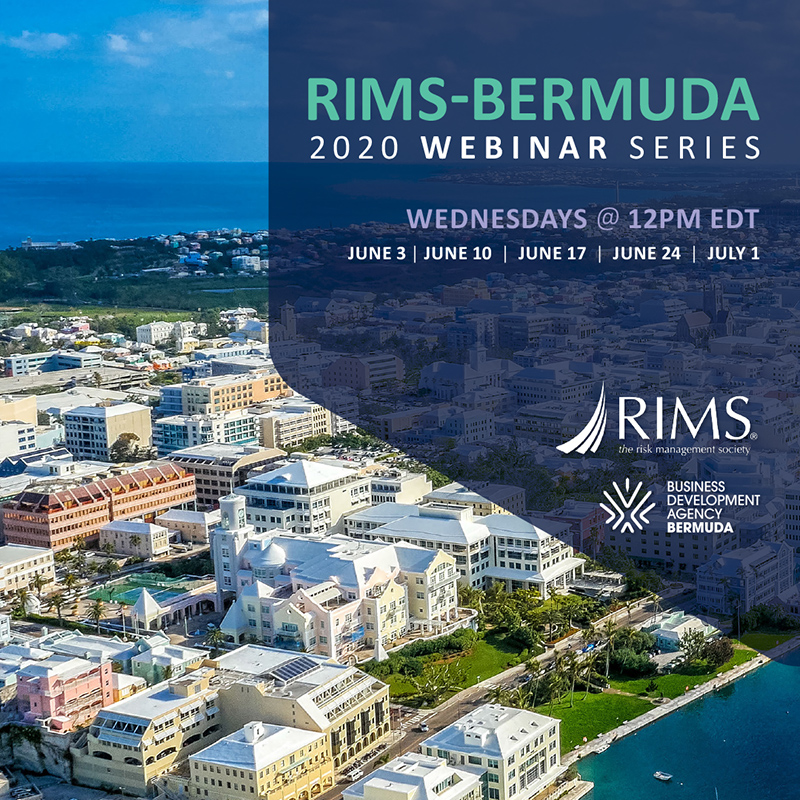 "Hosted on RIMS' Opis-Ed online education platform, episode topics include:
The Bermuda Market: Past, Present and Future
Managing the Increasing Cost of Catastrophe
What's Next for ILS and Alternative Capital?
Captives in the Current Market
Insurtech & Innovation
RIMS CEO Mary Roth said, "Understanding risk financing options is an important tool in addressing organisational risk.
"Bermuda certainly plays a role in educating risk management professionals, business leaders and the insurance industry. Our network there possesses a wealth of expertise and continues to demonstrate their commitment to solution sharing.
"We are always proud to work with the BDA to deliver timely insights and to collaborate on a truly exceptional learning experience for the global risk management and insurance community."
The spokesperson said, "Each week, an invited panel of speakers will share their experience, insight and industry knowledge, setting the stage for a powerful, interactive discussion on the future of risk management."
Roland Andy Burrows, CEO of the BDA, said, "We are delighted to be working with RIMS to discuss some of the key issues and trends shaping the risk management landscape and to continue to showcase the strength and resilience of our world-class marketplace.
"This virtual series will provide us with an opportunity to connect and engage with an even wider pool of risk professionals at a time when the need for sharing knowledge and information is critical."
The spokesperson said, "The series is supported by industry-leading sponsors including Allied World, Aon, AXA XL, Chubb, the Hamilton Princess & Beach Club, Liberty Specialty Markets, Marsh, and Willis Towers Watson.
"Panellists include Albert A. Benchimol, Chairman, Association of Bermuda Insurers & Reinsurers [ABIR] and President and CEO of Axis Capital Holdings Ltd; John Huff, President of ABIR; Chris Bonard, CEO of Ed Broking; Kirsten Beasley, Head of Healthcare Broking, North America at Willis Tower Watson; Heather Kitson, Deputy CEO at Convex; Kathleen Faries, Chair at ILS Bermuda; Brad Adderly, Partner at Appleby; Andre Perez, CEO at Horsehoe Group; George Alayon, Assistant Director – Insurance, Bermuda Monetary Authority [BMA]; Susan Pateras, COO at Liberty Specialty Markets and BDA board member; Stephen Weinstein, General Counsel at RenaissanceRe and BDA Deputy Chair; Peter Dunlop, Partner at Walkers Bermuda; Suzanne Williams-Charles, Director of Policy and Regulation, ABIR; Andrew Engler, CEO of Kettle; George Petropoulos, Assistant Director – Supervision, BMA; Brian Quinn, Managing Director, Granite Management Limited; David Gibbons, Partner at PwC; Alison Dyer, Managing Director, Ocorian; Lara Mowery, Managing Director and Head of Global Property Practice, Guy Carpenter and Nicholas Miles, Partner at Kennedys Bermuda.
"For more information on the Bermuda-RIMS webinar series and to register for episodes, click here."
Read More About