According to Delta Airlines, they are planning to offer "less than daily service" to Bermuda in the second half of next month, with their official website listing "Atlanta to Bermuda less than daily service restarts in second half of June" as part of their schedule.
The statement from Delta said, "Delta's summer schedule continues to be shaped by customer demand, CDC guidelines, and government travel regulations. While the June schedule is significantly reduced in comparison to last year, customers will see the return of several major routes, both U.S. domestic and international, which were previously suspended due to the Covid-19 pandemic.
"In addition to requiring customers and employees to wear face coverings throughout the travel journey, Delta has implemented policies like capping seating between 50 and 60 percent to ensure customer spacing on all aircraft, elevated its cleaning measures to deliver a new standard of clean, and streamlined its in-flight services to decrease touch points on board."
It should be noted that the statement above is from Delta, and the final decision on re-opening Bermuda's airport to regularly scheduled commercial flights will be made by the Government, and they have not announced any official dates yet, and are taking the island's re-opening in phases and have noted that it is a "constantly changing situation." We asked the Government for comment on the Delta statement above and will update as able.
Screenshot from the Delta website: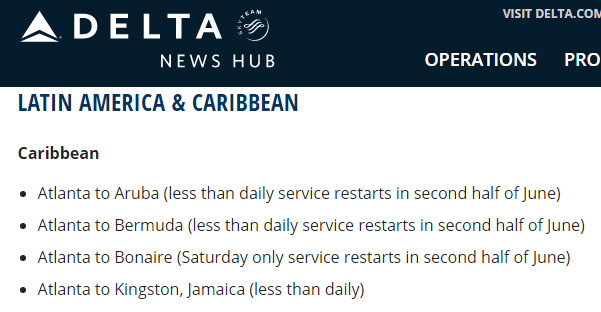 Tourism and Transport Minister Zane DeSilva previously said, "As an island isolated in the Atlantic Ocean, air service is quite literally Bermuda's lifeline to the rest of the world, and is critical to many areas of our economy and ultimately has a major impact on our economic wellbeing.
"Air service to Bermuda is always a matter that has to be managed with the utmost consideration, but this is of overriding importance at the present time when considering the potentially menacing role that international travel can play in the spread of the Covid-19 virus.
"Dialogue with airlines and winning their commitment to serve Bermuda is really only one-half of the onerous tasks associated with restoring post-COVID-19 airlift to Bermuda.
"I can also reassure the people of Bermuda that the Ministry of Tourism and Transport is working very closely with the Ministry of Health to prioritize a long list of public health requirements that must be implemented to keep our community safe as the time for the "New Normal" approaches."
Noting that "everything is subject to change," the Minister noted that "when the time is right for regularly scheduled commercial flights to resume at L F Wade International Airport and non-residents are once again permitted to pass through our borders, we anticipate service to and from the following airports to recommence:
New York's John F Kennedy International Airport;
Boston's Logan International Airport;
Atlanta's Hartsfield International Airport;
Toronto's Pearson International Airport; and
London's Heathrow Airport.
Update: In response to our query, a Government spokesperson said, "The Bermuda Government has made no announcements on when commercial flights will resume. We are progressing the protocols which need to be in place for international travel, and are working towards a restart of regularly scheduled commercial flights as soon as is practicable."

As the island and world deals with the Covid-19 pandemic, we are doing our best to provide timely and accurate information, and you can find more information on the links below.
Read More About
Category: All