[Updated] The "Bermuda Solidarity with BLM & Rejection of Rizzuto Appointment as US Consul General" online petition has attained over 25,000 signatures in the past two days, with the petition having the stated aim of "letting the world know that our 21 square miles has no more space for racists and we reject Rizzuto."
Screenshot from the petition website: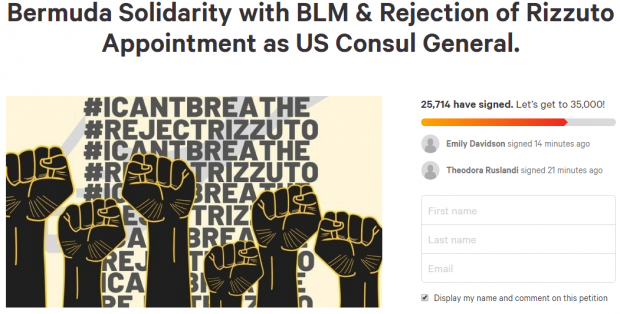 The petition states, "Bermuda is a small 21 square mile rock in the middle of the Atlantic. Often we watch the world, especially our closest neighbour America — 800 miles away, and stay silent, lest we upset the perceived superpowers and the business stops coming.
"But today we stand with Black people from across the diaspora who are rising up to fight injustice, police brutality and white supremacy. We join the global call for the arrests of the murderers of George Floyd, Breonna Taylor, Tony McDade and the countless other Black, Brown, and Indigenous people who have suffered by the hands of those who were sworn to protect them."
The petition added that "in addition to adding our voices to this critical issue, we want to alert the international media to our displeasure that America's president has appointed one of his cronies and donors" to a position at the US Consulate in Bermuda.
"Lee Rizzuto Jr. had his Barbados Ambassadorship blocked by the Republican-controlled Senate because he was deemed unfit and yet he will now be foisted upon Bermuda," the petition said.
The petition also calls for "a full review with a goal to implementation of the 2019 Racial Justice Platform created by the Citizens for Uprooting Racism in Bermuda."
In addition to the petition, people held a protest outside the U.S. Consulate in Devonshire on June 1st, with those chanting terms including "21 square miles, no space for racism," "Black Lives Matter" and "Reject Rizzuto"
A look at the protest held outside the US Consulate on June 1st:
Update 5.52pm: There are now over 35,000 signatures on the petition.
Read More About