There will be traffic disruptions during the march and tomorrow's [June 13] Black Lives Matter march hosted by Social Justice Bermuda, the police have advised.
A police spokesperson said, "In support of the peaceful protest scheduled to take place in the City of Hamilton on Saturday 13th June, 2020, the Bermuda Police Service Parish Officers and Road Policing Unit will assist the safety aspect of this event as well as the monitoring of traffic.
"The event organizers have obtained a permit from Deputy Governor's Office.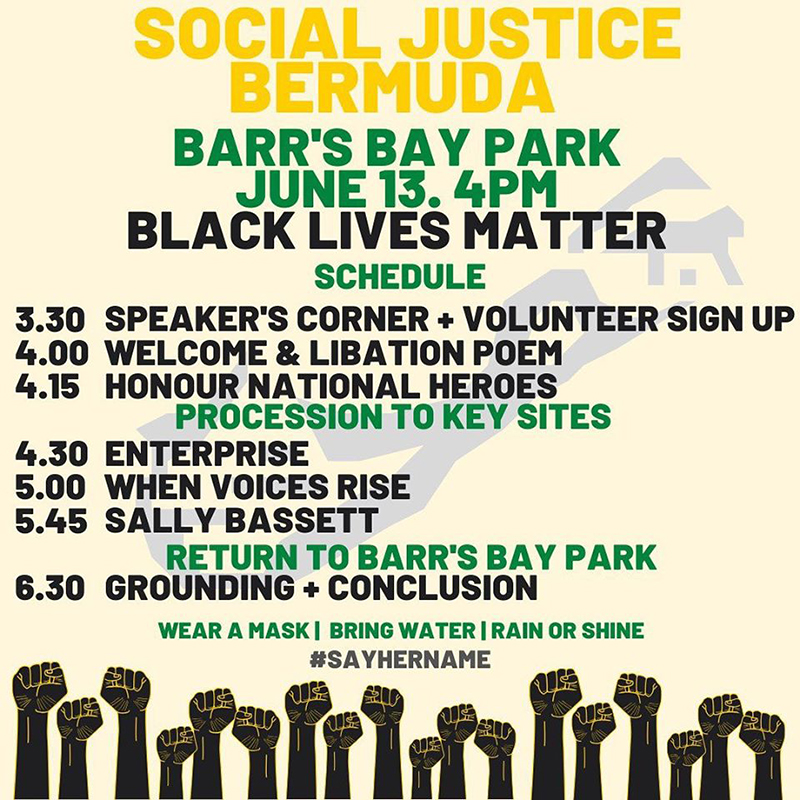 "It is anticipated that up to 1,000 persons will gather at Barr's Bay Park, Pitt's Bay Road in the City of Hamilton, between 4:00 p.m. and 4:30 p.m.
"At 4:30 p.m., the march will leave from Barr's Bay Park and head onto Bermudiana Road, up to Church Street. Then east on Church Street, stopping at the "When Voices Rise" Memorial, where will be addressed by a guest speaker for an estimated fifteen minutes.
"The march will then continue east on Church Street, before turning right onto Parliament Street. The march will proceed south on Parliament Street before entering the Cabinet Grounds gate at the junction with Front Street.
"Upon arrival at the Cabinet Grounds, there will be another fifteen-minute address in the area of the Sally Bassett Memorial, after which the march will continue west on Front Street and back to Barr's Bay Park, where upon completion participants will disperse."
Chief Inspector Jerome Laws, the officer in charge [OIC] for policing of this event stated, "The organizers have stated this will be a peaceful protest and that antisocial behaviour, violence, or damage will not be tolerated by protestors and if necessary they will ask the police to intervene.
"We are working with our partners in the City of Hamilton to make this a safe event for all, including the protestors, onlookers and members of the public who are going about their daily routine.
"We advise members of the public who will be attending the area of the protest, that there will be traffic disruptions during the march and road users are to consider alternative routes whilst traveling in the City."
Read More About