RUBiS Energy Bermuda donated a Renault Kangoo van to P.A.L.S, with the van set to "provide their Clinical Services Team with greater mobility as they care for patients in the comforts of their own home."
Mrs. Colleen English De Grilla, Executive Director at P.A.L.S. said, "P.A.L.S. is pleased to acknowledge RUBiS Energy Bermuda Ltd. for their very generous donation. P.A.L.S. would like to thank RUBiS Energy Bermuda for their unwavering support, especially during these challenging and unprecedented times.
"Right now, many charities are struggling to maintain their level of service and are dependent on the generosity of our community partners more than ever before. P.A.L.S. receives no government funds and relies on fund raising events and donations to provide in home care to the cancer patients of Bermuda.
"It is only through the generous philanthropic programs of companies like RUBiS that we can provide our services. We can never say 'thank you' enough and appreciate all that RUBiS has done for P.A.L.S. over the years."
Jermaine Simons, Sales Manager from RUBiS, Daniella Adams, Human Resources Manager RUBiS, Rosa Ward, P.A.L.S nurse, Colleen English Degrilla, P.A.L.S. Executive Director, Shaimeka Ingham, P.A.L.S Social Worker, and Kathy Fox, P.A.L.S nurse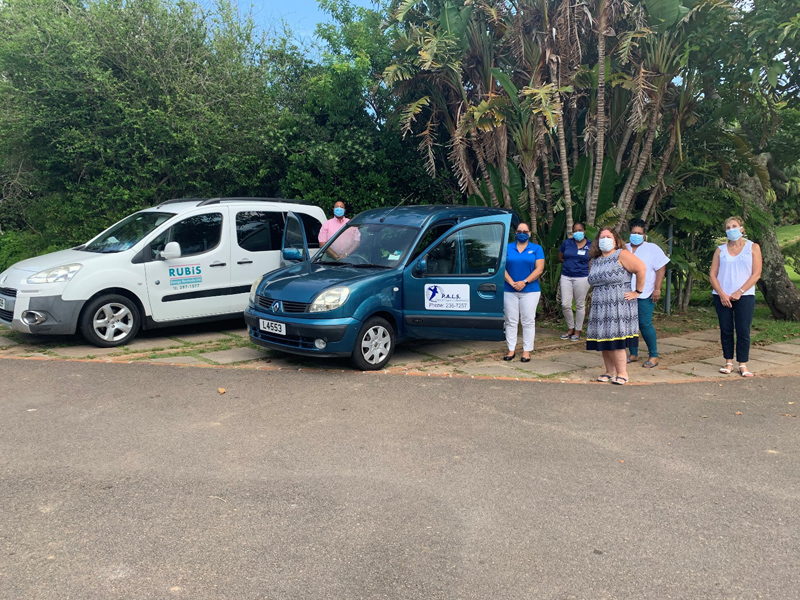 Mr. Jermaine Simons, Sales Manager of RUBiS Bermuda added, "RUBiS Bermuda is pleased to donate one of its vans to the P.A.L.S. Bermuda to assist them in their mission. The vehicle which was formerly used to meet the needs of our clients will now be repurposed to meet the needs of P.A.L.S. clients, by delivering in-home care to cancer patients.
"With the assistance of RUBiS Dowling's Marine & Auto Service Station, the vehicle was recently given a major service. With this donation, RUBiS is proud to show its support for ensuring that our vulnerable members of society may continue to receive much-needed services and support, especially as our community continues its battle against the devastating COVID-19 Pandemic.
"Engaging local stakeholders who have programmes and initiatives that provide a positive benefit to the public, such as healthcare services, allows RUBiS to demonstrate its corporate values and support to the Bermuda community. "
Mrs. Colleen English De Grilla continued, "P.A.L.S. has supported cancer patients in their home for over 40 years. The current multi-disciplinary team includes five nurses, a palliative care physician and a medical social worker.
"In 2019 the nurses made over 4,000 home visits. The donation of this van will allow P.A.L.S. to continue to serve all patients with cancer and their families in their home. P.A.L.S. never charges a patient or their family for our services which reinforces the importance of donations such as this."
Read More About