The Bermuda Lawn Tennis Association will be hosting their first Tennis Cup Match Classic this weekend at the W.E.R. Joell Tennis Stadium, with teams representing Somerset and St George's competing against each other.
A spokesperson said, "The Bermuda Lawn Tennis Association is pleased to host the first Tennis Cup Match Classic. The event takes place this Saturday and Sunday July 25th and 26th at the W.E.R. Joell Tennis Stadium. It will see Bermuda's top players compete in a Somerset vs St. George's competition using the tennis Davis CUP format, which will consist of singles, reverse singles and doubles matches played over two days.
"Bermuda's top tennis players annually compete in the International Tennis Federations Davis Cup events, but, this year due to the pandemic these events have been cancelled; so the BLTA has decided to create its own inter-island Davis Cup event with a Cup Match flavor.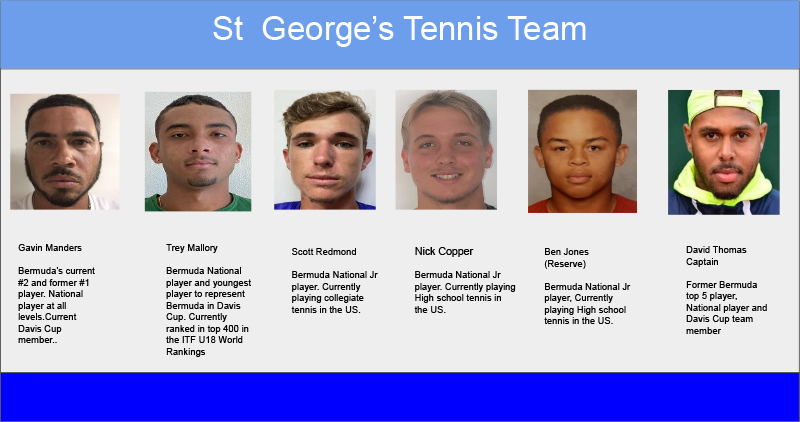 "The two teams were selected via a draw held this past Wednesday evening which saw Bermuda's #1 player Tariq Simons and #2 player Gavin Manders select teams. Each team had been previously assigned a captain from former Davis Cup players and tennis standouts."
The non-playing Captain for Somerset is veteran and most capped Davis Cup player Jenson Bascome, who commented; "This event will showcase our elite tennis players as well as a few juniors who are progressing through the ranks. It promises to be an exciting two days of tennis so come out and enjoy. Somerset will be looking to lift the inaugural trophy at the end of the weekend."
The non-playing Captain for St Georges is former Davis Cup player David Thomas, who said "We're entering what is normally my favourite time of year, and while we won't be able to enjoy the typical Cup Match holiday we've all come to love, I'm excited to lead my squad into the inaugural tennis Cup Match Classic.
"The past few months haven't been easy, but this will be a great platform for our top guys to show Bermuda what they're about. I feel like we have a very balanced team and am backing us to capture the Cup – St. George's is well overdue in re-painting the island blue and blue! I look forward to seeing some fans come out to support."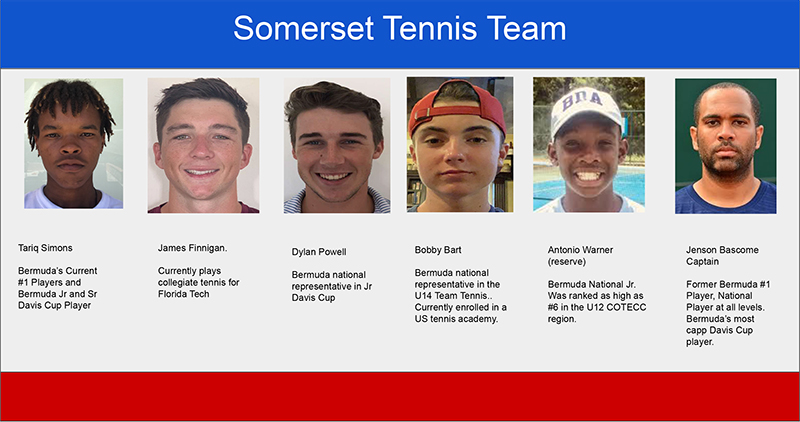 National Tennis Director and former Bermuda number one Ricky Mallory stated; "This is the first time in many years we've been able to have so many top players on the island at the same time. This weekend will be a showcase of Bermuda's best including a few of Bermuda's future Davis Cup players.
"It will give some players the opportunity to experience the Davis Cup atmosphere and team comradery. I welcome all to come out and watch. Please bring your drums, air horns or any noise makers you can put your hands on, I guarantee the tennis will be explosive."
The schedule for Saturday will see 4 singles matches starting at 11:00am and on Sunday also starting at 11:00 am 4 reverse singles matches followed by 2 doubles matches. There is no admission fee.
The BLTA President said "There has been a lot of exciting tennis activity recently with several tournaments taking place and this event promises to continue that trend. Having Bermuda's best players back on island has certainly provided a boost for the quality of local tournaments. This weekend will truly showcase the future stars of local tennis. I would encourage all fans, players and friends of tennis to come by and enjoy this weekend's competition".
The BLTA also reminded the public that Covid-19 restrictions and social distancing will be in effect.

Read More About