Bermuda was drawn in Group B for the Concacaf Qualifiers for the FIFA World Cup Qatar 2022, and will match up against Canada, Suriname, Cayman Islands, and Aruba.
In providing a preview of the group, Concacaf said, "When the First Round of Concacaf World Cup Qualifying kicks off in October, many eyes will be on Group B in which a star-studded Canada team begins its journey for a first FIFA World Cup appearance since Mexico 1986.
"Standing in Canada's way is a quartet of Caribbean sides that could prove to be quite complicated: Suriname, Bermuda, Cayman Islands and Aruba.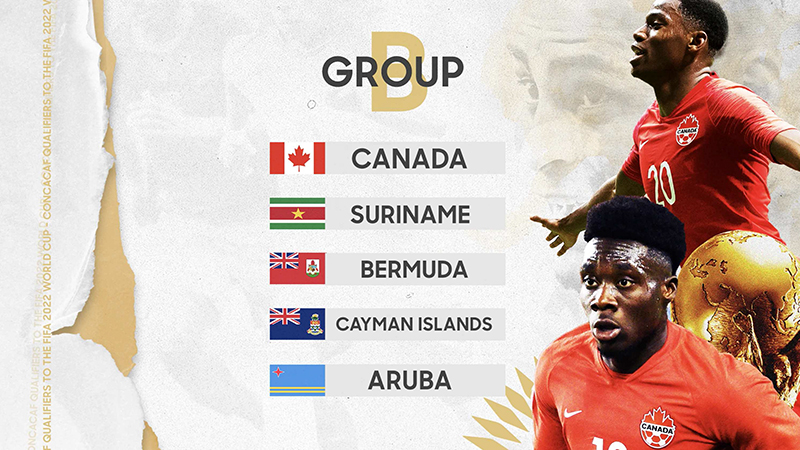 "Leading the way for the Canadians is 19-year-old Alphonso Davies, who is fresh off of winning the 2019-20 UEFA Champions League with Bayern Munich and is considered one of the best left backs in the world. Not to be outdone is star striker Jonathan David, who won the Golden Boot at the 2019 Concacaf Gold Cup [7 goals] and recently joined Ligue 1 side Lille.
"Canada's lone meeting with Suriname was a 2-1 win in WCQ for Argentina 1978, however much more recent was a 4-2 win against Bermuda in a 2017 international friendly.
"Suriname have certainly become one of the most intriguing teams in Concacaf in the last year. Thanks to a first-place finish in their group in League B of the 2019-20 Concacaf Nations League, Suriname qualified for their first ever Gold Cup. The star was 20-year-old FW Gleofilo Vlijter, who led all players with 10 goals in the CNL and has the tools to become one of the best players in the region.
"Not to put pressure on him, but he can go all the way if he wants to, if he puts his mind to it," said Suriname Head Coach Dean Gorre in a recent interview with Concacaf.com. "In my first spell as national team manager, I made him make his debut at age 15 against Guyana when he came on as a sub. I saw him play and I took him in so I knew already that he was special."
"Historically, Suriname have enjoyed success against their Group B opponents, with an 8W-1D-2L record versus Aruba and a pair of 1-0 wins in 2011 over Cayman Islands in WCQ for Brazil 2014.
"Bermuda are another team from the Caribbean that has made waves in recent years after qualifying for their first ever Gold Cup in 2019 and then playing in League A of the 2019-20 CNL. Led by danger man Nahki Wells, who had two goals in the 2019 Gold Cup, Bermuda will be looking to upend Canada to open their group campaign.
"The Cayman Islands would like nothing better than to snap their winless streaks against the likes of Suriname [3 games] and Bermuda [7 games] and with a young squad that finished second in their group in League C during the 2019-20 CNL, the foundation for a very bright future could be set in WCQ.
"I believe all of us are ready and hungry to capitalize on our achievements from the Nations League and to bring that same momentum into the World Cup Qualifiers. The new system gives us a great opportunity to play against new competition and create history. With football being stopped for several months, we are all very excited to finally get back on the pitch and play the beautiful game which we love," said Cayman Islands MF Mason Duval in a recent interview with Concacaf.com.
"Rounding out the group is Aruba, who were the only team to have defeated Bermuda in CNLQ when they posted a 3-1 win in September 2018. Aruba have also won their last meeting against Suriname, a 1-0 triumph in an international friendly in 2012, and with the likes of FW Joshua John, Aruba have the talent for a run at the top spot.
"While many eyes will be on Canada in this group, it would be foolish to discount the quality of football that Suriname, Bermuda, Cayman Islands and Aruba all bring to the table in a group that possesses some of the best young talent in the region."

Read More About