FC Bascome Bermuda will be holding open tryouts on Monday, August 17th from 8pm to 10pm at the BFA field.
A spokesperson said, "FC Bascome Bermuda are holding open tryouts on Monday 17th August from 8pm to 10pm at the BFA field for players wishing to join FC Bascome Bermuda for the USL2 team 2021 season.
"We apologise for the late notice of this invite, but we encourage all players in interested in trying out for the USL League Two to attend. Please note that the above tryouts are regarding players who are currently in Bermuda. Please can all players wear all white kit and bring water.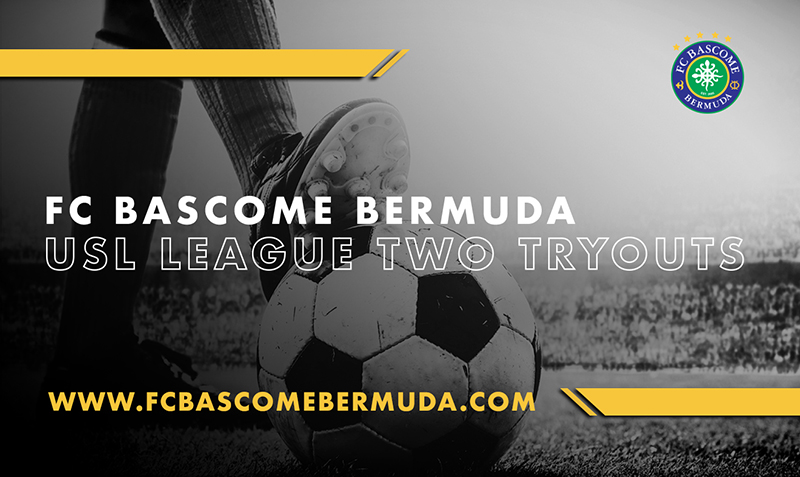 "Further tryout sessions and training sessions will be scheduled in due course.
"Our final team will primarily consist of players age 17 to 23. However, the tryouts are open to all players aged 16, who turn 17 by May 1st 2021 and up to age 25 as of today, as we are allowed to carry a number of overaged players.
"All players are required to register prior to attending tryout sessions begin in order to follow COVID security requirements, tracing and to receive the notifications and updates. Alternatively can register on your phone at the field on Monday from 7.30pm. More information on registration can be found on https://www.fcbascomebermuda.com/team-tryouts.
"The USL League Two, formerly the Premier Development League, is the leader in pre professional football in the US and Canada. The League holds a vital role to provide a pathway for players to progress to the professional ranks. In 2018, 81% of players taken in the MLS SuperDraft came from the ULS League Two.
"The impact of this is not only the significant opportunities for FC Bascome Bermuda USL2 players but for the long term benefits for the local game to prosper and Bermuda as a whole as we enter the international stage.
"Subject to further COVID restrictions and effects, the 2021 season is scheduled to commence early May 2021 and finish by mid July, and there will be 7 games played in Bermuda and 7 games overseas.
"Our Coaches are seeking players that are committed to the game and want to pursue the game at the highest level with the dream of taking the next step to playing professionally internationally.
"Any further questions please email: fcbascomebermuda@gmail.com."

Read More About