The GSP Back To School Campaign set a goal of $75,000 to provide school supplies to 500 children, and while the goal was reached, the number of students in need is now over 750, so the charity is looking to raise additional funds
A spokesperson said, "Gina Spence Productions is preparing for its annual Each One Reach Back To School Campaign distribution day on Saturday, August 29th, 2020.
"CEO and founder Gina Spence says she is very grateful for the overwhelming support the charity has received in donations from donors, sponsors, and individuals. This year the need was the greatest we have ever seen in 8 years of hosting the Back To School campaign.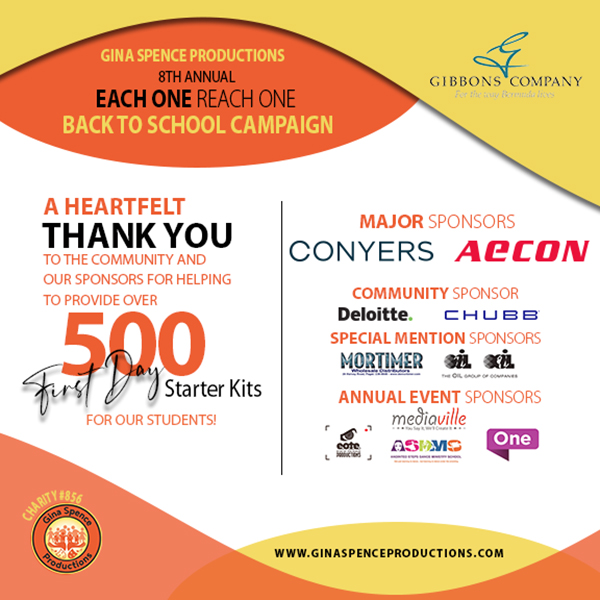 "Hundreds of parents are out of work and struggling. We have also seen an increase in grandparents and single fathers who are raising children requesting help and support.
"We have also seen people who have never required help with getting their children ready for school before but due to their dire financial situation this year they are finding it very difficult to pay their rent, Belco, food and purchase school uniforms. Especially households with more than 1 child.
"Due to Covid-19 safety regulations, we were not able to do the school uniform recycling program.
"We have been greatly supported by community partner Gibbons who are sponsoring several children and whose CEO Paula Clarke called on others CEOs, managers and business leaders to help to support our campaign this year."
BNV discussion with Gina Spence held on August 11:
"We have also received tremendous support from corporate, businesses, and community donations.
"We had set a goal of $75,000 to provide over 500 children with gift cards for first-day school starter kits. The $75,000 goal was reached, however within two weeks the number of students in need of help and support is over 750 which caused us to have to raise an additional $75,000 to ensure that no child is left behind and that all 750+ applicants will receive 1 gift card to be fully outfitted for the first day of school.
"This is our final week to raise $75,000 as the donation deadline is Friday, August 28th.
"We are confident that we will reach our goal with the help and support of our community. We are calling on Bermuda to help us by sponsoring a child for the first day of school at $125.00, or by giving a donation of any amount, no donation is too big or too small, every dollar counts.
"We especially want to thank our major sponsors Conyers Dill & Pearman and Aecon for their generous donations. Community Sponsors include Deloitte and Chubb, and a special mention of The Oil Group of Companies and D.E Mortimer. Additionally, our Annual Sponsors Mediaville, One Communications, Anointed Steps Dance Ministry School, Eyes of The Eagle Productions, and Gibbons Company.
"Make your donation today go to our website www.ginaspenceproductions.com. You can also call our office at 296-0011."

Read More About