The Bermuda Government is spotlighting some of the health professionals who have helped during the pandemic, with this profile highlighting Healthy Schools Coordinator Marie Beach.
Ms. Beach's Covid-19 Health Profile says, "As a bridge between the Departments of Education and Health with almost 40 years of in-school experience, Healthy Schools Coordinator Marie Beach was the ideal person to assist in the coordination of students returning safely to schools in the fall, amidst the COVID-19 pandemic.
"In this new role she has written entry and exit protocol for both public and private schools, crediting her success to close collaboration with her colleagues and team of school nurses.
"To ensure the protocols and guidelines work well in practice, she has done a virtual walk-through of a 'typical day' at each school, as well as creating contingency plans in the event of positive cases."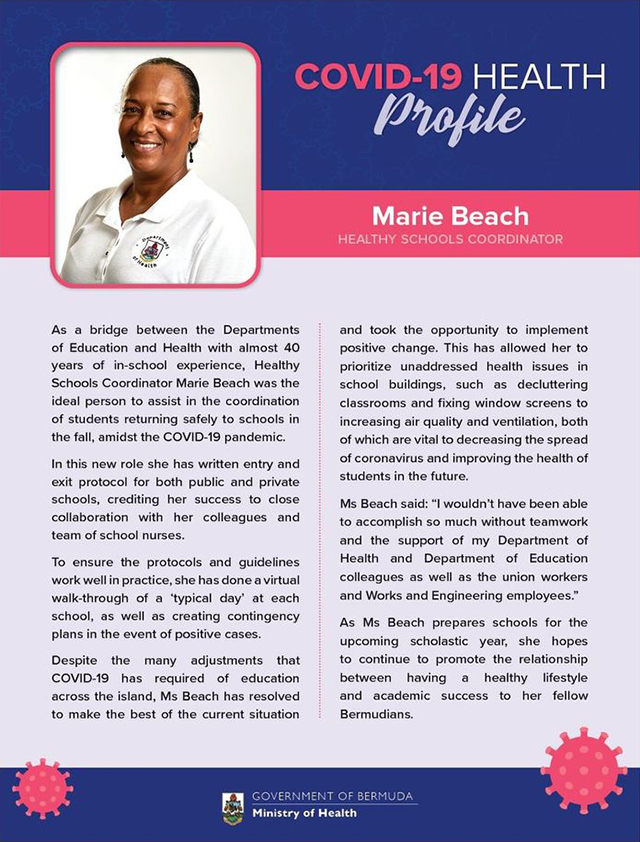 As the island and world deals with the Covid-19 pandemic, we are doing our best to provide timely and accurate information, and you can find more information on the links below.
Read More About