Jarred Douglas, Krishun Douglas-Henry, Bethany Shaw and Gloria Simmons will be awarded scholarships by the Devonshire Parish Council.
A spokesperson said, "The Devonshire Parish Council is proud to announce that they have selected four remarkable individuals to receive their 2020 Scholarship.
"The four recipients distinguished themselves through their passion, enthusiasm and determination to succeed in their chosen area of study. This year's awardees are Jarred Douglas, Krishun Douglas-Henry, Bethany Shaw and Gloria Simmons.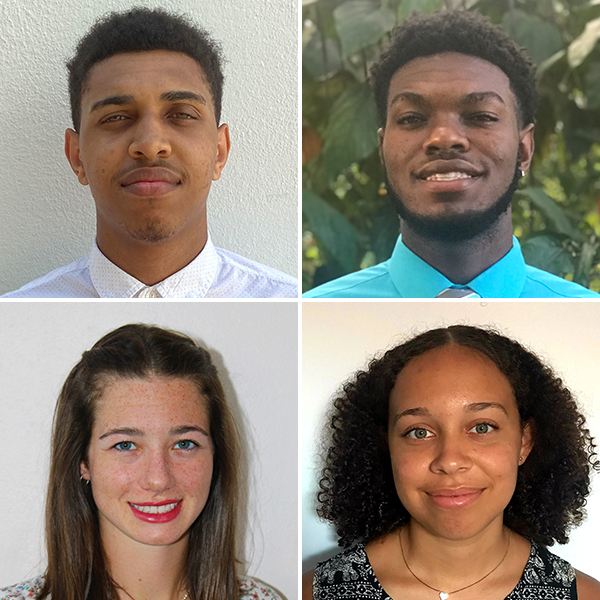 "Jarred Douglas is passionate about understanding how the mind functions and ensuring that proper healthcare is accessible to all and is studying Neuroscience at Dalhousie University.
"Krishun Douglas-Henry's short-term goals include obtaining a degree in Finance from Northumbria University, with career aspirations of working globally in the investment industry.
"Bethany Shaw is pursuing a dual degree in Psychology and Theology at Johnson University. She is planning on gaining experience overseas to ultimately return to Bermuda and provide services, especially for the youth.
"Gloria Simmons's ultimate goal after receiving her Bachelor of Science in Chemistry from Mount Allison University, is to become a doctor. She would like to use her education and experiences to positively impact her community.
"It is our pleasure to help students achieve their educational goals through this scholarship and we look forward to witnessing their future growth and accomplishments.
"The Devonshire Parish Council Scholarship is offered annually to Devonshire residents, with a maximum value of up to $5,000.00 per awardee for undergraduate and graduate studies. For more information about the Devonshire Parish Council Scholarship, email the Committee at dpcscholarship@gmail.com."

Read More About