[Updated] The OBA is holding a press conference today [Sept 9] where they are expected to announce additional candidate[s] for the upcoming 2020 General Election, which will be held on October 1st, 2020. We will have additional coverage later on and in the meantime the live video is below.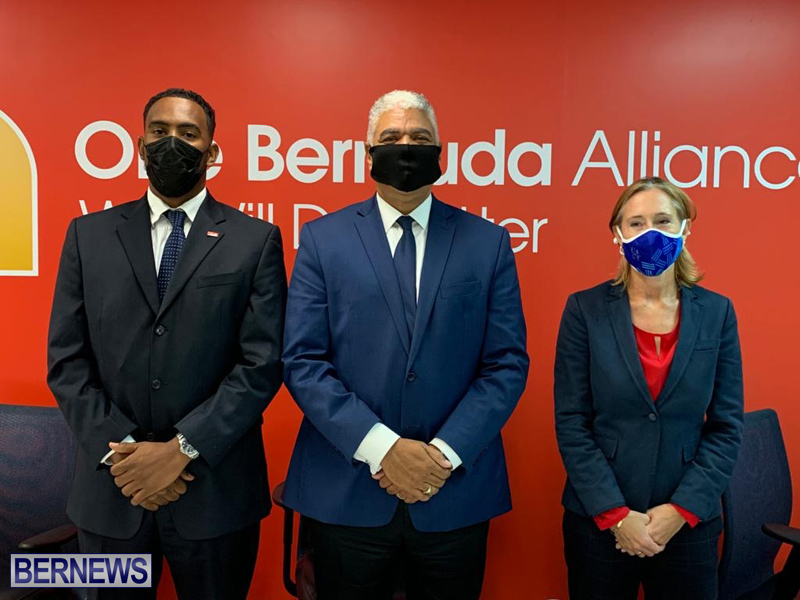 Update 12.27pm: The OBA announced that Tarik Smith will run in Constituency #24 Warwick South East and Elizabeth Harvey will run in Constituency #5 Hamilton East. C24 is currently held by the PLP's Lawrence Scott and C5 is currently held by the PLP's Derrick Burgess.
Update: The live broadcast has concluded and the 15-minute replay is below
Update 12.40pm: OBA Leader Craig Cannonier's remarks:
Good day Bermuda

It gives me huge pleasure today to announce more members of our new team.

Tarik Smith is the One Bermuda Alliance candidate in Warwick South East an area where he grew up and where is family has operated a business for more than one hundred years.

Welcome Tarik.

Elizabeth Harvey is the daughter of the very well-known Dr Eugene Harvey and will be the One Bermuda Alliance candidate for constituency 5.

Welcome Elizabeth.

There are several issues that I want to address today.

First, all job growth is welcome, but of the 523 new jobs added in 2019, 306 – or almost 60 percent – were in public administration, education or social work – the vast majority of which are public sector jobs paid for by the taxpayer.

The other job increase was 151 in hotels.

These are the fruits of the One Bermuda Alliance's labours and the OBA-founded Bermuda Tourism Authority's efforts as new hotels opened.

Disturbingly, there were 50 fewer jobs in international business, Bermuda's main earner of foreign exchange.

It also appears that jobs filled by non-Bermudians rose by 324. What happened to the Premier's pledge to put Bermudians first?

These are the key facts that Bermudians need to pay attention to.

These jobs are either the result of increasing the civil service or from One Bermuda Alliance inspired projects that continue to benefit Bermudians.

Second, there were two issues that arose yesterday.

David Burt held a fundraising event at Tucker's Point which cost twenty thousand dollars a table.

In the news report the Premier has his hand out and was clearly trying to stop publication.

Why did he do that? Was he embarrassed? Did he want to hide it from his supporters?

The Premier also needs to tell the people if he knew about complaints against a now former PLP MP earlier than he has admitted.

A report suggest that other complaints were made months ago, and that the Premier Burt was informed but did not act. Why?

Did the Premier ignore the complaints? Did he refuse to take action? Did he try and cover this up?

Lastly, last night the Premier used a press conference, that was meant to be all about Covid, only to announce concessions for taxi drivers.

It was an inappropriate platform to announce this concession, but it also made me think: is the Premier now trying to buy votes?

Bermuda we will do better.
Tarik Smith's remarks:
Good day Bermuda,

I would like to thank the Opposition Leader Craig Cannonier and the candidate selection committee for allowing me to represent the One Bermuda Alliance in Constituency 24, Warwick South East in the up-coming general election.

I have had a love politics since I was a child, but my passion is not just politics – it is to help people and create change.

Bermuda and the world have been faced with unprecedented times.

We have come together as a community, in the Bermudian way of years past.

I feel there is no better time than the present to step up and serve my country and my community.

To the constituents of Warwick south East, I grew up on South Shore, Warwick. I learned to ride my pedal bike in the Warwick Seventh Day Adventist church yard.

My family has lived and operated businesses in the Warwick for over a century.

I presently operate and manage our family business in constituency 24.

For these reasons, this community is not only dear to me, but I strongly feel that I can represent you best – as I am one of you.

I'm an everyday presence in our community and have been for 16 years – and this will not change anytime soon.

I will do my best to hear all your concerns and work towards gaining your trust and confidence.

Based on the canvassing so far, I can confidently say that we share the same concerns.

Education, the status of TN Tatem middle school, anti-social behaviour, healthcare, cost of living, higher land taxes and a liveable wage.

My hope is to bring fresh ideas to the table in hopes of strengthening our Warwick community.

If elected I hope to be the accessible MP – serving the needs of the people of Warwick, championing their voices and growing Bermuda into a place we can all be proud of and thrive in.

Bermuda, you challenged the One Bermuda Alliance to get fresh, new, faces and fresh ideas.

I am here and you have already seen other new faces.

This Shows that the OBA has listened to the people and has given you the new candidates that you so rightly have demanded.

The OBA has moved in a new direction and we will do better Bermuda.

I will close with a statement I saw on Facebook that made me stop and think.

The difference between a wise man and a crash dummy is a spirit of understanding. The spirit of understanding is listening and respecting what someone is saying even if at the time you don't agree with that person and what they are saying, you must look past the disagreement to analyse and find a common ground.

At the end of the day I believe we all want what's best for this island, and maybe if we stopped to listen to each other in an effort to collectively solve the issues we can come to better understanding.

Thank you for time thank you for listening and have a great day.
Elizabeth Harvey's remarks:
Good morning Bermuda, my One Bermuda Alliance colleagues and members of the media.

It is a great honour to have been selected as the One Bermuda Alliance candidate to represent the people of Hamilton East and I am very excited to be here.

For those of you who don't know me, I was born and grew up in Bermuda – my father is Dr Eugene Harvey who practiced as a GP for close to 40 years and delivered many of Bermuda's children.

He followed in the footsteps of his father who was also a doctor – a few of you might still remember him. My brother, John, is a qualified surgeon and has also followed in the family tradition.

After I graduated I worked as a journalist for several years before returning to the UK to further my career in PR and communications.

It was after I had my two children that I decided, in 2006, to return to Bermuda – for two reasons:

I wanted them to learn to swim in the sea like I and my father had.

The local council swimming pool just didn't cut it.

I wanted them to be part of a community where people knew them and knew where they were from – and for my children to have a strong identity and to really know where they were from.

And that's what I – and many of you love most about Bermuda – our community.

We have a strong community.

We have a community that looks after each other like nowhere I've ever known. We are proud of who we are, and our way of life and we defend it fiercely.

But today we're at a crossroads – our country is in trouble.

We are drowning in debt with a government that doesn't seem to know where to go next. We are digging ourselves into a financial hole that we might never get out of and the consequences are dire.

As a mother and a family breadwinner, this keeps me up and night and I know it keeps the people of Hamilton East up at night.

Over the last few months Covid has taught us that we can't take things for granted – particularly the public services we depend – suddenly everything felt fragile.

It gave me an insight into what our island could look like if we continue to sink further into debt.

So that is why I am supporting the OBA – we need a credible alternative to the current government. We need a party that has a proven track record in getting our economy back to where it should be.

My parting word is that the people of Bermuda should think very carefully about who they vote for in this election.

We are at a crossroads – if you vote for more of the same, you will get more of the same. Protect our community and vote for the OBA.

We will do better.

For comprehensive coverage of the 2020 Bermuda General Election and past elections, you can find more information and statistics on the links below.

Read More About