[Updated] The PLP is holding a press conference this morning [Sept 3] where they are expected to announce additional candidate[s] for the upcoming 2020 General Election, which will be held on October 1st, 2020. We will have additional coverage later on and in the meantime the live video is below.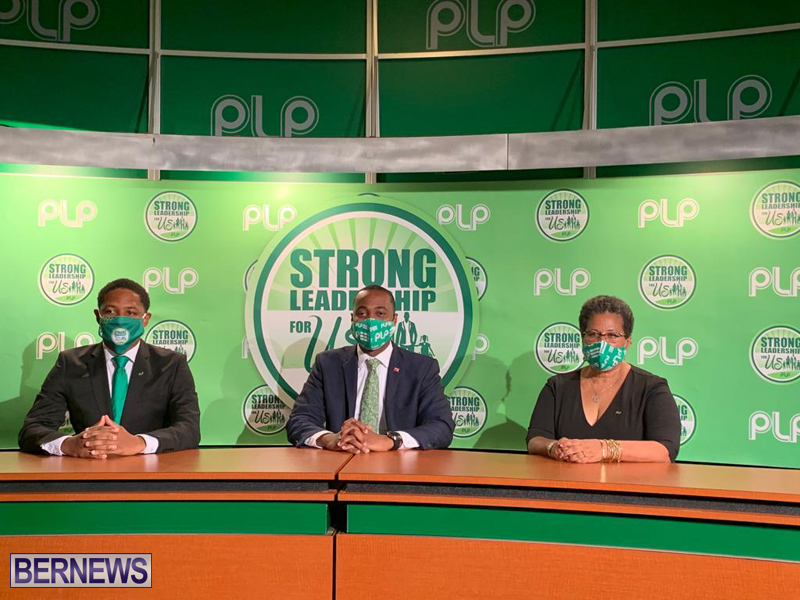 Update 11.36am: The PLP announced that Ianthia Simmons-Wade will run in Constituency #25 Warwick North East, and Jache Adams in Constituency #19 Pembroke West.
Constituency #25 Warwick North East is currently held by the PLP's Curtis Dickinson, who serves as the Minister of Finance. The Premier confirmed that Minister Dickinson will move to Constituency #21 Pembroke South East, the seat held by Rolfe Commissiong.
Mr Adams is set to run in Constituency #19 Pembroke West, which is currently held by the OBA's Jeanne Atherden. The OBA has already confirmed that Marcus Jones will be their candidate.
Update: The live broadcast has concluded and the 37-minute replay is below
Update 12.50pm: Premier & Party Leader David Burt's remarks:
Good morning,

Today, I'm pleased to announce two incredible candidates in two Important constituencies in the upcoming General Election – Jache Adams in Constituency #19, Pembroke West and Senator Ianthia Simmons-Wade in Constituency #25, Warwick North East.

This election is about leadership – and, which leader and team are best equipped to see Bermuda through these difficult times. We ably managed Bermuda through the worst of the health crisis making sure that we expanded financial support to see Bermudians through the worst times.

Bermudians all know the economic record of our opponents. 2,000 Jobs were lost and our national debt doubled. They saddled our country with a bad airport deal that is likely to result in tens of millions of dollars shipped overseas this year.

Conversely, before the pandemic, the PLP created over 700 new jobs, and, yes, the nascent FinTech sector has created 60 jobs right here in Bermuda. During the pandemic, we took swift economic action to expand financial support and to allow Bermudians to access funds from their pensions. In the recovery, we quickly instituted the work from Bermuda program which has already received hundreds of applicants to allow remote workers to temporarily come here and spend money in our economy, and we will be moving up capital projects to get our people back to work.

Over the coming weeks, we will continue to outline or vision for the recovery of our economy, but, I want to remind Bermudians that as we enter the season when politicians make promise after promise, to remember what Forbes magazine reported, and, I quote "past behaviour is the best predictor of future behaviour and the same is true of success."

You've seen our record. And, you've seen what the OBA did when they were in government. I invite you to compare them and then decide – do you want the PLP Team and I leading our recovery, or would you prefer Craig Cannonier see us through these difficult times? That is the fundamental question of this election.

Jache Adams is our candidate in Constituency #19 Pembroke West, and he can win the seat. He is an experienced banker and currently serves as an advisor in the Ministry of Finance. He manages real estate and also started a small business in information technology. The PLP will continue to bring new candidates into the fray to contest seats, and as we push forward with economic recovery, Jache Adams will be an important part of the economic team that will ensure our PLP team sees us through these difficult times.

Jache…

Ianthia Simmons-Wade spent her career in health care and long term care. She is one of our leaders in the Senate who is committed to improving the quality and affordability in healthcare. She is also a champion for our seniors. She served Junior Minister of Health, Communications and the Cabinet and also as the Chair of the Ageing Well Committee. And, not only is she dedicated to building a healthier community where seniors can live long healthy lives, but, politics flows through her veins. Her great-grandfather, William Joell, was the first elected black Parliamentarian and her late husband, L. Frederick Wade is an icon who committed himself to building a better and fairer Bermuda for all.

I have worked with Senator Simmons-Wade over the past few years and I can speak to her commitment. Senator Simmons-Wade, I speak for many that your presence on this stage makes our team even stronger.

I know that with the announcement of Senator Simmons-Wade, there is going to be intense speculation about what happened to the Incumbent MP in constituency 25, our Finance Minister, Curtis Dickinson. I can confirm that the Executive Branch of Constituency 21 has met MP Dickinson and he will be moving to C21 to contest that seat for the PLP in the upcoming General Election with the full support of the sitting MP Rolfe Commissiong.

We have a strong team in Constituency #21, Pembroke South East. While Minister Dickinson and the C21 team will be focused on communicating with the voters in that seat, he will also have time to focus on executing the economic recovery plan aimed at creating jobs and opportunity that he outlined yesterday.

We will be rolling out Curtis with all the sitting MPs who will be running for re-election next week.
Jache Adams remarks:
Good morning to our Premier and Party Leader, David Burt, fellow candidates, family, friends, and members of the media.

I'd like to begin my remarks this morning by saying that, firstly, I am a family man. I say this because there are two ladies disappointed they could not be here today, and they are my grandmothers, Mrs. Iona Brangman and Mrs. Nathalie Adderley. It is important for me to mention this at the very beginning because I want everyone to know that I recognize that without them, there is no me. These two ladies are the best examples of sacrifice, selflessness, and perseverance, that I can think of and it is those very same characteristics I look to take with me as the Progressive Labour Party candidate and hopeful representative for Constituency 19 – Pembroke West

It was Dame Jennifer Smith who once asked "How can we, in a democracy, expect to create a better quality of life for all the people in Bermuda unless we actively participate in the democratic process?"

Therefore, after much deliberation, I've put my name forward, and it is a pleasure as the grandson of Mrs. Brangman and Mrs. Adderley was introduced as the PLP candidate for constituency 19, Pembroke West.

My grandfather represented Pembroke West for 7 years in the House of Assembly and so I know the area and many of the constituents well. As a young boy I canvassed the area with him and it's refreshing to see life come full circle because you can rest assured that this time he will be out canvassing with me. I know the concerns of the people of Constituency 19 well because I heard them myself when I was a young boy and I'm saddened to know that many of those issues are still present today like improving the access to Deep Bay and restoring and making better use of the building at Admiralty House. But as a breath of fresh air I say to the residents I will devote my time and energy to improve the community.

The second thing I'd like to say this morning is that I come from a mixed party family. I can see both sides, but, I am a supporter of the PLP because of the strong leadership our team has to offer. We need capable and effective leaders to see us through these challenging times.

As I sit here next to the Premier I'd be the first to admit our government hasn't been perfect – no one is perfect but Almighty God – but I am certainly proud of the progress being made and the direction we are headed.

I look at how other countries have struggled and continue to struggle with the health crisis brought on by COVID-19 and am thankful to know how blessed we truly are. But tough times don't last, tough people do, and so whilst the world is suffering economically I'm confident that our country's leadership will remain adaptable, innovative, and dare I say progressive enough to successfully lead us through the economic crisis just as they have through the health crisis. There may be tough times ahead, but I am confident that if our government can navigate through the economic recovery as they navigated through the COVID crisis, we will be ok.

Any of my family and friends can tell you that I am a firm believer and have a strong passion in instilling a sense of self-reliance. The quote says "Up ye mighty people, accomplish what you will"

My career as a banker and my years on the Board of the BEDC have provided a platform to assist entrepreneurship in this country so that our people can be self-reliant. We do not need anyone or any group of people to do for us that we cannot do for ourselves. We must be confident in ourselves, and yearn to chart our own waters.

Ladies and gentlemen, my aim is to simply be a part of the process, to help foster a fairer and better Bermuda for all, and to represent the people of Constituency 19 as best I can.

I thank you all, I look forward to meeting constituents on the doorsteps, and hope to have your support come October 1st.
Senator Ianthia Simmons-Wade's remarks:
Good morning Premier David Burt, MP's, Senators, family and friends,

Thank you for your presence and support on my roll out as the Progressive Labour Party candidate for Constituency #25 Warwick North East.

Bermuda we fell asleep in one world and woke up in another world. Our lives have changed significantly and we struggle to live with this new norm. Like the rest of the world our small island's economy continues to be seriously impacted.

During these past months, the Progressive Labour Party Government was challenged to make decisions to balance public health and the impact on our economy. As a result of strong leadership, Government's decisive action and the compliance of the Bermudian people, our active cases of Covid-19 and deaths are extremely low and our borders have reopened. Confronted with tough times, our Government made tough decisions to do what it takes to protect the people and to rebuild our economy. This pandemic is a reminder that there is such a thing as a community and that we are not just individuals. We will come through this together, as we have a reserve of strength inside, that emerges when life puts us to the test. Covid-19 is our greatest test.

Some question, why now for a general election? The Progressive Labour Party government is seeking a mandate from the people to lead Bermuda on the road to economic recovery and to rebuild our island. There will be tough times ahead and many sacrifices. Bermuda we need a Government of resilience. Our government has demonstrated the leadership, values and vision with a track record of performance, achievements and implementation.

Mark Twain said the two most important days in your life are the day you are born and the day you found out why. Our stories begin well before we arrive on this earth. If we are lucky our story will extend beyond us. At a very young age I knew that my life story would be one of service.

My career has spanned over 40 years in health, long term care and with the disabled. It was my vision to improve and empower the lives of people, but in reality they inspired me. My public service and volunteerism, locally and internationally, have spanned over 45 years. I have chaired and served on government, private and charitable boards and committees, most notable Bermuda Hospitals Board and the Sustainable Development Board. It was never about my role but always about the spiritual goal of service.

My family has a very rich legacy, who for generations strongly believed in community service. As the wife of the late L. Frederick Wade, my level of social consciousness grew significantly. Politics has been an integral part of my life for over 35 years. Community service has also been instilled in my triplets, Frederick, Ceola and Kamela. As a single parent for 24 years, I understand the struggles of being the sole breadwinner and raising and educating children in our world today.

It is an honor to be selected as the candidate for Constituency #25, Warwick North East. I have roots in this constituency having lived here during my formative years from age 11 to age 23. Now I live just a few minutes away, it's almost like I never left.

As a new Senator and the Junior Minister for Health, Cabinet and now Communication it was truly baptism by fire. As a woman and a "pre-senior" I brought a wealth of knowledge and experience to the Senate. In the past months, I have taken significant legislation to the Senate as a result of this pandemic and supported other legislation necessary for our government to continue to function. This experience combined with working with such a talented Senate team, inspired me to run in this general election for the PLP.

Bermuda like most countries is experiencing an ageing population as well as a declining birth rate. Government statistics predict that seniors will climb to 24.9% by the end of 2026. As the Chair of the Ageing Well Committee, our mandate is to develop targeted policies working along with the government, the community and the third sector. The committee will continue to drive forward policies to ensure seniors are ALWAYS front and centre. Our Government is committed to " Ageing in All policies".

The following are but a few;

The Parliamentary Election Amendment Act 2020 – enables seniors to vote in an advanced poll or in their home if they are "sick and shut in".

The Charter of Rights and Responsibilities of the elderly and adults in need of long term care

Expanded the Home and Seniors Benefits under Future Care

Instituted an interest free home improvement loan for family who wish to modify their homes for senior relatives

The Public Service retirement age rose to 68 years of age

Health is our most valuable possession. The Ministry of Health is the caretaker of the island's health care system. As a result of the pandemic we are again reviewing the Bermuda Health Plan to ensure it will provide access to timely, acceptable and affordable healthcare of appropriate quality to all Bermudians. The PLP government has a track record of performance and delivery. Premier David Burt leads the government with tomorrow as well as today in mind and has also developed a culture of leadership within the Progressive Labour Party.

In closing, to the Constituents in #25 Warwick North East, your vote should be based, not just on me as your candidate, but as importantly on which party you believe has the proven leadership and that is prepared to accept the responsibilities for our island's future. Remember the power of the politicians is in the people. I promise to listen, I promise to work tirelessly and I promise to represent all of you in the House of Assembly if elected as your Member of Parliament. This is my pledge to you.

Read More About