[Updated] The PLP is holding a press conference this morning [Sept 9] where they are expected to announce additional candidate[s] for the upcoming 2020 General Election, which will be held on October 1st, 2020. We will have additional coverage later on and in the meantime the live video is below.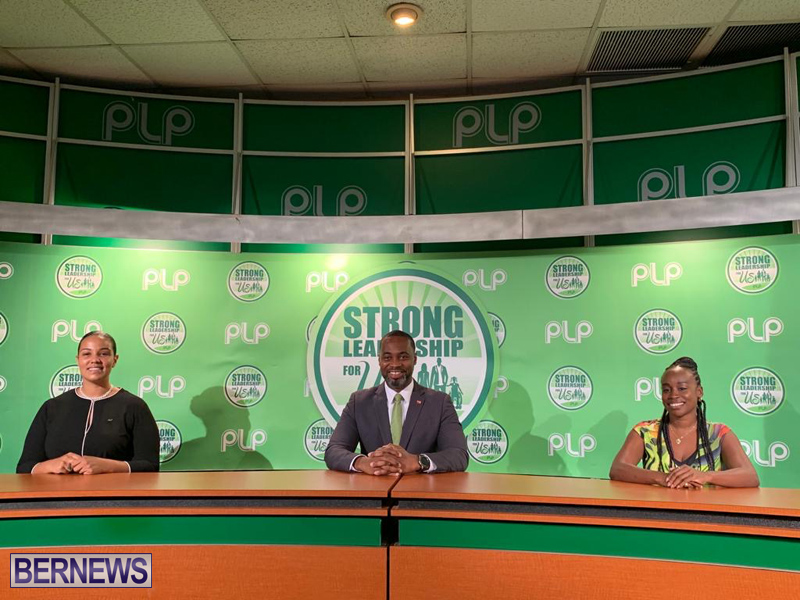 Update 11.25am: The PLP announced that Arianna Hodgson will run in Constituency #23 Paget West, and Davida Morris will run in Constituency #20 Pembroke South West.
Pembroke South West is currently held by the OBA's Susan Jackson, who the OBA already confirmed will be running in the upcoming election, and Paget West is currently held by the OBA's Patricia Gordon-Pamplin, and the OBA has confirmed that Jarion Richardson will stand for the OBA in the upcoming election.
Update: The live broadcast has concluded and the 32-minute replay is below
Update 12.15pm: Premier & Party Leader David Burt's remarks:
Good morning,

I've been doing a lot of canvassing lately. Over the last few days, I've been to Seymour Farms Road in Constituency 31, Keith Hall Road in Constituency 25, Cherry Dale in Constituency 7 and Loyal Hill in Constituency 10 to name just a few. The questions I get on the doorstep are about our economic performance and our economic future.

While Bermudians are focused on our performance during the COVID-19 pandemic, comparing economic records, our economic plans and the team of leaders we are offering to see us through these tough times, others want to discuss anything but. It is telling that one of these people trying to distract us from the economic conversation resigned as Premier due to his failure to be forthright to the country.

Next week, seniors aged 65 and over along with anyone with a plane ticket who will be outside the country on October 1st will be afforded the opportunity to vote. There are four polling stations that will be open Monday to Friday next week from 8 am to 8 pm to allow persons to exercise their right to vote. In order to reduce traffic at the polls on election day and encourage the proper physical distancing, we strongly encourage our seniors to take advantage of this opportunity to cast their ballot in the Advanced Poll. You can learn more about the polling locations on the Parliamentary Registrar's website and we encourage everyone who is eligible to cast their ballot.

As seniors and travelers go to the polls next, please ask yourself – who do you want to see managing the economic recovery? We've introduced you to all of our new candidates and the remainder of the constituencies will be filled with incumbents. You've also had the opportunity to see a few of the opposition candidates. These are serious times and elections are serious business. Compare the two teams. Compare myself and Mr. Cannonier. And, ask yourself, which team do you want to see us through? On the one hand, you have our team which created hundreds of Bermudian jobs before the pandemic and ably managed the health crisis. And, on the other hand you have a team of newcomers led by the team that gave us the bad airport deal which is costing taxpayers tens of millions, the failed Morgan's Point project which cost taxpayers $200 million, and a party that cut scholarships and education funding all while refusing to give seniors a pension increase until election year.

The contrast is clear and our respective records are clear. Voters will choose between the strong leadership of the PLP team that builds consensus to solve the problems our country faces, or the divisive leadership of the OBA that will stop at nothing, and will even allow Seniors to be pepper sprayed to push their bad ideas through.

Today, we're pleased to roll out our final two new candidates – Davida Morris for Constituency #20, Pembroke South West and Arianna Hodgson for Constituency #23, Paget West.

Today, I'm pleased to introduce the final candidates that will fill the Progressive Labour Party slate for this upcoming election. I'm proud to once again note that we will have our highest number of women running during this cycle for the Progressive Labour Party, a party that has a proud history of women in leadership roles.

The first candidate who will speak today will be Ms. Arianna Hodgson who will be running for the Bermuda Progressive Labour Party in Constituency #23 – Paget West.

Ms. Hodgson is a recent graduate with a degree in human resources who returned to Bermuda to pursue her career. She's worked in HR advisory and talent management for local businesses. But, she's perhaps best known for her social media presence – The Good Mom. Ms. Hodgson is the mother of a five year old, and, as a parent of a five year old myself, let's just say we can share some stories. Ms. Hodgson is an entrepreneur who is passionate about ensuring that Bermuda continues its work to be more supportive and nurturing to entrepreneurs. She is also a member of the Junior Economic Advisory Committee who have contributed great ideas to the Government to advance our economic recovery. I'm thrilled to have her on the team, and congratulate her in being selected to run in Constituency 23.

Ms. Hodgson….

Thank you Arianna.

Davida Morris is our standard bearer in Constituency #20, Pembroke South West. Davida is a former Chair of the Progressive Labour Partys' youth wing, and in 2006 at the age of 26 she was appointed to serve in Bermuda's upper house. Davida received a Master's Degree from the prestigious London School of Economics in social psychology and has worked as a residential treatment officer, substance misuse officer and as a programme manager at the environmental organization Greenrock. Ms. Morris is a new mother and currently serves as secretary general of the Bermuda Progressive Labour Party.

Ms. Morris….

Thank you.
Arianna Hodgson's remarks:
Good morning to the Premier and to the people of Bermuda.

I'd like to start by thanking our Party leader and the PLP family for believing in me. The Premier has been a constant source of support since the day we met.

I would also like to thank my mother and father, as well as my friends and family for their support, encouragement and guidance over the years.

As a quick introduction, I am Arianna Hodgson.

Like many young Bermudians, I have a lot of concerns, but unlike many Millennials, I want to be a part of the change. As a mother of a five year old, I want to be an example that my daughter can emulate.

So, why me and Why now?

The simple answer would be two words — Legacy and Service.

As I sit in front of you, I am the fruit. But in order for you to understand me, you must understand the root. I am the granddaughter of Arthur Hodgson who joined the Prgressive Labor Party party back in 1963. He was a member of parliament, a government Minister, a freedom fighter, a rhode scholar, one of Bermuda's first black barristers and a man who gave his blood, sweat and tears in service fighting for equality and social justice for the people of Bermuda.

My Great Aunt, the late Dr. Eva Hodgson was an educator, a historian, an author and a champion of race relations, social justice and equality for more than 70 years. As many of you know, she passed away earlier this year and I am only disappointed that she could not see me carry out her legacy through service today.

To the people of Constituency 23 – Paget West, I will be your advocate, I will be your voice and I will ensure that your concerns and outstanding issues will be tackled as a matter of priority.

Many of our young people are apathetic, frustrated and unsure about where they fit in the political process. We have power and our vote is our voice. There's no such thing as 'not doing politics' and – today – your one vote does indeed matter.

I have learned that I have to be the change and I am encouraging each of you to come out and cast your vote on the 1st of October.

My beliefs are very simple.

I believe in our children and I believe that the education system is the backbone of every society. While I understand the need for strong male figures in our communities and our desperate need to restore the family unit, I believe that the world deserves more female leadership.

Now is the time to share the stories of women fighting to be heard.

Women face unique barriers in pursuit of social and political equality and I am personally committed to dismantling the barriers and improving the lives of our mothers, sisters and daughters.

I believe that the world is changing for the better and I believe that women like Dame Lois Browne Evans, Dame Pamela Gordon, Dame Jennier Smith, Dr. Barbara Ball, Doreen Lightbourne and many others have paved the way for me to stand here, today.

As our country realigns itself economically post-pandemic, entrepreneurs will play a key role in our island's economic recovery. While I support the traditional worker and understand the goals of business, I believe that we can go a step further to lay out the red carpet for those who choose to take the risk and pursue entrepreneurship.

I used to get excited about finding a good job and making good money. I now understand that what really matters is the impact I make and my ability to make life better for the next person, which is what entrepreneurship is all about.

I applaud our government's commitment to ensuring that our Bermudians receive support for their existing and potential businesses and I look forward to ushering in new ways to better serve our communities.

I had the opportunity to study in both private and public institutions, and often say that I've had the best of both worlds. As we move forward and look to remedy the current state of our public education system, I believe that we know what needs to be done and believe that our government will deliver on its promises.

In Bermuda, we have a unique opportunity to create a new template for a system that works for us.

I want my daughter to believe that she can lead our country; I want our sons to see themselves as agents of change; and I want our young people to believe that their voice Matters.

As my grandfather once told me, "It's not good enough to JUST be in the room." The time has come to speak up and be the difference that is required.

Thank you.
Davida Morris remarks:
Good morning Premier, MPs, family, friends, and supporters. I sit before you today to announce my candidacy for Constituency 20 – Pembroke South West.

Many of you know me from when I was a young Senator running in Constituency 22. I want to take this opportunity to introduce myself to some and reintroduce myself to others. I am, and always will be a community-oriented, service driven person. From my teen years as a Candy striper working in the hospital to today with my work on the Paget Parish Council and the Relay for Life, I am happiest when I am serving my community.

My dedication to the improvement of Bermuda and her people extends to my professional career where I have directed my efforts to providing guidance and direction, helping people overcome obstacles, and teaching a better way to live. Whether as a Substance Misuse Counselor, a Residential Treatment Officer or a Programme Manager for an Environmental charity, the betterment of people's lives, and strengthening our community has always been my focus.

Like then, I still have a passion for young people and seeing them thrive. I still believe that our country can be an example to the world on many fronts and I still believe our culture is beautiful, strong and deserves protecting.

I am logical, and pragmatic but I have heart and I am passionate about our island.

While it was about 13 years ago that I was in the Senate and it seems as if we are in a completely different world now and much has changed, many things are still the same.

Bermudians still need affordable health care. Bermudians still need to be able to purchase their own homes. Bermudians still need to be able to make an honest living to be able to support their families. Bermuda still needs strong leadership.

As we deal with the COVID-19 virus and the ramifications thereof, we need to ask ourselves with all that we are facing and all that we are about to face as a country who can we trust to lead us forward? Which party do we feel will look out for us, all of us? Which party has the knowledge and experience to see us all through to the other side? This is not the time to take a chance on someone new. This is not the time to roll the dice on the unknown. We need strong leadership, clear vision and a plan that includes all members of our community to ensure our social and economic recovery and security for years to come.

I am proud to be a part of a strong leadership team that is navigating our island home competently through this unprecedented moment in history. We cannot let the fates carry us right now, these times require decisive action. We need a steady hand, a clear mind and sure path. We need the strong leadership of the Progressive Labour Party now.

To the people of Constituency 20, Pembroke South West, know that in me you have a candidate who is truly interested and cares for your life and livelihood. I see who you are, the extremities of the economic spectrum that exist within your boundaries. Know that as your candidate I will work to ensure that all persons issues are heard, acknowledged and addressed. I understand that everyone wants to and should be able to live in a manner that not only are their basic needs met but they are also able to pursue their dreams. I want to assure you that as your candidate I will ensure your voice is heard and I will work to address your concerns. My voice will be your voice in the House of Assembly and my heart, mind and hands are yours to work on your behalf.

As a new mother, I am now more than ever concerned about the direction of our island. Like every parent I want the best for my child, so of course I must not only lead by example but I must also ensure I do my part to ensure that my son is raised in the best possible conditions. I will work to create a better Bermuda for him and I have confidence in the Progressive Labour Party to ensure a better and fairer Bermuda not just for this generation but generations to come.

I am here to serve Constituency 20 – Pembroke South West. It is my hope that you will put your faith in me and the leadership team of the Progressive Labour Party to serve you best.

Thank you.

For comprehensive coverage of the 2020 Bermuda General Election and past elections, you can find more information and statistics on the links below.

Read More About