[Updating] Police are responding to a shooting this evening [Oct 23] in Pembroke. Further confirmed details are limited, however we will update as able.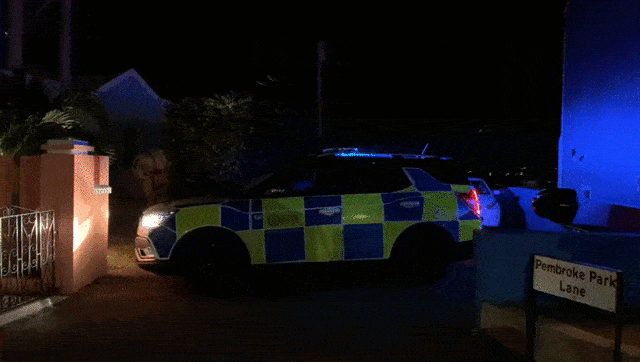 Update 10.50pm: The police confirm that the shooting happened in the Pembroke Park Lane area at approximately 9.15pm, and "two victims were taken to KEMH for treatment," and the suspect is described as "one individual riding a motorcycle."
Update 11pm: Video of the police statement from Detective Inspector Kenten Trott
Anyone with any information is urged to call the police at 295-0011 or the confidential Crime Stoppers hotline on 800-8477.
Update: The police said, "Police are investigating a firearms incident which left two men with multiple gunshot wounds. The incident occurred in the Pembroke Park Lane area of Pembroke Parish at around 9:15 p.m. on Friday 23rd October.
"Police received reports of several gunshots at a nearby residence and upon arrival officers found the two victims, one of whom was transported to King Edward VII Memorial Hospital in a police vehicle, the other, via ambulance.
"Detective Inspector Kenten Trott of the Serious Crime Unit appealed for calm as he urged anyone with information on this latest shooting to contact police.
"Investigators are particularly interested in speaking with anyone who may have seen a man leave the area on a motorcycle riding east along St. John's Road shortly after the incident.
"Anyone with information on this incident is asked to contact Detective Inspector Trott on 717-2345. You may also call the main police number, 295-0011 or, the confidential Crime Stoppers number 800-8477."
Read More About