[Updating] Police can be seen in high numbers in the Court Street area this afternoon [March 17] with crime scene tape also visible in the area. Unofficial reports suggest that the police may be responding to reports of a firearm incident. Further details are limited at this time, however, we will update as able.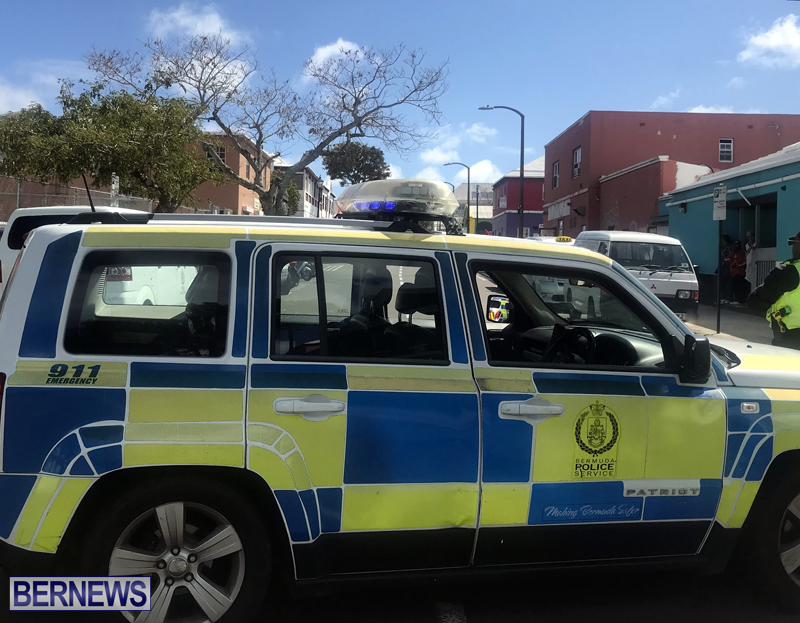 Update 5.06pm: A police spokesperson said, "At around 2:45 pm today, Tuesday 17th March, police were called out to a reported firearms incident at the junction of Court and Elliot Streets in Pembroke parish.
"Reports are several shots were fired resulting in two individuals suffering gunshot wounds. Both men were taken to King Edward Hospital via private vehicle. The extent of their injuries remain unknown.
"The suspects are described as two males on a red and black motorcycle. The rider was described as wearing dark clothing and a dark helmet. The pillion passenger was said to be wearing dark colored clothing and a white helmet.
"Anyone with information on this incident is asked to call the main police number on 295-0011."

Update: Hamilton Seventh-day Adventist Church Senior Pastor David Steede said, "In these unprecedented times in our country it is imperative that we stand together as one. Any day now we could be impacted by an infectious virus that threatens to take the lives of many, the last thing we need is for us to be destroying each other.
"As a Pastor in the city of Hamilton, I implore those involved to not use this critical time in the history of our country for vengeance, violence and vile behavior. I admonish us with Jesus words to Peter, in Matthew 26:52………Put up again thy sword into his place: for all they that take the sword shall perish with the sword. Let us remain calm during these difficult days that are before us."
Update 6.16pm: Minister of National Security Wayne Caines  said, "We are in the early stages of the investigation and the Bermuda Police Service is devoting the appropriate and necessary resources to address this shooting incident. Right now our community is feeling the strain and anxiety and uncertainty of a deadly pandemic that is sweeping the globe.
"Our Government is working tirelessly with our community partners to put in place safeguards and contingencies to protect the lives of all our residents from COVID-19 [coronavirus]. The absolute last thing Bermuda needs is an onset of senseless gun violence and anti-social behaviour.
"So, we are urging calm in the community. With what we are facing as a country we need to come together as a people and provide support to one another. Not engage in destructive behaviour."
"Anyone who may have information about today's incident is asked to contact the police on 295-0011 or the confidential Crime Stoppers hotline 800-8477."
Update 7.02pm: Shadow Minister of National Security Ben Smith said, "As Bermuda faces one of its biggest ever challenges, it is unbelievable that people engage in these acts that add an extra layer of anxiety on our already anxious population and even more strain on our emergency services.
"Covid-19 is a threat like we have never seen before in Bermuda. This is no time for acts of violence against each other, it is a time to work together with a common aim – to help Bermuda weather this storm.
"I always condemn all acts of violence, but given the situation we find ourselves in today, this is beyond belief. This must stop – and we must do all we can to help the police find the culprits as soon as possible."
Update March 18, 8.50am: A police spokesperson said, "The Bermuda Police Service can confirm the death of 28-year-old Clarke Fox.
"Mr. Fox succumbed to injuries sustained in a firearms attack shortly before 2:45 pm yesterday, Tuesday March 17th, at the corner of Court and Elliot streets in Pembroke Parish.
"A Liaison Officer has been assigned to the family. The Bermuda Police Service extends condolences to the family of Mr. Fox.
"The investigation into this matter is ongoing and anyone with information is asked to call the main police number on, 295-0011 or the independent and confidential Crime Stoppers number, 8008477."
Read More About