[Updated with video. Two separate shootings took place overnight; the first one at approximately 11.15pm in Scenic Heights area of Southampton and the second took place at 12.15am in the Camp Hill area. Both involved the suspect[s] riding motorcycles, and no one appears to have been injured in either incident]
There was a firearm incident this evening [Dec 9], with police confirming that shots were fired in Southampton, while unofficial reports indicate a second shooting took place a short while later.
A police spokesperson said, "At around 11.15pm police responded to a confirmed firearm incident that took place in the area of Scenic Heights Pass in Southampton.
"Details are sketchy, however it appears that suspects were traveling on two separate motorcycles when shots were fired, with the suspects on both cycles making good their escape, one traveling north and one traveling south."
Police confirm that no one was injured in the incident.
Update 12.39am: The police are now being seen in another area, with unofficial reports suggesting it may also be correlated with a firearm incident. We will update as able.
Update 12.59am: We continue to receive unofficial reports that some residents of the Warwick/Southampton area are reporting that shots were also heard at just past midnight in the Camp Hill area.
Update 1.11am: Police confirm a second shooting took place at around 12.15am in the Camp Hill area, and that no one was injured in the second incident, which followed around 60 minutes after the first one. We will update with the full video statement  on both shootings as able.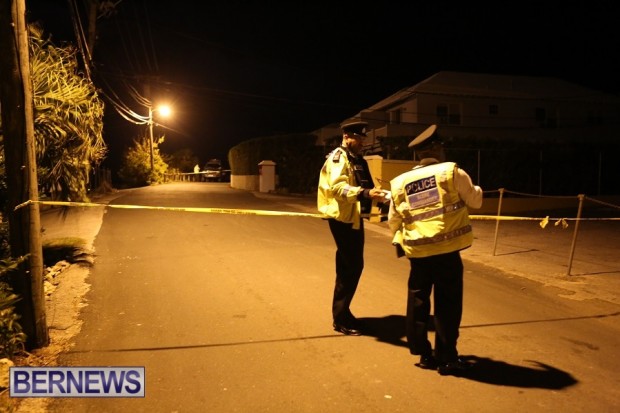 Update 1.29am: The full police statement is below
Police responded to a report of a confirmed firearms incident that took place at 11:15 pm on Tuesday night.

Details are sketchy but it appears that suspects were riding separate motorcycles in the area of Scenic Heights Pass when a firearm was discharged. Both cycles then left the area one travelling South on Scenic Heights Pass and the other travelling North, at this juncture it does not appear that anyone was injured in this incident.

At 12:30am, Police responded another firearms incident on Camp Hill 50 meters south of Spice Hill Road. It appears that a rider on a cycle discharged a firearm and then made good his escape travelling north on Camp Hill Road. No one was injured in this incident as well.

Police are appealing for witnesses or anyone who may have heard or seen anything suspicious in the area of Horseshoe Road, Scenic Heights, or the Camp Hill please contact police on 2950011 or Crime Stoppers on 800 8477

These two shootings follow after five others in the past few weeks; the murder of Prince Edness on Dec 7th [link], a shooting on Dec 3rd in Warwick [link], a shooting in Pembroke on Nov 13th [link], a shooting in Sandys in Nov 11th which saw four men injured [link], and another shooting on that same day in Devonshire [link].
Anyone with any information is encouraged to contact the main police number at 295-0011, or the independent and confidential Crime Stoppers hotline on 800-8477.
Update Dec 10, 11.17am: Shadow Public Safety Minister Walter Roban said, "News of two firearm incidents last night on the heels of reports that the suspect in the murder earlier this week fired at Police, represents a clear escalation in gun violence and crime in Bermuda.
"What is disturbing about this recent escalation of gun violence is that many Bermudians are becoming desensitized to it and see no resolution in sight.
"All lives are precious and with the recent shootings at the Somerset Cricket Club, the shooting death of Prince Edness, officers of the law being fired upon and last night's shootings this cannot be permitted to escalate further.
"The Bermuda Progressive Labour Party joins with our government in repudiating gun violence and encourage the public to do all they can to assist in helping to end this blight upon our island"
Read More About