Conyers associate Amber Wilson has been called to the Bermuda Bar, with a ceremony taking place on October 30.
A spokesperson said, "Conyers is pleased to announce Amber Wilson as the latest associate in our corporate practice to be called to the Bermuda Bar. The ceremony took place on Friday 30 October before the Hon. Justice Nicole Stoneham and Senior Magistrate Juan Wolffe.
"Ms Wilson began her pupillage with Conyers in September 2019, having worked at the firm as a summer law student in 2018. She was also a recipient of the 2018 Conyers Legal Award.
"Conyers Chairman Christian Luthi said Ms Wilson had demonstrated 'commitment, intelligence and insight' in her work at Conyers."
Me. Luthi said, "It is a pleasure to welcome her to the Bar."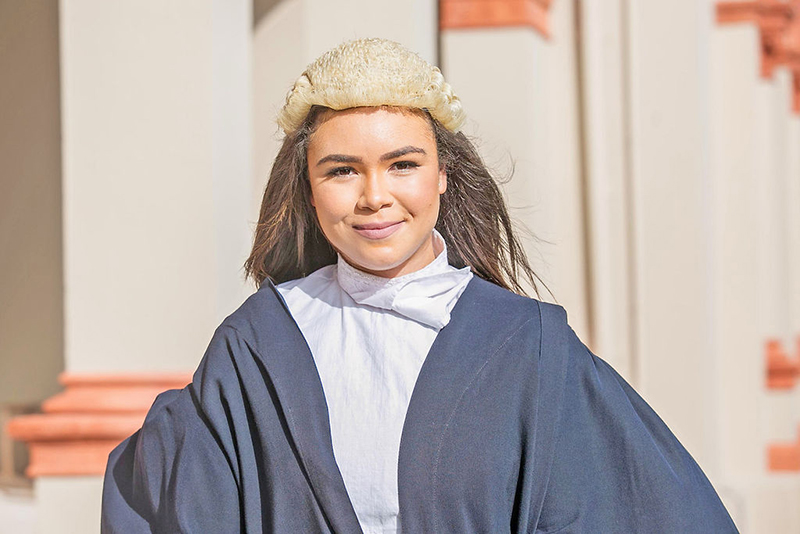 The spokesperson said, "Ms Wilson attended Warwick Academy, where she participated in theatre, debate, Youth News, track and field, volleyball, and softball.
"Outside of school, her community activities included volunteering with the Bermuda Aquarium, Museum & Zoo, the Salvation Army, and the Bermuda Musical and Dramatic Society. She also played for the Swallows Field Hockey Club.
"Continuing her education at the University of Exeter, Ms Wilson studied anthropology, achieving her Bachelor's in 2016. Thereafter, she completed her Bachelor of Laws, with Honours in Law, in 2018. She now mentors a student from her alma mater as a part of its Women and Law Society mentorship program.
"In 2019, she completed the Legal Practice Course at City, University of London. She also has experience as a summer intern with the Bermuda Tourism Authority, the Bermuda Human Rights Commission, RenaissanceRe, and Cox Hallet Wilkinson.
"In her address to the court, Ms Wilson shared her gratitude for her Conyers mentors Jason Piney, Stephanie Bernard, Alexandra Macdonald, and Christian Luthi."
Ms. Wilson said, "I have been fortunate to have had the most patient and encouraging mentors. I am grateful to them for dedicating their time and their world class mentorship to me. I look forward to continuing to work alongside and learn from each of them.
"I would also like to thank Angela Atherden and Julie McLean for their guidance and support over the past year."
The spokesperson said, "Ms Wilson expressed her gratitude for her parents, Lorren and Bernadette Wilson, and sister, India."
Ms. Wilson said, "There are no words to fully describe how truly thankful and appreciative I am for all that they have done to get me to this position. I am humbled by their selflessness, their sacrifices, and most importantly their unwavering love and support.
"Though we are stopping here today to appreciate the journey we have been on thus far, this is by no means the end of the road. This is an important moment to pause and reflect before setting back out to continue on the journey. I look forward to seeing what the future has in store as I know that I will never walk alone."

Read More About