For anyone looking to increase their fitness levels and get healthier, BEAST Gym will be hosting the Fitmas Challenge –  a free 3 week challenge — which includes 6 home workouts per week and nutrition guidance.
A spokesperson said, "Most Christmas parties are not happening and everyone had a very rough year but let's make the best of this! BEAST Gym is organizing a 3 weeks free challenge, which includes 6 home workouts per week and nutrition guidance. Everyone is welcome, not just members! The workouts can be done at home or in a gym!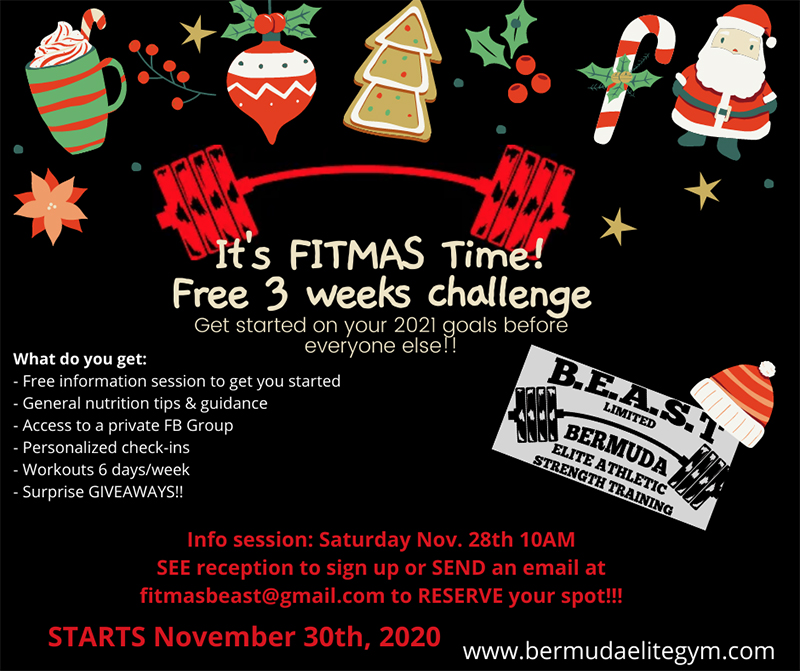 "2020 has been really hard for everyone and we want to give back to the community by helping everyone to adopt healthier habits. The goal is to bring the community together for the Holidays by being healthier, happier and stronger together!!
"There will be different categories that are fun, for example: best transformation [male and female], most engaging on the Facebook group, funniest video, etc. There will be different hashtags used on social media, so stay tuned! We want to see people smiling again and bring warmth to their heart by participating in a life changing event that will last 3 weeks, right on time for Christmas.
Please note these important dates:
"Information Session: Saturday, November 28th, 2020 at 10am
"Location: BEAST GYM, 47 Union Street, Hamilton [Just behind Liberty Theatre]. All of the information about the challenge will be given then and we will answer your questions. If you can't make it, please let us know. There will be pretty awesome prizes from different companies on island, which will be announced early next week.
"Start Day: Monday, November 30th, as soon as you wake up
"It is always more fun and easier to do these challenges with friends and family members! Feel free to invite them. Please do share it with staff, friends, and family, and even on your social media platform. It is always much more fun and easier to do this with your loved ones!
"To sign up and reserve your spot, simply send an email with your information at fitmasbeast@gmail.com."

Read More About
Category: All