Bermuda will be competing in the 2020 Caribbean Equestrian Association Regional Jumping Challenge, with the Bermuda round set to be held this Saturday, November 14th at the National Equestrian Centre.
A spokesperson said, "Local showjumping competitors are gearing up to defend Bermuda's Championship title. The Bermuda round of the 2020 Caribbean Equestrian Association Regional Jumping Challenge will take place at the National Equestrian Center this Saturday, 14th November at 8.30 a.m. Bermuda has captured the championship for three consecutive years and is very eager to retain it for another year.
Left to right: Kayla Bardgett, Tyler James & Jaeda Smith [Photo courtesy of Andy Gibbs]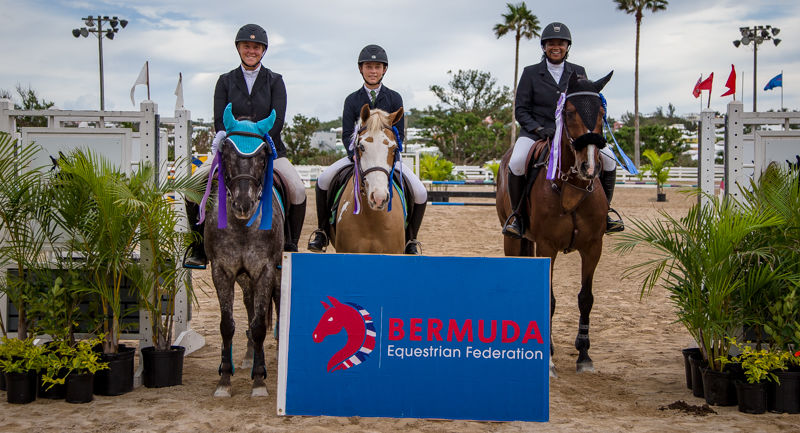 "The Caribbean Equestrian Federation [CEA] seeks to encourage equestrian sport within the Caribbean regions by the promotion of international and/or intra Caribbean events. Bermuda has been a proud member country of the CEA since 1999. Other Member Countries include Antigua, Jamaica, Barbados, Cayman Islands, Haiti as well as Trinidad & Tobago.
"The format of this competition provides an excellent opportunity for Bermuda equestrians to measure their equestrian jumping skills against riders from other Caribbean countries, without incurring the expense or logistics of having to travel overseas. Rather, participating riders compete in their own country, over an identical jumping course at heights of .70m, .85m or 1.00 m.
"The courses for this year's competition were designed Bermuda's own Heidi Shelley- Mello. Heidi is a FEI Level 3 Course Designer. This will mark the first occasion that a member of the Caribbean region has been invited to design the jumping courses for the CEA Regional Jumping Challenge. Congratulations are extended to Heidi Shelley-Mello on this achievement.
"Officiating the Bermuda round of this year's Challenge will be Bermuda FEI Level One Jumper Judge. Pam Mahoney.
"Following the completion of the CEA Regional Jumping Challenge, the Bermuda Equestrian Federation will host a BEF Support Jumper competition that will include jumping heights up to and including 1.30m."

Read More About